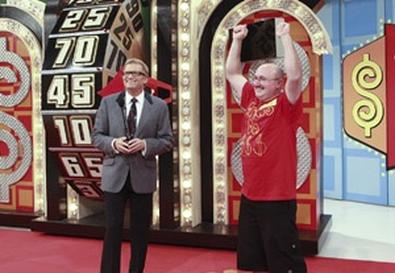 6 a.m.: Up. Not much sleep. Too excited.

6:30 a.m.: In the shower, I growl. A low, throbbing growl. When I do that, it somehow reassures me that I still have a voiceover career.

7 a.m.: I triple-check that I have my CBS pass card to get onto the Television City lot, my scripts, my shoes, my iPad, my earbuds—it's a long drive back to the Valley if I forget something.

7:15 a.m.: Google Maps shows that CBS is 10.1 miles from me. My call time is 9:30 a.m. for wardrobe. I'm taking no chances that there's traffic, a murder, whatever: I leave with two and a quarter hours to make a 30-minute drive.

8:05 a.m.: I arrive and head for my parking spot, next to Drew Carey's. It's got my name on it.

8:30 a.m.: My dressing room is nicer than any I've ever had. Next door is celebrity chef Guy Fieri. This is the pre-Thanksgiving show, and Guy is our special guest. I quietly review my scripts about a billion times.

10:15 a.m.: This will be my actual call time, which I will beat every time by at least 45 minutes. In 15 minutes, the morning preproduction meeting begins.

10:55 a.m.: Producer Adam Sandler and I privately go over what will be read and how it will be read. We confirm pronunciations and then head to the stage for rehearsal.

11 a.m.: Because we have a special guest, and because it's my first taping, we spend a lot of time on the final showcases that Guy will be a part of. As we move along, I'm quietly adjusting the mix between program and control room in my earbuds. The Neumann capsule in my stage mic sounds awesome. Henry, the stage audio tech, is happy that I'm familiar with mics, mixers, and IFBs and is just waiting to make me happy with my setup. He warns me, as everyone from Drew to executive producer Mike Richards has, that when we tape the actual show, the volume will be deafening. I'm eager to find out how deafening.

11:50 a.m.: Director Rich DiPirro calls an end to rehearsal and notes that we'll go to tape in 25. I drape my headset across the podium.

11:51 a.m.: I head right for Carol in makeup, who's an Emmy winner. She uses an airbrush to make me beautiful in less than five minutes. The audience loads in.

11:56 a.m.: I head to my dressing room, where my clothes are hanging neatly on the rack, my tie pre-tied and my cuff links pre-loaded. I look and feel like Daddy Warbucks.

12:07 p.m.: Mike Richards, who runs the show and will ultimately determine who gets the announcer gig, is warming up the audience. As he finishes imploring them to have fun, face the camera, and win stuff, Mike hands the mic off to me, and I immediately quip, "Yes, I'm your guest announcer, but only because I can fit into Drew's old suits." Big laughs. That's what I needed. They send me to the podium with a stadium-level roar.

12:15 p.m.: Right on schedule. I lay down a slate for production, and 10 seconds later, they're right: It is deafening. Luckily, I have my favorite Sony in-ear monitors and I can hear just fine. "Here it comes…from the Bob Barker Studio at CBS in Hollywood, it's 'The Price Is Right'!" I ask Don at the audio desk for more of me in my headset mix. Done.

1:22 p.m.: The show is going really well. Producer Tracy Verna stops by to tell me to use the deep part of my voice more often, because it's "buttery." Done.

1:40 p.m.: The showcases go great, but I stumble on a few words, which will be part of a list of pickups I do as the crowd is leaving. Guy Fieri and I exchange fan-squees, and Drew is really happy. So are Mike and Rich and everyone else.

Even me. And with that, it's lunch. In exactly one hour, we'll do it all again.