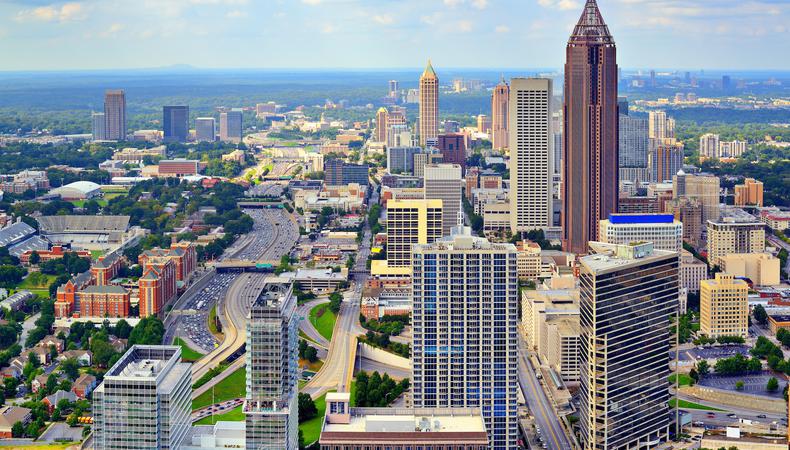 For actors hoping to make a big first impression in a new city, it doesn't get much better than Atlanta's Unified Auditions.
Held this year on March 30–31 at the Marcus Jewish Community Center of Atlanta in Dunwoody, Ga., Unifieds are the perfect opportunity for actors to immerse themselves in the middle of the Big Peach's theater community. The two full days of audition slots are open to Equity members and nonmembers alike who are 18 years and older, and sitting in the audience are representatives from about 50 theaters in the Atlanta and regional area. For those unfamiliar with citywide open calls, that is an extraordinarily high ratio of performers to producing companies.
The event is sponsored annually by nonprofit service organization Atlanta Performs, whose mission is to promote the city's theater, dance, music, and film scenes. Each actor is allotted two minutes to show off the breadth of their skills as best they can; many sing 16–20 bars and deliver a contrasting monologue. Jody Feldman, producer and casting director at the Tony-winning Alliance Theatre, said the organization's system allows auditions to flow smoothly.
"It's a fantastic way for a theater and an actor to get introduced," she told Backstage. "It's become a big part of my casting process. It's a great opportunity for me to sit back and see old talent if they're doing something new, and then certainly new talent. If there are people I don't know and I want to know more about, I have my own call and prelim them for a specific production."
Established Atlanta actors, she added, may not need to attend Unifieds, as they serve mostly to highlight newcomers. Applications are submitted online approximately two months before the event takes place, in three separate categories: Equity, non-Equity, and emerging artists. Feldman said after last year's Unifieds, she found herself in need of actors with an inclination or energy for youth theater, and referred back to her notes to invite a select few who stood out in her memory for a more intimate audition at the Alliance.
As Feldman pointed out, the Unifieds are an indicator of the Atlanta arts community's general philosophy. "We do all we can as producers to make [new actors] feel as warm and welcome as we can," she said. "We're a really, really tight community and we work well together." If a newcomer submits a headshot and résumé to theaters such as the Alliance, they don't disappear at the bottom of a to-be-seen pile. "We love actors moving to Atlanta."
Although a chance like this one isn't afforded to actors living in many big cities, it's still only two minutes in which to make a distinct impression and paint oneself as the solution to every casting director's problems. Isn't that a lot of pressure? "An actor can look at that as pressure or as opportunity," advised Feldman. "Hopefully they go up there and make the most of it."
For more information on Atlanta's Unifieds, visit atlantaperforms.biz.
Inspired by this post? Check out our theater audition listings!