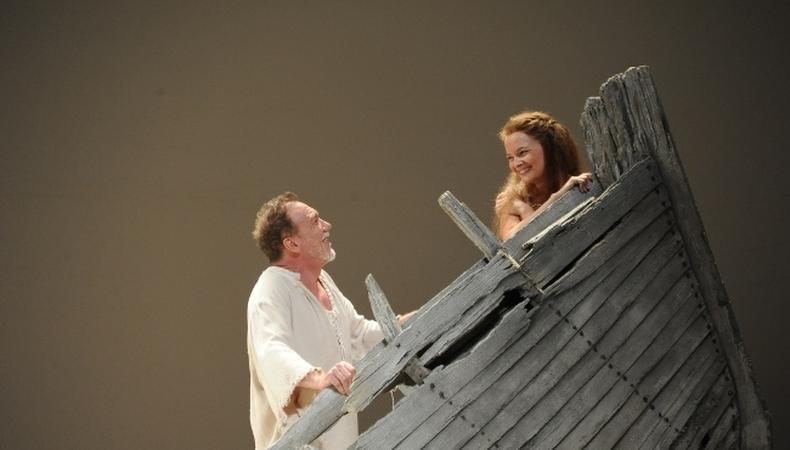 Even though Shakespeare Theatre Company takes its name from a certain Bard, that's not even half of what they do. The 30-year-old D.C. theater, recipient of the 2012 Regional Tony Award, mounts "plays that are either classical plays, Shakespeare or plays that have been influenced by Shakespeare, or plays that are based on an important text from literature," explains artistic director Michael Kahn.
That wiggle room has made the eclectic, seven-show 2016–17 season possible, containing as it does both the Bard and more recent works. There's Marsha Norman and Lucy Simon's musical "The Secret Garden," based on Frances Hodgson Burnett's 1911 novel (Nov. 15–Dec. 31); Elevator Repair Service's "The Select (The Sun Also Rises)," their experimental treatment of Ernest Hemingway's novel (Feb. 18–April 2); David Ives' Molière adaptation "The School for Lies" (May 30–July 2); and Mike Bartlett's "King Charles III," recently seen on Broadway ("It's Mike Bartlett's version of a Shakespearean play," explains Kahn, running Feb. 7–March 12).
The theater operates on a LORT B+ contract and holds an open call every spring and fall, seeking talent in D.C. and New York (though they sometimes hold EPAs in Chicago and Los Angeles). They also cast on a show-by-show basis. Actors take note: They take unsolicited résumés. "We look at every one of them," says Kahn. "And we have calls of our own to take a look at the people that seem qualified from those photos."
READ: "Explaining the LORT Contract"
There are also opportunities for nonunion actors. Shakespeare Theatre Company holds auditions in the spring for its non-Equity acting fellowship, where early-career actors can earn points on their Equity card by acting in the ensemble and understudying for one production. They are paid a $150 weekly stipend and given free housing. "It's also a good way to make some contacts at a professional organization," says Kahn.
It's not just unknown actors on whom Shakespeare Theatre Company has its eyes; there are chances for emerging directors as well. Kahn regularly asks up-and-coming directors which Shakespeare play they want to direct, and then lets them take the reins. "My career began with [Public Theater founder] Joe Papp giving me, in my 20s, 'Measure for Measure' in Central Park," he explains. "I wanted to be able to offer that to young directors who are really talented but never had an opportunity to do a big Shakespeare [production]." After that 1966 opportunity, Kahn went on to direct eight shows on Broadway (including the 1969 revival of "Henry V" with Len Cariou), before settling down at Shakespeare Theatre Company in 1986. He also started a free annual summer Shakespeare program of his own; its most recent production, "The Tempest," starring Patrick Page, ran in August.
Browse our list of theaters to find your next stage home!
In that spirit of paying it forward, 2016–17 will feature two up-and-coming directors. Shakespeare Theatre Company's associate artistic director, Alan Paul, will direct "Romeo and Juliet," the play that launched the theater in 1986 (Paul's version runs Sept. 13–Nov. 6), and Liesl Tommy (of Broadway's "Eclipsed") will helm a "Macbeth" set in modern Africa (April 25–May 28). Of course, when Kahn offered "Macbeth" to Tommy three years ago, she hadn't yet become a Tony-nominated director. "I see no reason to take back the offer," says Kahn proudly.
It's all part of the theater's mission to train the next generation of artists, according to Kahn, who says, "I think young people have points of view and vision that's very important for us to see and hear in our theater."
D.C. actors, look for more local opportunities by checking out our D.C. audition listings!