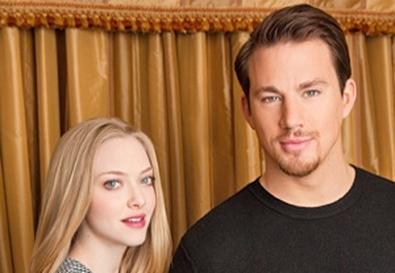 In their relatively young film careers, Channing Tatum and Amanda Seyfried have carved out impressive résumés that run the gamut from acclaimed indie films to worldwide blockbusters.
In a few years, Tatum went from being an exotic dancer (he's exceedingly good-natured about the video of one of his early performances making the rounds on YouTube) to a sought-after model before landing supporting roles in films like "Coach Carter" and "She's the Man." But 2006 would prove to be his breakout year: He earned a Spirit Award nomination for his turn as a street youth in Dito Montiel's "A Guide to Recognizing Your Saints" and became a box-office champ with the surprise success of the dance film "Step Up." Last year, he assumed his biggest role to date as the title character in the big-budget action flick "G.I. Joe."
Seyfried also began as a model at age 11, before segueing into soap operas while still in her teens. In 2004 she landed her first film role as one of the title "Mean Girls" in the Lindsay Lohan hit. As the sweetly stupid Karen ("I'm kinda psychic—it's like I have ESPN or something"), Seyfried brought a genuine freshness to what could have been a stereotypical dumb blonde. Other film and TV roles followed, including her current stint on HBO's "Big Love," but in 2008 she beat out the likes of Mandy Moore and Amanda Bynes to play Meryl Streep's daughter in the musical "Mamma Mia!" This year she stars opposite Liam Neeson and Julianne Moore in "Chloe" and as an American tourist in Italy who finds a lost love letter in "Letters to Juliet."
But first the duo will appear in Lasse Hallström's "Dear John," opening Feb. 5, based on the Nicholas Sparks novel about young lovers separated by the Iraq War. The film has echoes of another Sparks adaptation, 2004's "The Notebook," which was also an unabashed romance centering on ridiculously beautiful, star-crossed lovers. "The Notebook" was an unexpected success, largely because of the chemistry of its two leads, and rightfully made stars of Ryan Gosling and Rachel McAdams.
"Dear John" is a seminal film for its stars, marking Seyfried's first turn in a leading role and Tatum's opportunity to solidify his status as one of the most intriguing actors working today. If the pair is feeling the pressure, they hide it well. But then again, they're terrific actors.
Back Stage
: Both of you broke into acting at early ages. Channing, the legend goes that you were literally discovered while walking down the street.

Channing Tatum
: Kind of, but not for acting—for modeling. I was 20 and left my hometown and moved to Miami. People were going crazy and doing stupid things, and I was doing stupid things; I just needed to get away from it. So I was walking into a clothing store to get an application, and someone came up to me and asked, "Do you have representation?" I was like, "What did you say, creepy guy?" And he actually did turn out to be a creepy guy—there's a lot of them in Miami. But it got me interested in looking into modeling. So I went to a legitimate agency, and they took me on. Then [photographer] Bruce Weber found me for Abercrombie & Fitch, and that got me to New York. For the next two and a half years, modeling took me around the world. But then I came back to New York and said, "I'm not going to do this forever." Don't get me wrong, modeling was great; it paid the bills, and I didn't have to frame houses or wait tables. So I went on a random commercial audition. And I got it; it was a Pepsi commercial with Tarsem as the director. And I just kind of fell in love with it.
Back Stage
: You also share a background as former models—
Amanda Seyfried
: Him more than me. I didn't really model; I was a child model. But I always knew I wanted to act, from the moment I saw "Romeo + Juliet," the Leonardo DiCaprio and Claire Danes version. It was a pretty violent movie for me to see at that age, but my dad had been watching it, and I saw it halfway through to the end, and my mind was blown. I got obsessed and collected all [Shakespeare's] books, and then I'd take it on vacation and start rewriting Shakespeare in my book and cutting out pictures of magazines from them and staring in the mirror and pretending I'm Claire Danes with my hair half pulled back. I credit that with prompting me to become an actress.
Back Stage
: At what point did you decide to pursue acting as serious career?
Tatum
: After that commercial, I thought, "Well, maybe I should try to do this acting thing." So I went and took my first workshop and just fell in love with it. I studied with Deena Levy in New York. She has such a mothering spirit. She nurtures you, really. I think I was, like, crying during the first five minutes; I was releasing so many things. I loved the idea of creating something from absolutely nothing. I also trained for a minute with Harold Guskin in New York; he usually works with more-established actors. He even said to me, "You'll one day realize what I'm saying to you, but I'm probably not right for you right now. Most people come to me after they've been acting for years to sort of change and revamp things. You'll benefit but probably not as much as you will in a few years, when you come back to me." Then I came out here to L.A. and met my current coach, Nancy Banks. She's unreal; she took me to the next level. She really taught me a more traditional technique, with lots of character work, and I fell in love with it. That's why I love to write, just writing stories about my character and things they've been through. I really enjoy in my secret little journals just telling stories about their lives.
Seyfried
: I'll be honest, I was pretty bad starting out. When I was 15, I was on "As the World Turns," and I was so bad they had to ship my character off.
Back Stage
: Are you sure it was because of you—it wasn't a story-line decision?
Seyfried
: It was absolutely, without a doubt, because I was that bad. I was so uncomfortable. I had it in me, but if you aren't comfortable, you can't access your skill.
Back Stage
: Getting fired at any age is tough. How did you handle it at 15?
Seyfried
: I was devastated. You always think it's the end of the world. I remember crying on the pier near my house on the Hudson River. Everybody gets fired for one reason or another: They don't have the right look, they're too tall. It's weird. No matter how old you are, no matter how much experience you have, it's never easy. But when I moved to New York at 17, I said, "I've got to get this shit straightened out because I don't want to embarrass myself like that again." So I took some Meisner classes with Nina Murano in New York. I did six to eight months of master technique. She's amazing and really helped me out with one-on-ones for auditions and such. Then I got cast in "All My Children," where I met my first love, who introduced me to my manager. He was the reason I got "Mean Girls." I originally auditioned for Rachel McAdams' role, Regina. When I didn't get that, he went over the script with me and helped me prepare for the part of Karen. He set me up with a comedic director and really worked his ass off for me. He passed away not long ago; it's sad that he didn't get to reap any of the benefits of his hard work.
Back Stage
: You also auditioned for the title role on "Veronica Mars," which went to Kristen Bell, but you took the role of her deceased best friend. When you got these parts, were you happy with the roles or was there a part of you that was disappointed you weren't the lead?
Seyfried
: No, I would take what I could get. Those parts were almost even more fun and rewarding. I think I would have had a hard time playing Kristen and Rachel's roles, working every day. I don't think I was ready for that at my age and just getting started. In my opinion, it's been a slow rise. Slowly but surely, I've gone steadily uphill—so far. I kind of miss the climb. I feel like certain people have put me in the "established" zone, which I don't feel I belong in yet. I feel like I might get lost in the crowd. It's so fun to be an up-and-comer. People talk about you, and there's buzz. Then all of a sudden, there isn't as much.

Back Stage
: Don't you think you moved into the established zone when you beat every actress and her dog for the role of Meryl Streep's daughter in "Mamma Mia!"?
Seyfried
: Yeah. My best friend's dog still won't look me in the eye. It's really weird. She really wanted to work with Meryl. [Laughs.] Thank God for that, honestly. I say this all the time, but I would not be in this movie "Dear John" or any other movie if I had not been in "Mamma Mia!" I would still be a supporting actress. To play a lead in something is a big step; it's a career-changing move. And when people trust you to take on that responsibility, it's amazing.

Back Stage
: What's been your best or worst audition?
Tatum
: There was one audition that made me realize I had been going about it all wrong. It was, weirdly enough, for "Four Brothers." It was the first time I got to do an emotional scene in an audition, like a breakdown. Most stuff you get to go in and play, like, "Waiter No. 2" and say the lines. It was so much fun to kind of dig your fingers into something. I suddenly realized I shouldn't be auditioning to get the job; I should be auditioning because I enjoy doing the character. And things changed.
Seyfried
: I had a bad one just a couple weeks ago. Alexander Payne had me audition and had no idea who I was. Not that I expect anybody to, but I have to admit, I was a bit thrown off. I totally ruined the audition; I was so bad. I was in it for seven minutes. I didn't get it.
Tatum
: A few years back, I went on the life-changing audition, which was for the Coen brothers for "No Country for Old Men." It was for the character Josh Brolin played. I knew I wasn't right; I was probably 10 years too young. But I didn't care: They were open to meeting me, and I wanted to meet them. I knew I wasn't getting it, no matter how much I went in there and nailed this and wanted it, so I let it go. And I walked in and was like, "Jesus, it's good to meet you all. This is insane, man, I love you guys." And then we just played. I knew I couldn't do it right, so I was just going to go in and let them direct me. I think one of the biggest keys anyone can go into an audition with is being able to be directed. Don't try to get it right; just be open to playing with the director and getting to it. Be coachable. We just went back and forth, and I realized it was just about working: going in and having fun and taking the pressure off. I get it, people want work and they want to be successful. But sometimes you have to let go of the result to realize that there's reasons. I'm a spiritual person, and I'm not saying anyone else has to be, but I guarantee if you didn't get something in your life and look back later, you can generally see, in some way or shape or form, why. Whether it's good, bad, or indifferent. I always know. I've been so disappointed at times that I wanted to quit, and then two days later I'll say, "Thank God that happened to me."
Back Stage
: Like the creepy guy.
Tatum
: Exactly. I kept wondering, "Why am I having these people come up to me?" Well, maybe it was for me to start the idea of going down this road. I've lived a crazy life, I really have. I've done every job you can possibly imagine.
Seyfried
: Whatever happens, happens for a reason, and that's what I tell myself. I didn't get a certain project because it conflicted with the "Big Love" schedule. And I was devastated. Then I met Gary Winnick, and I was able to do "Letters to Juliet" in Italy and work with Gael García Bernal and Vanessa Redgrave. Whether or not the movie performs well at the box office, I could not care less. It was one of the best experiences of my life. Everything happens for a reason. Everything.

Tatum
: Acting is such a fulfilling thing. I think all actors do things for different reasons. Some people do it to purge emotions or traumas. Some people do it because they have a lot of crazy shit in their head and they need to pour it out into creativity. Some people do it for the challenge. Some people do it to get famous—I never think that that one works, personally. Unless you're willing to do it for free, I don't think you should be doing it. Because it will tear you up, this business, getting told, "No, no, no, no, no." I almost quit a couple times before I even started. And I know that I had a fairly easy route in. I got really lucky; I won the lottery in a couple different ways. I won a career.