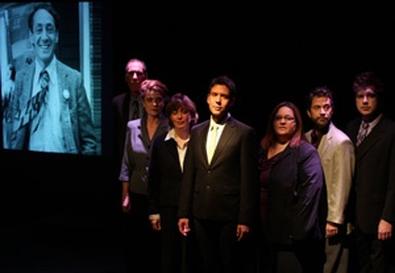 I wondered what a 75-minute piece of documentary theater about Harvey Milk could bring to the table that would be new, particularly after the excellent biopic for which Sean Penn won an Oscar. "Dear Harvey," commissioned and produced by San Diego's Diversionary Theatre, does play as if the idea were to create an educational piece for high school and college students, but author Patricia Loughrey's interviews with Milk's family and colleagues have turned up enough intimate reminiscences to make the experience worthwhile.
Director Dan Kirsch, aided by an uncredited projection design of vintage photos and a fine understated musical score played live by composer Thomas Hodges, keeps the show flowing smoothly, though it feels too much like a staged documentary film. The seven-person cast shares the role of Milk while taking on other parts. Standouts are Vash Boddie as a no-nonsense drag queen Milk befriended, Scott Striegel as activist Cleve Jones (his account of the creation of the AIDS quilt, though insufficiently linked to Milk, is a highlight), and Mark Peters as Milk's gay nephew Stuart Milk, whose family tales anchor the show. There's also a surprising, greatly moving climax that won't be given away here.
Presented by Diversionary Theatre as part of the New York International Fringe Festival at the SoHo Playhouse, 15 Vandam St., NYC. Aug. 20–28. Remaining performances: Tue., Aug. 24, 5:45 p.m.; Thu., Aug. 26, 10 p.m.; Sat., Aug. 28, 8:15 p.m. (866) 468-7619 or www.fringenyc.org.