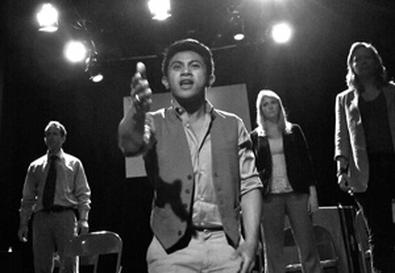 Developed at San Diego's gay-focused Diversionary Theatre last year, Patricia Loughrey's theater piece is a heartfelt tribute to San Francisco city supervisor Harvey Milk (1930–78), the first openly gay elected official in California. An impassioned activist, tirelessly crusading for equal rights for all minorities, Milk was murdered by disgruntled former city supervisor Dan White. Since then, Milk's legacy, particularly as a fearless pioneer in gay-rights legislation, has grown to legendary status. Smartly and sensitively directed by Anthony Frisina, Loughrey's docudrama achieves a thoughtful and touching portrait of the man and the myth. Though it's simple in format and small in scale, the production deftly sums up the inspirational effect Milk had—and still has—on people.
Loughrey's text is a collage of excerpts from Milk's Bay Area Reporter column and other materials he wrote; interviews the playwright conducted with people who knew Milk or were affected by his life and work, such as activist Cleve Jones, campaign manager Anne Kronenberg, and Milk's nephew Stuart Milk; the politician's public speeches; and material from several archives. One powerful vignette consists of a shocking hate letter sent to Harvey Milk, spouting homophobic slurs—and even a threat—against Milk and his missions. Projected photographs add texture and context to the words spoken and events depicted. Low-key but appealing original music was composed by Thomas Hodges (performed by Wayne Moore on piano and Jyvonne Haskin on cello).
Versatile ensemble members Clifford Banagale, Vash Boddie, Alice Ensor, Michael Taylor Gray, Steve Mazurek, John Meeks, Jordana Oberman, Vance Roi Reyes, Laura Sanzo, and Heidi Sultzman take on various roles, including that of Milk. The group offers intelligent, affecting, and amusing interpretations of the material, generally sidestepping distinct characterizations in favor of a graceful amalgam of emotions and ideas. The segments coalesce into a rich tapestry, illuminating the life journey of a remarkable human being and the historic headway he made in furthering humane causes. The play will be offered as an educational tool in schools and other organizations, and it should find an enthusiastic following among theatergoers familiar with this American hero and those who want to learn more about him.

Presented by the Beat Project at the Lee Strasberg Theatre, 7936 Santa Monica Blvd., Hollywood. Sept. 16–Oct. 10. Thu.–Sat., 8 p.m.; Sun., 2 p.m. (323) 960-7782. www.plays411.com/dearharvey.