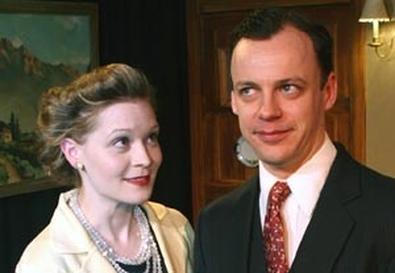 Watching "Dear Ruth," Norman Krasna's hit 1944 comedy now being exhumed by Retro Productions, is like witnessing the birth of the TV sitcom format. In a well-appointed living room in Kew Gardens, Queens, precocious Miriam (Becky Byers), little sister of soon-to-be-wed bank teller Ruth (Alisha Spielmann), has been corresponding with an Air Corps lieutenant (Douglas B. Giorgis) and signing sis's name, all in the cause of patriotism.
Soldier shows up unexpectedly; teller is too sympathetic to reveal the deception. Pipe-smoking father (David Sedgwick) philosophizes and generally knows best, while mom (Heather E. Cunningham) frets, maid (Shay Gines) bustles in and out of the kitchen, and teller's jerk of a fiancé (Matthew Trumbull) stews to increasingly operatic effect. Hilarity, needless to say, ensues.
Fortunately, a lot of Krasna's work really is hilarious, transcending the period references to Secretary of War Henry Stimson, radio commentator H.V. Kaltenborn, and fifth columnists to convey eternal verities about best-laid plans gone awry, unexpected romance, and fleeting opportunities for happiness in wartime. The situation, though slender, feels uncontrived, and the comedy stems from the characters, not some gag writer's forced motivations. Even when teenage Miriam has a drunk scene, there's a plausible reason for it and the humor isn't cheap—no staggering or barf jokes. No huge surprises here, but the two acts wrap up neatly and end with a dandy punch line that seems to set up "Dear Ruth: The Sequel."
Richard Roland directs at needlessly frantic speed, with actors rushing around Jeff Stander's nicely detailed set and stepping unrealistically on each other's lines. No average middle-class American family would come up with Krasna's witty ripostes at this pace.
Roland also encourages overacting, though at least Trumbull overacts brilliantly, embodying an annoying fussbudget so thoroughly that he earns laughs on his entrance without saying a word. Central couple Spielmann and Giorgis are a bit bland, but Cunningham and Sedgwick nicely convey a long-married pair who are still amused by and sexually interested in one another.
Too bad Roland directs as if this were the screwball comedy "His Girl Friday" instead of the gently humorous piece it is. If a middling "Dear Ruth" can be this engaging, imagine how tasty it could be if handled with more restraint.
Presented by Retro Productions at the Spoon Theater, 38 W. 38th St., 5th floor, NYC. May 4–21. Wed.–Sat., 8 p.m. (Additional performance Sun., May 15, 3 p.m.) (212) 352-3101 or www.retroproductions.org.