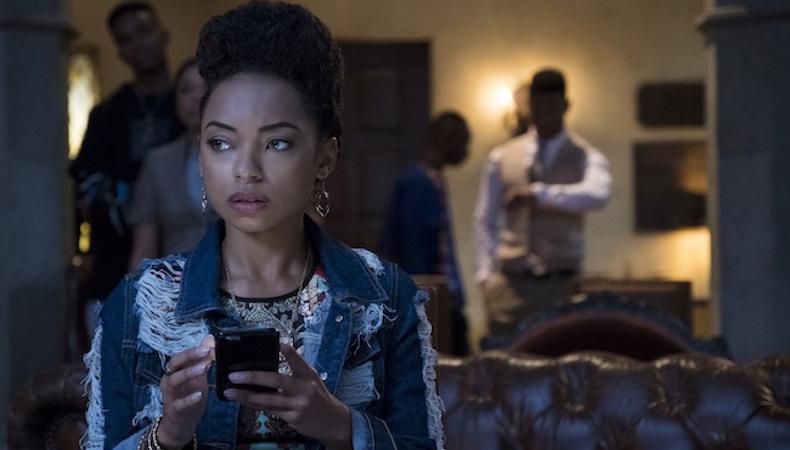 It's a daunting prospect to follow up a critically hailed freshman season; having already impressed critics and viewers alike, there's pressure to deliver more of the same. But Justin Simien, who had already done the impossible by refashioning his Sundance hit feature "Dear White People" (which nabbed him a special jury prize for breakthrough talent), into binge-worthy water-cooler TV, wasn't interested in retracing his steps. When he sat down to map out the show's second season with its showrunner, "Living Single" creator and producer Yvette Lee Bowser, his idea was to reimagine what another installment of "Dear White People" could look like.
READ: Justin Simien Goes From Actor to Sundance Director
"I just get bored very easily," he confesses. "I just came in there wanting to expand what the show is and expand the scope of what we're talking about." So, while we're still following podcaster Sam (Logan Browning), budding student journalist Lionel (DeRon Horton), and student president-turned-washout Troy (Brandon P. Bell) at the fictional Winchester University, there's a different vibe to the politically woke series. "Down to the title cards—I wanted everything to be reinvented from the ground up."
In order to make that reinvention work, Simien knew he had to use what he'd taken away from Season 1. "I'm a nice guy," he admits. "I'm a people pleaser, and I think the biggest thing I learned was not to be afraid to be the bad guy—not be afraid to say the unpopular thing. To not really settle. To not be like, 'Oh, this is my first TV show, I guess this is how it goes.' "
During the break between seasons, Simien found himself drawing inspiration from the way the show was being received. He'd seen firsthand how online trolls had attacked his show's title (which comes from Sam's fictional campus podcast) as racist, and how they went on to weaponize user ratings on YouTube to stoke a boycott against Netflix for producing it. Simien kept coming back to these moments to reflect on what the series meant on a larger cultural scale.
READ: How to Audition for Netflix
"My reaction to things like that is to study and find a way to talk about it in my art," he says. "It was a natural extension of my experience. But also because that's exactly where we are in this country in terms of race relations." That meant following the rabbit hole of that internet underworld, finding alt-right blogs that were targeting him, and using what he found as fodder for the show.
Simien enjoys gathering that kind of info and amassing a list of books and podcasts and resources he'll later bring into the writers' room. That's where the magic begins for him, where "the dreaming part of it" takes place. "The writers' room is really fun," he says. "We're all shady, shady people! We're all passionate about the things that we're talking about."
Those conversations are not just about potential storylines (an unplanned pregnancy, a rogue Twitter account) or possible guest stars ("It's always been kind of a dream to be super meta and bring them back," Simien reveals), but the crux of the problems that the show sets out to dramatize. For Simien, that's where the decision to put history front and center this season came from: It's a symptom of how fractured national discourse has become.
"It really all comes down to historical amnesia," he says. "The reason there can be 'fake news' and the reasons we can't have these conversations is because none of us are really even clear on what our history is…. This show is my little itty-bitty way of nudging the culture in that direction."
He may sound modest, but the ambition of "Dear White People" is undeniable.
Want to work on the small or streaming screen? Check out Backstage's TV audition listings!