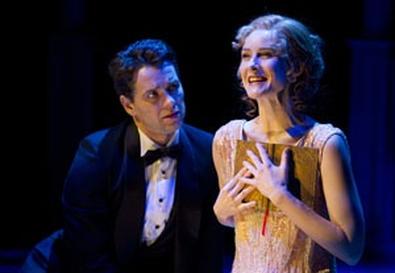 There is no greater fan of the narrative-driven, character-based, non–rock score musical than I. So I have been greatly anticipating "Death Takes a Holiday," with its book by two giants of the genre—Peter Stone and Thomas Meehan—and a score by the classically trained Maury Yeston. The catch? The source material, an Italian stage fantasy by Alberto Casella rewritten for Broadway by Walter Ferris in 1929 and also the inspiration for the 1998 Brad Pitt film "Meet Joe Black," is a delicate mood piece with little action. How would this trio of smart writers address that problem? Sadly, they haven't. With the ubiquitous Doug Hughes seeming out of his element directing a musical, this "Death" is no holiday.

Stone (who died during the writing process) and Meehan have kept the show in period and made some intelligent choices. They have focused the original's somewhat shaggy construction and strengthened character motivations while also re-conceiving most of the supporting characters to make them more accessible to contemporary audiences. The central story, however, remains largely the same. Death decides to take a holiday and invites himself to an Italian duke's Alpine villa for the weekend, taking the form of a handsome Russian prince. His purpose is to understand why men fear him and cling so to life, and so he requires the duke not to disclose his true identity to anyone. Death's mortal guise sets ladies aflutter and men on edge as he samples the joys of living. He falls in love with the lovely Grazia, who returns his affections despite having just been engaged to her childhood chum Corrado. Will he take her with him when he goes?

Yeston provides some attractive compositions, but they are too many (often holding up what little action there is), too similar (the romantic solos and duets for Grazia and the prince feel interchangeable), and too lacking in dramatic purpose (especially when dutifully giving every supporting character a turn in the plodding second act). Yeston's flowery lyrics don't suit the sophistication of these people and are afflicted by misaccents, false rhymes, and forced locutions (Grazia's first song, sung in a speeding car, is absurdly titled "In the Middle of Your Life" even though the 21-year-old is anything but, because Yeston wants it to mirror the phrase "in the middle of the road").

British star Julian Ovenden essays the title role with charm, vigor, and great style, though I missed the edge of menace Fredric March brought to the 1934 film. Ovenden's powerful singing is impressive and accomplished, but he neglects his consonants just enough to occasionally impair intelligibility. The lovely Jill Paice vocalizes prettily but can't color in the blankly written Grazia. The 14-person cast is filled with reliable musical theater vets doing less-than-top-notch work. Alexandra Socha, as a love-besotted American teenager, and Don Stephenson, as the duke's majordomo, are far too self-consciously cute. Michael Siberry and Rebecca Luker's duke and duchess remain stubbornly generic, though Luker's soprano is as always glorious. Max von Essen scowls melodramatically as Corrado. Simon Jones and Linda Balgord, as a septuagenarian doctor and his memory-addled patient who are former lovers, can't surmount the twee and damagingly placed "December Time." Matt Cavenaugh has played the lock-jawed American hero more interestingly elsewhere. The sexy Mara Davi at least gets to have a good time when her young widow unknowingly puts the moves on Death by teaching the prince how to shimmy.

The stylish Maxfield Parrish–influenced physical production—Italianate unit set by Derek McLane, rich costumes by Catherine Zuber, warm lighting by Kenneth Posner—offers lots of open space that Hughes and choreographer Peter Pucci seem flummoxed by, finding it difficult to effortlessly suggest various locations in and around the villa.

Yeston can write a soaring melody, and it's possible that this score will sound better on CD, shorn of its dramatic responsibilities. Unfortunately, it's being heard on stage right now, where it manifestly does not work.

Presented by Roundabout Theatre Company at the Laura Pels Theatre, 111 W. 46th St., NYC. July 21–Sept. 4. Tue.–Sat., 7:30 p.m.; Wed., Sat., and Sun., 2 p.m. (212) 719-1300 or www.roundabouttheatre.org. Casting by Jim Carnahan and Kate Boka.