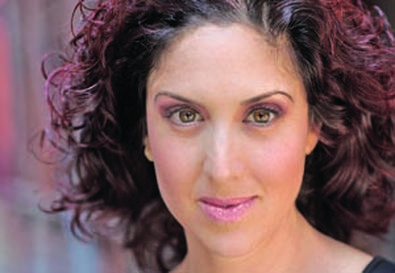 "It's amazing how the very idea of auditioning, of being judged, can shut down the most creative and compelling actors," says Deb Jackel. She teaches audition technique primarily at the William Esper Studio, but she also coaches privately. At Esper, Jackel teaches an eight-week course for the students who are graduating from the studio's two-year program in the Meisner technique.
"When they come to me, they need to learn not only how to accept and embrace the self-knowledge they have learned through studying Meisner, but also how to handle themselves psychologically," she says. "What I mean by that is, finding ways to control the fear and anxiety and quiet the negative voices in their heads when they're nervous before auditions."
Jackel gives her students what she calls "tools of empowerment," providing them with the confidence needed to audition. "What I tell them is, you have to find a way to fall in love with auditioning, because until you're a star, you're going to spend more time auditioning than you are working. That's just the nature of the business." She believes it boils down to a shift in perspective: "I tell them to think of an audition as an opportunity to act—an opportunity to do what you love. It helps you begin to look forward to auditions, instead of this thing that often paralyzes you."
Actor Victor Williams, who has spent much of the past 15 years working in television on the West Coast, says he found studying with Jackel a bracing and valuable experience. "She helped me to get out of some very bad habits," he says. "Working as a professional, you forget the basics—the things you were trained to do in class but which you forget. Deb is very tenacious and she doesn't let you off the hook. You have to be as specific as possible with her: Who is this character and what is he trying to do? She expects you to do that work, and it only helps to make your work be alive and vibrant and very in-the-moment."
Jackel has been on the Esper faculty since 1999; she also teaches cold reading there. Originally she trained as an actor, and prior to joining the studio she worked as a talent agent, giving her what she feels is a broad perspective on the acting profession. "I'm sort of the liaison between the studio and the industry," she says. "That's why I built up the program that deals with the audition and cold-reading aspects of it."
Like her audition technique course, her cold-reading classes are designed to help students transition from the classroom to the real world. "Cold reading is a skill that has nothing to do with talent and everything to do with practice," Jackel explains. "With cold reading, the students need to have the ability to make strong, actable choices in a relatively short amount of time—to be able to maintain their acting process and lift the text up off the page while working off a reader."
In cold reading, the biggest problem for actors is getting overly concerned with the lines, she says. "They have their head buried in the page and they're not connecting to the reader; they're not listening. There is no spontaneity in it, and they end up just giving a line reading. So I need to teach them how to negotiate the text that they're unfamiliar with—to look at a piece of material with very little time and information and have the ability to figure out where the acting is, where the juice of the scene is. I help them build those muscles that enable them to do that."
"She is passionate about what she does and she's able to communicate that to students," says actor Ellen Wurman. "That's why, I think, she is as successful as she is and is so well-liked by students."
A great part of her philosophy of acting, Jackel says, is "you can't worry about being wrong or being good, you can't worry about being liked, and you can't worry about getting a job. If you do, whether it's in an audition or a cold-reading situation, it's going to shut you down and render you unable to make choices. I really push my students to trust themselves, trust their instincts, and just go for it."
Deb Jackel, (212) 579-7323, www.esperstudio.com
Favorite Audition Technique Teacher Runners-Up:
- Karen Kohlhaas, (212) 252-4200,
www.monologueaudition.com
- Jagger Kaye,
www.castingsnclasses.com
- Mary Boyer, (917) 885-7450,
www.mtbstudio.com
- Rosalyn Coleman Williams, (646) 374-8403,
www.rozactingcoach.com
Favorite Cold-Reading Teacher Runners-Up:
- Karen Kohlhaas (see above)
- Jagger Kaye (see above)
- Matthew Corozine, (212) 592-4138,
www.matthewcorozinestu