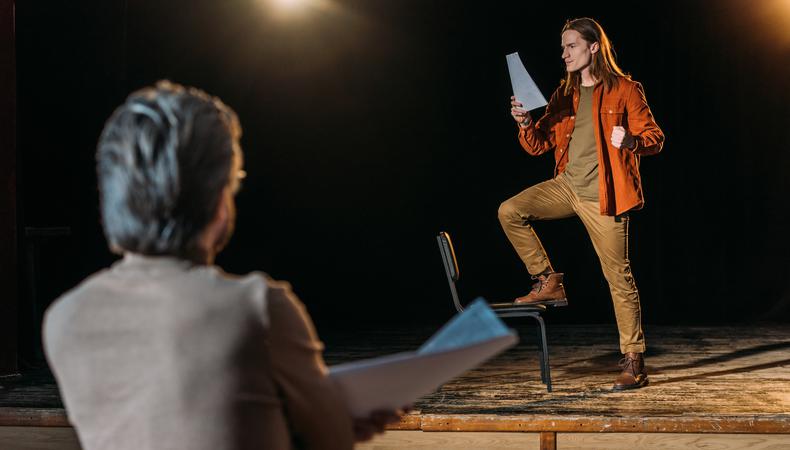 It may be tempting to use family and friends for projects but you shouldn't compromise on the artistic vision of your project for convenience. Unless this is a two-person production crew (you and your actor), many considerations will still have to be made to make your shooting time a success. Below are three things creators might tell themselves when desperate COVID times are calling for desperate measures, and why there are better solutions to this problem.
"My family member or friend will do just fine for this project!"
Putting aside the possible nepotism issues with using family, there are a number of other issues you should consider about working with friends: You need a committed actor on set.
Being on set is not as glamorous as it looks! It requires an actor who can make the fitting days prior to shooting, is available for rehearsals, is prepared for what will possibly be a long day, and will be able to make re-shoots if necessary. Secondly, you want a camera-ready, experienced actor. Is your family member prepared to do many takes, in different ways, without judging their performance and getting in their own head? Can they take direction easily? Can they improv—a big part of commercial work?
"Using a family member or friend is a better way to keep to COVID safety restrictions."
You may think that hiring your family is going to be easier, but in reality you will still have to consider the crew and set safety protocols; the actors involved will be included in this consideration. Don't settle! You should get the talent you really want for the production. There are a lot of talented, experienced actors who are ready to get back on set!
One option to consider is to request actors who are in the same social "bubble"—perhaps actors who are roommates or actual couples. This request can be annotated in the notes section of your casting calls. Throughout the pandemic, we've seen fantastic innovations, even fully virtual crews with the actors filming alone!
"I have a quick turnaround and I won't be able to find the right talent in time."
Casting your project has never been easier or faster. Submit your project on Backstage and you will receive qualified and exciting applicants in a matter of hours. Actor résumés, headshots, and reels are at your fingertips. You can search for special skills and project specifics using our customizable Talent Database. You can request a self-tape of audition material or with our new remote audition feature you can audition talent from the comfort and convenience of your home!
Stay tuned for new product announcements. At Backstage we are constantly innovating and improving the casting process for our clients and community of artists. If you are a creator or production company that is interested in a demo of how to cast on Backstage, email [email protected].