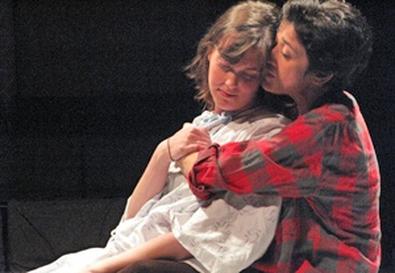 Writer-director and Co-Op Theatre East co–artistic director Ashley Marinaccio believes in effecting social change through theater, and she has put her money where her mouth is with "Decadent Acts," part of the Planet Connections Theatre Festivity. This is theater on the very thinnest of shoestrings, and so it's to Marinaccio's great credit that her somewhat unwieldy play keeps its audience absorbed despite a lack of production values and name New York actors. Marinaccio creates nuanced characters and only rarely sacrifices story to politics in this tale of a lesbian couple encountering legal discrimination in the Manhattan of the 1980s. It's also impressive that this young woman, in conjunction with co-director Casey Cleverly, nails the experience of being young, gay, middle class, and coupled in the Big Apple of more than 20 years ago. (I know because I lived it.) The major drawback is that Marinaccio's episodic script, full of short naturalistic scenes and too many blackouts, is more suited to the screen than the stage.
Dr. Jolene Shatila, who teaches queer studies at New York University, has been with Farah White, a local weathercaster, for 12 years. When Farah contracts leukemia, her conservative Christian parents, who have always seemingly accepted Jolene, position themselves to gain custody of their granddaughter Nicole, Farah's biological child. Despite naming Jolene as the girl's guardian in Farah's will, the women soon learn how naive they have been about discriminatory laws concerning gays and lesbians. After Farah dies, all bets are off.
The 10-person cast is led by the fine Anna Savant, as Jolene, who gives an intelligent and deeply felt performance in an ultimately harrowing role. Hannah Rose Barfoot's sunny Farah and the charmingly natural Beatrice Miller, as Nicole, join Savant to create an utterly convincing family, making its sundering particularly heartbreaking. Other standouts are C. Rose Kearns, as Jolene's teaching assistant, a determinedly upbeat gay activist; Alex Herrald, as a homophobic nurse, a misogynistic student, and Jolene's supportive but flummoxed brother; and Michelle Sims, who plays Jolene's estranged mother with commendable sensitivity and restraint.
Marinaccio potently displays how it was not at all uncommon for '80s couples like Jolene and Farah to believe the law would protect them, despite screaming evidence to the contrary all around them. She is also very good at showing the kind of tautologies then used to disenfranchise gay people. ("You can't have custody because you're not married." "But we can't get married." "So you don't have a family relationship, and you can't have custody," usually accompanied by a slight smirk.) What's more, "Decadent Acts" is a visceral reminder that the marginalization still goes on in much of the country today, which is why President Obama only two months ago had to mandate, through executive order, hospital visitation rights for gays.
Nevertheless, this talented young writer needs to decide upon her medium. There's no shame in writing, say, Lifetime Channel movies, which is what "Decadent Acts" most closely resembles in its straightforward realism and choppy structure. If Marinaccio's choice is the stage, then she must acquire a grasp of form that matches her considerable command of content. After all, theater is most likely to effect change when how it's told is as riveting as what it has to say.
Presented by Co-Op Theatre East as part of Planet Connections Theatre Festivity at the Robert Moss Theater, 440 Lafayette St., 3rd floor, NYC. June 15–24. Remaining performances: Sat., June 19, 1 p.m.; Sun., June 20, and Wed., June 23, 8:30 p.m.; Thu., June 24, 6:30 p.m. (212) 352-3101, (866) 811-4111, www.theatermania.com, or www.planetconnectionsfestivity.com.