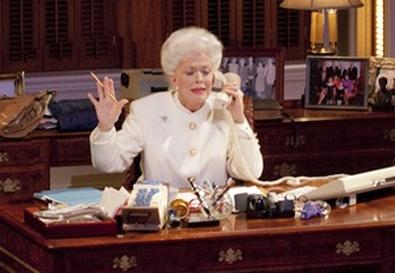 On May 15, Emmy Award–winning actor Holland Taylor ("Two and a Half Men") stepped onto the stage of the Galveston Opera House in what may turn out to be a career-defining role. With "Money, Marbles and Chalk," Taylor presented a workshop of a one-woman play about one of the most charismatic figures in American political history: former governor of Texas Ann Richards.
Richards was launched to political stardom at the 1988 Democratic Convention when she delivered the keynote address in which she famously skewered then President George H.W. Bush: "Poor George, he can't help himself. He was born with a silver foot in his mouth."
Taylor is not only the star of the show; she is also the creative force behind it. It started when she was driving home one evening. She recalls, "I literally pulled off the road. I was on a service road, my eyes frozen on the middle distance as the ideas flooded into my head: the idea for what the setting would be, what the relationship to the audience was, the kinds of things that would happen in the play. Because never was there anybody more suited to a live performance than this woman."
Why does Taylor consider Richards so perfect for the theater? "She was heroic and a big risk taker," explains the actor-playwright. "She had qualities that were profoundly good and important, and an innate sense of fair play that all happened to appear in this cute, bubbly, attractive girl who grew up in a truly wide-spot-in-the-road town in Texas and who went all the way to the governor's mansion."
Taylor may be better known from TV ("The Practice, "Bosom Buddies") and film ("Legally Blonde," "Romancing the Stone"), but she has extensive stage experience, having appeared on Broadway in half a dozen plays, including "Breakfast With Les and Bess." She's also appeared in several Off-Broadway productions, including "The Vagina Monologues" and most recently, in summer 2009, "Mother" with Buck Henry. Notably, Taylor's acting coach and mentor was Stella Adler.
Though Taylor is very at home on the stage, she had never before considered writing a play, and she has no intention of writing another. "I'm not a playwright. But I was certainly a playwright when it came to this," she says. "It was not an idea. It was a passion."
Taylor's vision for the play was so strong and clear that when she brought on a director, her friend Lou Antonio, she was seeking guidance only on her acting. The question of whether a director could have a different vision for the play seemed absurd to her: "How? Like set the play in the Balkans or something?"
What prepared Taylor for the challenge of playwriting was having spent so much time in the theater. "I've been in many plays, and I've seen maybe a thousand," she says. "If you establish certain rules, the audience will go anywhere with you as long as you keep the rules consistent. They have come to the theater to go somewhere; they want you to take them somewhere."
The hardest part of the process was deciding what of the nearly three years' worth of research to leave out. She was distraught that so many fantastic, intimate details—"two and a half years' worth of talking"—could never find space in a 130-minute play. But she got over that quickly. "I thought, 'Holland, they don't have to know all this stuff. You have to know all this stuff.' So what you do put in this very rigid form—which is a play—is the true essence."
Taylor had met the former governor several years prior to Richards' death from esophageal cancer in 2006. It was "like having lunch with Mick Jagger—like, you can't believe it's happening." Taylor says she had been knocked off her feet by Richards long before, when she'd seen the governor on TV. "I was affected by who she was," says Taylor. "That came to me right through the air."
The former governor had that effect on others. Richards struck a chord with many because of her fearlessness, good humor, and plainspoken style. She was known to berate fellow Democrats for being highfalutin ("Tell it so my 80-year-old mama from Waco can get it!"). She became a legend in the rough-and-tumble world of Texas politics because she had a quick-on-the-draw wit and an ability to take a punch and throw one, and most of her punches landed, like this one: "I get a lot of cracks about my hair, mostly from men who don't have any."
Richards' fame in Texas made workshopping the play in Galveston a little intimidating for Taylor. The theater's director, Maureen Patton, wanted her venue to be the first place in the country to stage the play. Taylor says she initially had misgivings but then thought, "Heck, Ann would take that bet." So Taylor took it, too.
Taylor asked Richards' inner circle not to come to the preview, requesting they instead wait until the show was more developed. They showed up anyway: About a dozen of the politician's closest friends came to the second performance.
"Several of them were all kind of undone" by the show, according to Taylor. "Some were afraid to get up afterwards when the lights came up because they were all crying their eyes out. They said it was like they were having a visit with her, like they forgot where they were."
She says the experience has been very gratifying. "The learning curve has been extraordinary in every way—a learning curve of how to write a play, how to study a person, how to research." But Taylor is quick to say she's only at a midpoint. "This play needs to be played. I'll need to play this play hundreds of performances before I feel a sense of satisfaction."
"Money, Marbles and Chalk" will be staged in several regional theaters over the next year
before it goes to New York.Editor's Note: Taylor's show is now titled "Ann!" rather than "Money, Marbles and Chalk."