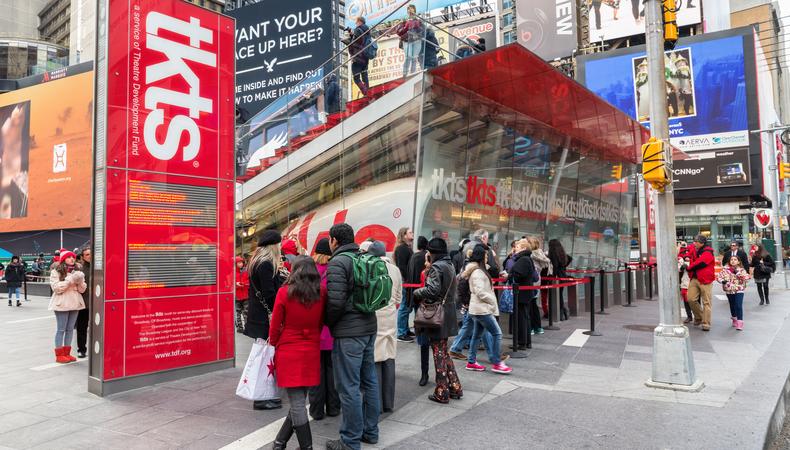 Wanna go to a show—but low on dough? For one week every year, the Great White Way opens its arms to audiences young and old, rich and poor, here, there, and everywhere for 2-for-1 Broadway Week. Now through Feb. 5, theater enthusiasts can pick and choose from a delectable buffet of half-priced Broadway shows, including "You Can't Take It With You," "A Gentleman's Guide to Love and Murder," and, fittingly enough, "On the Town." In honor of the occasion, here's our definitive list of places to turn for affordable theater tickets during the rest of the New York theater season.
TKTS:
Theater regulars and tourists alike flock to the Theatre Development Fund's red TKTS discount booths daily for 20 to 50 percent off tickets to an array of fabulous shows. Depending on ticket availability (and when you arrive to wait in the booths' lines), anyone looking for an evening's entertainment can select from a varying list of Broadway and Off-Broadway plays, musicals, and dance productions. In addition to the flagship location in Times Square, with its iconic red steps, South Street Seaport and downtown Brooklyn also offer same-day and next-day discounts. The free TKTS mobile app links all three display boards, and also features a comprehensive show search and informative content. Best of all, when you purchase TKTS tickets, you support one of New York's foremost arts development nonprofits; the Theatre Development Fund works harder than anyone to expand and enrich audiences. Visit TKTS' website for more info and insider tips.
TodayTix:
Does your phone rule your life? We understand. So does TodayTix, a new app and service that takes a cutting-edge approach to ticketing. Created by Broadway producers and box office pros, the app funnels the city's best discounts and deals directly into your mobile device. With just a few taps—and without waiting in any line—audience members can purchase tickets they then pick up from concierge agents waiting outside the theater. Part of TodayTix's mission is to reach younger, more mobile audiences and prove that theater is compatible with both affordability and innovative technology. If your fingers are itching to start browsing and tapping immediately, enter your phone number on their sleek website for a download link.
BroadwayBox:
Popular among city visitors on a shoestring budget, BroadwayBox gathers together discounts to some of the hottest shows on and Off-Broadway. Complete with a mobile app of their own, the easy-to-use website features an almost overwhelming list of shows—"Kinky Boots"! "If/Then"! "Matilda"!—as well as juicy content for Broadway aficionados from the Daily Scoop. If you prefer email notifications, signing up for their newsletter of discount alerts is a cinch.
TheaterMania:
Widely trusted as a reliable source for listings, reviews, and information about the city's most talked-about shows, TheaterMania.com is a veritable rabbit hole for those who can't get enough theater news. Since 1999 the site has been connecting audiences to the NYC arts scene through the streamlined ticketing system OvationTix, which is used by over 500 arts organizations' websites in the U.S. Our favorite TheaterMania feature is a handy list of shows that can be filtered and organized to the user's liking.
Rush and student rush:
In 1996, with "Rent" at its peak popularity, the Nederlander Theatre offered $20 front-row tickets to the box office's first visitors. So began a trend that New York's most hopeful early risers continue to this day. If you consider yourself a dedicated and determined theater fan, browse Playbill's listings of Broadway and Off-Broadway offers and plan your attack. Each theater has a slightly different rush policy—some exclusive to students, some to the general public—and it's important to stay up to date on news and information. This game is not for amateur ticket hunters, people. The savvy will avoid weekend performances and check Broadway Spotted's down-to-the-minute Rush Report to gauge the likeliness of scoring tickets to each Broadway hit. A rite of passage for high school- and college-aged thespians and any theatergoer on a budget, the rewards of rush often outweigh the effort of setting an early alarm.
Lottery tickets:
You must be at least a little bit crazy to enter a theater ticket lottery. In an effort to build up and subsequently dash many of their potential audience's hopes, Broadway's most successful shows offer a limited number of seats to anyone who feels Lady Luck is on their side. Usually two hours before each performance's curtain, names are drawn from a hat with an elaborate presentation as confounding as it is thrilling. Lotteries are perfect for the impulsive, the foolhardy, or the poor souls who find themselves trapped in the mayhem of a twilit Times Square. Standing amidst an anxious, salivating horde of other hopefuls outside "The Book of Mormon" or "Wicked" is an extraordinary experience; every New Yorker and tourist should subject themselves to it at least once. Check Playbill for individual shows' policies, and good luck—er, break a leg!