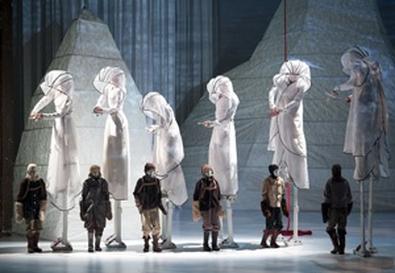 A remarkable achievement of multimedia artistry, the spellbinding "69ºS." is like nothing you've ever seen before. An imaginatively evocative depiction of British explorer Ernest Shackleton's 1914 expedition to Antarctica, the show takes its title from the latitude at which Shackleton's ship sank, forcing the heroic leader and his crew to spend seven months hauling their lifeboats to the sea and seven days rowing out to Elephant Island. When Shackleton realized that they would never be found out there, he and a few men trekked 800 miles to a whaling station and were eventually able to bring all of the others to safety.
Created by Phantom Limb in collaboration with David Harrington/Kronos Quartet and developed with Tony Taccone, the 75-minute show, directed by Sophie Hunter, begins by slowly and powerfully setting the scene. The frosty Antarctic climate is convincingly conjured on stark white flooring, with three mounds of white cloth that eventually grow into giant glaciers, as designed by Jessica Grindstaff. The forbidding towers of ice are shimmeringly lit by Andrew Hill, who also dazzles us with "snowflakes" of flickering light racing blizzardlike all around the space. Harsh, atmospheric wind and water sounds emanate from Kronos Quartet recordings, enhanced by Skeleton Key, four men in natty white suits playing guitars and drums and situated one each in boxes house right and house left. Projected on the backdrop are video images (by Shaun Irons and Lauren Petty) drawn from archival photographs of the real-life events.
Engulfed in the ferociousness of nature and feeling the desolate quality and sense of danger that pervades the polar region, we suddenly see the scaffolding of the wrecked ship. From the boat emerge Shackleton and his crew, each explorer represented by a white-robed puppeteer on stilts manipulating a three-foot-tall marionette realistically costumed (by threeASFOUR) in period dress. Designed by Erik Sanko (who also composed the work's tremendous score), the puppets completely captivate us with their slow, gentle movement quality and their amazingly expressive faces—underlining the extreme fragility, preciousness, and minuteness of man vis a vis Mother Nature.
As the puppets progress through their adventures, we watch with enthralled attention, riveted not so much by the themes of teamwork, death, and sacrifice that emerge but by how magnificently these collaborative artists have translated this piece of history into a sublime aesthetic affair.
Presented by Brooklyn Academy of Music as part of BAM 2011 Next Wave Festival at BAM Harvey Theater, 651 Fulton St., Brooklyn, N.Y. Nov. 2–5. Wed.–Sat., 7: 30 p.m. (718) 636-4100 or www.bam.org.