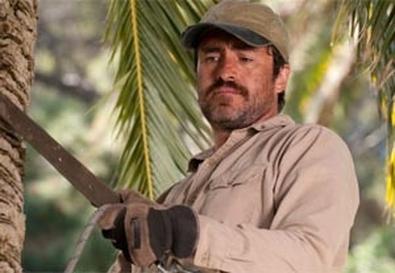 In this year's film "A Better Life," Demián Bichir plays Carlos, an illegal immigrant trying his utmost to keep his American and Americanized son afloat and out of trouble. It's a breakout performance but not a story new to Bichir. He says his parents stayed out of trouble in their hometown of Torreón, Mexico, by "escaping" into acting. Eventually they plied their Stanislavsky technique on the stage every night, and young Demián and his brothers watched them—sometimes from the wings and sometimes while onstage with them.
Bichir became a member of the National Theatre Company of Mexico when he was 13, likewise having a better life because of theater. "My brothers and I, we grew up in the barrio, in really difficult neighborhoods, and it was because of the arts, not only theater, that we got civilized," he says. "So when my friends would be doing nothing, I would go to the National Theatre Company and rehearse a serious play, for four hours, and then at night perform, and be responsible for something in my life. When you give that to a kid—in sports or any other discipline—you can save people's lives like that."
He studied dance—tap, ballet, jazz—voice, singing, and whatever else he could find to hone his acting. Eventually he appeared in Shakespeare and O'Neill, working with such international directors as José Quintero and Clifford Williams. Bichir developed into an A-list star in Mexico—a beloved drawing card in stage productions, a popular figure in film. And then he came to America. And here his tasks were probably no easier than those of Carlos.
First and foremost, Bichir had to learn English. As he recalls, he arrived armed only with "The pencil is red, and the window is open, and good morning." Yet, he says, "I always knew that it was going to be hard, but I wanted to keep doing it and try to expand as much as possible."
Convincing casting directors that he had the language skills was his next row to hoe. "It was a shocking moment for me, because every time I would go to any audition, I would get rejected right away," he recalls. "I didn't have the language. My accent was really, really thick, and no one could understand what I was saying. So I was cut before finishing, every time. And of course there was a point where I told my agent, 'Listen, I think this is a waste of time. I'm just going to go back to Mexico and keep doing Shakespeare in Spanish.' But that was only a moment. And I kept trying and trying and trying."
In those days, all his auditions were horrific for him, but at one in particular, the CD stopped him immediately. Bichir recalls, "She told me, 'No, no, please don't do that weird accent. We don't need that weird accent. Just read normally.' And I kept going like that, and she stopped me again and said, 'Okay, that's all I need from you.' So for me, it was really clear that it was not happening." He cleaned up his accent through diligent application. "I still work with a dialect coach and speech training and this and that," he says. "It's really, really hard. But that's exactly why I'm the first one to be amazed by the things I'm doing in another language. I just didn't know that was possible."
Mind you, this occurred after Bichir had been a celebrity and busy actor in Mexico. But, as he says, "I could never sit still. I always move a lot. I just wanted to do with the only life I have whatever I wanted. And of course it's really difficult; it's really hard to have a place here, because there's so much competition and everyone's so good. There are acting schools on every corner in [Los Angeles] and in New York, and there are so many talented guys in search of a place."
Yet, Bichir says, he believed there was a place for him too. He seems to have every confidence that he is unique—indeed, that everyone is unique. "Everything I have makes me who I am, and nobody else has it," he says.
Perhaps that mindset gives his "Better Life" character the backbone to stand up to life's thwartings. Bichir gives him the clear eyes to see every detail around him and the fortitude to cope and even fight back. It's a quiet performance that leaves the impression of a bravura one. Now, that's as unique as the actor is.