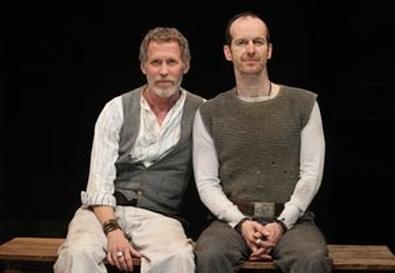 Rage, the opening word of "The Iliad," is not a foreign quality for Tony winner
Denis O'Hare
. He's best known for portraying the wrath-filled vampire king of Mississippi in "
True Blood
," and now he will channel rage, and every other emotion, of gods and humans. Along with director Lisa Peterson, O'Hare has adapted Homer's epic poem "The Iliad" into a one-man show "
An Iliad
," which will be presented by New York Theater Workshop. Fellow Tony winner Stephen Spinella ("Angels in America") will alternate with O'Hare.
O'Hare and Peterson spoke to Back Stage about their creative process.
Back Stage: What initially drew you to this project?
Peterson:
Around 2003 or 2004, in the early days of the Iraq War, I became really interested in plays dealing with what it's like to be in a war. I recalled that my friend told me she teaches "The Iliad" as being really the first play when she teaches world drama. I did more research on the epic tradition and decided it would be interesting to adapt it for the stage. I didn't want to be a play, but to be close to recreating the original experience of hearing a storyteller tell you this Trojan War tale.
O'Hare:
We are old friends and so then Lisa asked me, "Do you want to ever get together and talk about 'The Iliad' as a platform for performance?" I said, "Absolutely." We both read it again and started meeting periodically at various places with no official patron or support. Then over the course of five years, we honed an idea and had a script.

Back Stage: How did you condense the work?
O'Hare:
The first thing we did was try to figure out was what is it about, but every great work of literature is not easily reducible. We decided the most basic structure is Achilles meets Hector, the symbols of Greece and Troy respectively. We focused our stories around that central conflict with everything else radiating outward. We cut a lot that we wanted to keep though: Achilles fighting the river, Cassandra, Hecuba, and Helen. We have female voices still but not as many as we would like.
Peterson:
Though it's necessary storytelling-wise, we kept the chapter on Achilles shield, because the whole world of "The Iliad" is in that shield. We kept looking for ways to let in that bigger world.
O'Hare:
At one point, we even took all the gods out and of course, the whole thing collapsed. (laughs) The gods in so many ways are the actual machinery of the events that happen. It was a painful editing process.

Back Stage: Lisa, how do you approach directing a different actor each night?Peterson:
I had to trick myself a little. I have a different binder and script copy for Denis and Stephen. We agreed that the common denominator would be the words said stay the same. Aside from having the same script, set, and props, I've been trying to have them diverge as much as I can. I try not to take an idea that came up in one and bring it to the other. I am working as hard as I can within the parameters. What I love about having both is that we have built into the experience then the idea that Homer is more than one person. I do kind of have to split my brain.
Back Stage: Denis, do you approach acting differently on stage versus on screen?
O'Hare:
Generally, it's a great exercise to not get stuck in one medium too long because you begin to lose perspective on the peculiar drawbacks and strengths of the medium. For example, if I'm in the back of the stage and I want you to see my emotional change by a flicker of my eyelid, we're all going to be in for a long boring evening. You have to learn to express differently. Whenever I do TV or film, I ask if I can see the shot to see, to see if it's full body or a close-up. That helps me understand how to communicate.

Back Stage: Do you have advice for those considering adapting an ancient work?O'Hare:
Nobody owns this stuff. My attitude is basically fuck them. These works are the world's gift to all of us and we are all allowed to examine them and reflect upon them.
Peterson:
I always say to young directors that the only really way to make your mark is to think of yourself as the primary storyteller of an idea.

Back Stage: Denis, can you give me a "True Blood" update?O'Hare:
I'm actually going to start working [on "True Blood"] in the middle of "An Iliad." I have to run once and shoot something. Then I'm back in L.A. at the end of March to shoot some more. I've read about six scripts. They've got some very nice stuff planned.
"An Iliad" is currently in previews. It officially opens on March 6 with O'Hare and March 7 with Spinella at New York Theatre Workshop, 79 East 4 St., NYC. 212-460-5475.