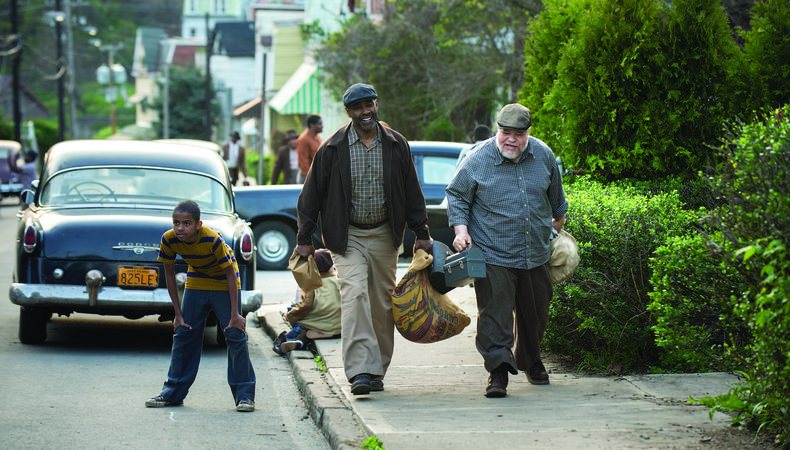 Take it from a legend of stage and screen: Acting is acting, no matter the medium. "There's no such thing as film acting," Denzel Washington says. "Tell the truth. Film acting, if anything, is more natural than theater."
He's referring to the process of translating August Wilson's dramatic masterpiece "Fences" from the 2010 Broadway production in which he and Viola Davis starred (and won Tony Awards) to the screen. Six years later, its mostly intact cast had to shrink their stage performances for the lens without sacrificing the explosive emotions in Wilson's script. "Some [of the actors] were concerned: 'It's a film now.' No, I don't want anything different. Don't worry, I'm coming around with the camera!"
WATCH: "How to Get Nominated for a Tony Award"
With an awards season-ready Christmas Day release, "Fences" marks Washington's third directorial effort after "The Great Debaters" and "Antwone Fisher." It's a stage-to-screen adaptation for the ages; Wilson's story of Troy Maxson and his family living in 1957 Pittsburgh feels visceral and immediate in the hands of such powerhouse actors. Other than a few tweaks and location changes (the play is set entirely in the backyard of a rundown apartment), the film keeps its source material faithfully intact, an approach devised by Washington and Tony Kushner while studying Wilson's own screenplay adaptation.
"If there are 25,000 words in the screenplay, 24,900 are August Wilson," says Washington. "I'd always defer to August. I wanted to protect and respect the amount of work and dedication and brilliance." In fact, he ranks the playwright with the best of the best. "I think there are five: Tennessee Williams, Neil Simon, Edward Albee, Eugene O'Neill, August Wilson. That ain't a bad lineup."
After taking Scott Rudin's offer to follow up the Tony-winning production with a screen adaptation, Washington knew that Davis, Stephen McKinley Henderson, Russell Hornsby, and Mykelti Williamson had to reprise their Broadway roles. "All those guys, they knew the play," says Washington. "We were way ahead of the game. I've never approached a film with this much knowledge."
To find Cory, son of Troy (Washington) and Rose (Davis), the actor-director held auditions alongside casting director Vicky Thomas. His approach: "Hey, we only need one. I'll know when that person walks in." Washington joined Jovan Adepo in read-throughs, pushing him and testing flexibility with lines and direction. "The role was just his," he remembers.
Saniyya Sidney, meanwhile, was selected from dozens of child actors to play little Raynell. "Sometimes I just like to talk," Washington says of the process. "I met a lot of little kids, I could see how some were a little too practiced. But little Saniyya—I could throw curveballs at her and she'd throw them right back. She talked about her passion, about wanting to be an actor. She's like, 'I'm not playing games, I want to be good.' I'm like, 'OK, Miss 9-Year-Old!' "
Washington decided the best way to rediscover their characters was an on-its-feet rehearsal for two weeks, a technique borrowed from Sidney Lumet. "I knew my part, but I had to now learn everybody else's arc and what they're going through." He then hired college-level acting students as understudies to play Troy in rehearsals, switching hats as actor and director as needed. "They had to be off-book and step in so I could step out with the cinematographer and run the scenes and start talking about where to put the camera."
Between the Broadway production, the obsessive reading of both play and screenplay, and those preparatory rehearsals, it's safe to say Washington knows the Maxsons more intimately than any characters he's ever worked with. He's also convinced that when it comes to source material, it doesn't get much better than Wilson. "I've been in the business 40 years or whatever—I won't count college, because there was a guy named Shakespeare who was pretty good, too—but out of the films I've done...'Fences' is the best material I've ever worked on. Period. There's no question."
Ready to star in a Broadway-to-Hollywood adaptation? Browse our film audition listings!