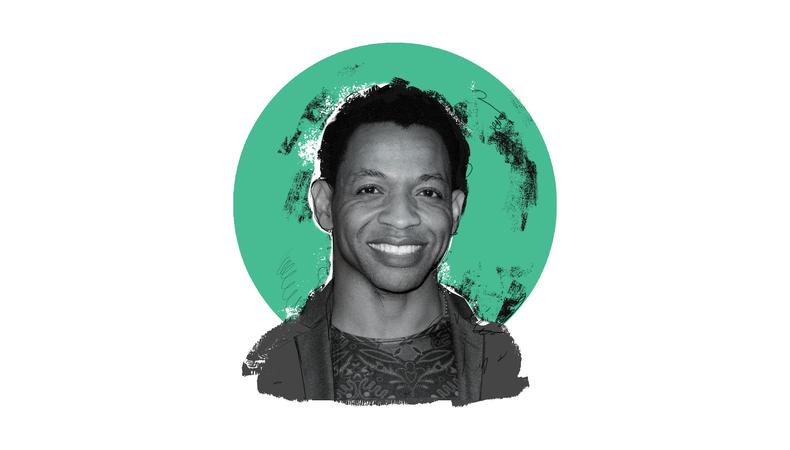 Not only does Derrick Baskin star as Otis Williams, the founder and only surviving original member of the Temptations, in the newly opened Broadway musical "Ain't Too Proud—The Life and Times of the Temptations"; he never once leaves the stage during the show's two and a half hours. With multiple monologues, dance numbers, and, of course, performances of familiar songs, Baskin is already generating Tony Award buzz.
"Ain't Too Proud" opened March 21. How have the audiences been?
Broadway audiences are always great, but for this particular show, they have been the most exuberant crowd that I have ever had. We've been on the road [with this show] for almost two years—we hit four cities in two years, and New York audiences have completely topped any audience we have ever experienced. That's why when you're tired, you keep going. The difference is [that] people plan for this. If you do a show regionally, people might say, "What do you want to do tonight? Let's go to a show." When people come to New York, going to a show is part of the plan. They save for this. We know that, and because of that, we give our best to these people. It's not inexpensive to come to a Broadway show. We know people have come from far away. A lot of people are huge Temptations fans. We have to give our all to these people.
Giving your all here includes singing and dancing, not once leaving the stage. What sort of physical preparation do you do?
First and foremost, I have to watch what I eat, so I have to balance my diet a bit, make sure the foods I eat don't give me acid reflux. Depending on your diet, your voice will do a certain thing. I can't eat a bunch of junk food. I limit the stuff that I really, really like and I want to eat; I have to put those on the back burner now. I must, must, must go to the gym. I just came from the gym. We're working 12 hours, but even before that, [I'm] going to the gym. I work stress off; it centers me and grounds me. I have to stretch. I do a bunch of cardio. Because I don't leave the show, my stamina has to be up. Doing a bunch of circuit training prepares me to never leave the stage every night.
Are you singing while you're on the treadmill?
The good thing about working out nowadays is everyone has earphones in and no one's listening to anyone else, so I can actually sing. [Laughs] I can sing, I can warm up and do lip drills and hum, and no one knows I'm doing anything because the person next to me is so lost in their music. I do cardio for 45 minutes, so for half of that I'm doing warm-ups and scales and singing, and the other half I'm talking over the many monologues I have in the show.
What has "Ain't Too Proud" added to your acting skills?
When I was introduced to the Broadway community through my first Broadway show, "The 25th Annual Putnam County Spelling Bee," I was known as the guy who's kind of funny and sings really well. This role, you have to have acting chops. It's a heavy character. Yes, I sing, but the more important aspect of this character is his heart. How to convey his heart and his spirit to the audience has been a challenge. This role, for me, [is my introduction] as an actor, which is a dream to be in a musical and be known as an actor. I've never had to carry a show. I've never had to say so many lines. I've never had to be as connected to every single person onstage. I have to be really, really focused, and because of that, I think people see me more as an actor, more as a leading man than I ever have been before.
Knowing all of this and knowing the real story of the Temptations, how did you prepare to audition for the role?
I wanted to pick the appropriate song for this person. The story is told through his eyes. He's remembering events and people who have come into his life and left his life. It was important for me to find a song that portrayed that. When I audition for musicals, I find a piece that reflects the character. I chose "Stand by Me" from "Smokey Joe's Cafe." I felt like the character in that particular song had been through some things, and he needed support, he wanted love. Some of the lyrics parallel Otis' life and they parallel our show. I thought it was the perfect song to couple with the audition.
Then I had about nine pages of dialogue and several monologues. The only thing you can do to prepare for a monologue is read it and allow it to get into your body a little bit, [into] your mind, your spirit so you're not just reading words on a page. You have to bring what you want to bring to the role as opposed to what you think they want you to bring to the role. I felt like if I brought what Derrick would do to this particular character, I would be being true to myself and true to how I would actually portray the character. I didn't go in [thinking], I think they're probably going to want this guy to be this or that. I came in with my own ideas of who I thought Otis Williams was.
Do you have go-to audition songs?
"Being Alive" from "Company," I've sung that quite often. Back in the day, I used to sing "Climb Ev'ry Mountain" from "The Sound of Music," because no one ever expected a guy to sing it. First of all, it's a beautiful song; it fits perfectly in my range. When I tell people I'm singing it, it makes them pay attention. If you're auditioning and they've had a day of auditions and you're toward the end of an audition day, you want to do something to bring focus back into the room. When I would sing that song, they'd be like, "Wow, that's a very interesting choice. Thank you for switching it up on us."
READ: These Kinds of Songs Will Ruin Your Musical Theater Audition
What's the success rate for "Climb Ev'ry Mountain"?
It's gotten me a couple of jobs, actually! I've gotten a couple of regional gigs with it. It's a pretty good success rate.
I feel like we're blowing your secret ingredient here.
At this point, I've had to retire that song. So it's OK, someone else can sing it.
I know you moved to New York on a whim and got a job at TGI Fridays. Do you have any other memorable survival jobs?
Down by the World Trade Center, when it used to be the World Trade Center, I used to hand out fliers and protein bars. My degree is in biology. A lot of my friends were biology majors, but they were also finance majors. Down by Wall Street, that's finance. I didn't go into the medical field, so as I was paying my bills handing out these fliers, I ran into two people I went to college with who had jobs on Wall Street and they were like, "What are you doing down here?" I was like, "I'm handing out some protein bars." I could have been the equivalent to what they're doing in their field. I would've been a doctor at that point. I didn't regret it at all. But there were a lot of lean years. Because I didn't have the training that you need for theater or film or television, I went to the school of hard knocks. I've had to learn as I go. It's made me have to make some sacrifices and learn really quickly but allow life lessons to teach me things that I know to be successful in this business. Part of that was taking those jobs at TGI Fridays, handing out fliers, and the like.
What play or musical would you recommend every actor see?
One of my first experiences in musical theater was at Weston Playhouse in Vermont. I was cast in the ensemble of "Ragtime." As I was rehearsing, I was watching the principal players, watching their technique and watching the stillness of the woman who played Mother. That gave me such a love, not just for musical theater, but for acting. When you are watching any kind of musical theater, yes, the music will be beautiful, but look at the acting. Look at the honest moments of these actors. Look at the stillness that they use. See if they're grounded or not, because not every actor is going to be grounded. You learn a lot by watching. The people that I learned from, they had this stillness to them, and they were incredibly grounded and incredibly open so it didn't feel like they were acting. The second experience I had that really floored me was in "The Light in the Piazza" on Broadway. That was a gorgeous show; it's my favorite musical. Victoria Clark gave a masterclass in acting and singing and how to carry a show. I remember her performance when I'm doing this role.
That stillness is really important for actors.
When there is no stillness, when we're gesturing a lot, we don't necessarily trust our ability to portray the character truthfully. So we add things to say, "Hey, I know what I'm doing." I found out very easily that if I'm simpler, people gravitate more toward that than if I'm being a little bit extra onstage. It's very easy to be extra in musicals; there's a lot of singing, there's a lot of dancing. But when you can find those moments of stillness, I think the audience reacts more to that.
You sometimes feel like you have to overcompensate and do something to make people notice you.
You realize if your character is in the show, the writer thinks your character is important. If your character is there for a reason, you don't have to add anything extra. A lot of times, we feel like we have to give extra to the character that has been created. You don't have to be [saying], "Hey, look at me!" That becomes presentational, and I don't like presentational theater. I'd rather the audience come to me than me go to the audience, because then we can go on a journey together. Even with this character I'm doing now, maybe 70 percent [is] my character speaking to the audience and the other 30 percent is in the scene. If I were to present the show, I don't think the audience would follow my journey as opposed to if I just relived the journey.