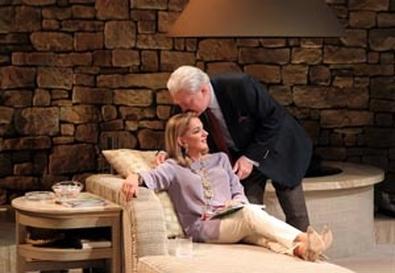 Logistics prevented an immediate Broadway transfer last winter of Jon Robin Baitz's "Other Desert Cities," despite its
great reviews
and hot ticket sales Off-Broadway at Lincoln Center's Mitzi E. Newhouse Theater. Now here it is, on the Great White Way where it always belonged, but with two crucial roles recast, again due to logistics. Have Baitz and director Joe Mantello kept the magic intact? You bet. They've even done some subtle tinkering that makes the proceedings even more effective, if that's possible. With Rachel Griffiths and Judith Light stepping seamlessly into the tight five-person ensemble and delivering performances every bit as satisfying as those of Elizabeth Marvel and Linda Lavin, "Cities" remains both grandly entertaining and deeply perceptive in its portrait of a loving but dysfunctional American family riven by political and personal differences.
The future of the Wyeth clan is put at risk when leftist daughter Brooke, a novelist recovering from a recent nervous breakdown, writes a memoir about her older brother Henry's descent into rebellion, drugs, and suicide during the waning days of the Vietnam War. In it, she blames her parents, right-wing Republican bigwigs Lyman and Polly, for driving Henry to his end through their political and emotional rigidity. During a Christmas family gathering in said parents' Palm Springs home, where Brooke has come to ask for permission to publish, Lyman refuses to read the book but won't try to prevent its publication, while Polly is furious and feral in her opposition. Youngest child Trip, an apolitical reality-TV producer, tries to smooth things over while keeping out of the line of fire, while Polly's sister, Silda, a recovering alcoholic, eggs Brooke on, providing family secrets Lyman and Polly have never shared. Nuclear meltdown seems inevitable, with the only question being how bad the fallout is likely to be.
Baitz, a playwright known for his intelligence, perception, and nuanced psychology, here adds a rich theatricality and faultless command of craft that lift his work to a new level. Mantello orchestrates it expertly, finely attuned to shifting moods and complicated feelings while always making sure to hurtle forward. Returning to their roles are Stockard Channing as Polly, Stacy Keach as Lyman, and Thomas Sadoski as Trip. All three have deepened and enriched their portraits, with Channing finding more vulnerability in the brittle and controlling Polly, Keach broadening Lyman's quiet despair, and Sadoski, whose shorter hair this time around is a subtly enhancing choice, giving the playful Trip a bit more solidity.
Griffiths is in familiar territory with Brooke, having played damaged daughters on the TV family dramas "Six Feet Under" and "Brothers and Sisters," the latter created by Baitz, to great acclaim. Nevertheless, her work in her American stage debut (she has oodles of theater experience in her native Australia) is impressively specific as she mixes Brooke's arrogant self-dramatizing and surface strength with an underlying girlish fragility. She handles Baitz's stinging wit with a light grace, and when Brooke's world suddenly collapses upon her, Griffiths' emotional implosion is wrenching.
Where Lavin glided and stung as Silda, Light lumbers and swings, more obviously an outcast who must be protected from herself for the sake of all. She is particularly compelling illuminating Silda's bottomless contrariness and self-righteous certainty, blooms with an incongruous loving warmth when supporting Brooke, and creates an indelible silent moment of grief and self-loathing when Polly reveals to Brooke that her aunt is not without her own share of blame.
It's somewhat surprising to realize that this is Baitz's Broadway debut, considering the number of fine plays he has already given us. Still, better late than never, especially when the goods are as good as these. Though the show is announced as a limited run through Jan. 8 only, I have a feeling that the Booth may belong to Baitz for some time to come.
Presented by Lincoln Center Theater, in association with Bob Boyett, at the Booth Theatre, 222 W. 45th St., NYC. Nov. 3–March 25. Tue., 7 p.m.; Wed.–Sat., 8 p.m.; Wed. and Sat., 2 p.m.; Sun., 3 p.m. (No performance Thu., Nov. 24; additional performance Fri., Nov. 25, 2 p.m.) (212) 239-6200, (800) 432-7250, or www.telecharge.com. Casting by Daniel Swee.