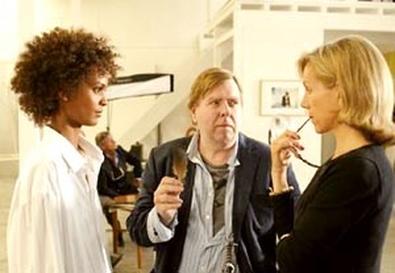 U.S. audiences will finally have the chance to see the moving drama "Desert Flower," the true story of supermodel Waris Dirie, who escaped Somalia at age 13 after harrowing experiences she would later speak out against as the United Nations special ambassador for women's rights in Africa.
The film, which opened elsewhere around the world over the last few years, tells a stirring story that mixes horror, courage, and eventually triumph while shining the light on female circumcision and genital mutilation, a practice still going on in the Third World.
The film closely follows Dirie's story, beginning when she was a young girl growing up in Somalia. Her torturous childhood ended in her being circumcised and fleeing her home for the London embassy where she worked as a maid. When circumstances ended that job, she wound up in the streets of London, where she was discovered by a fashion photographer. Dirie evolved into a famous runway model who would eventually grace the covers of many magazines.
This turn of fortune allowed her to reveal her tragic past in a magazine article titled "The Day That Changed My Life." Her story about the ancient practice of female circumcision made such an impact, she was named U.N. special ambassador and used her celebrity to tell stories of other victims around the world and to write a bestselling book.
German director Sherry Hormann infuses Dirie's inspiring story with surprising humor and a fun backstage view of a model's life. It is by necessity a bit too episodic for its own good and, at over two hours, is too long. Still, there's a spirit and life Hormann brings that keeps us engaged for most of that time. One reason is the luck she had in casting her lead.
Liya Kebede, a model and sometimes actor, who appeared opposite Robert De Niro in "The Good Shepherd" and Nicolas Cage in "The Lord of War," is a dead ringer for Dirie and a very capable performer who embodies the essence of this remarkable woman. Kebede shares the role with Soraya Omar-Scego as the younger Dirie, who is given the bulk of the most-difficult-to-watch material but makes it memorably powerful.
Kebede's best scene comes when she bargains with a major magazine writer (Juliet Stevenson), getting the writer to guarantee she will report Dirie's story in vivid detail. Anthony Mackie has a brief turn as an early love interest, and the ever-reliable Sally Hawkins plays her good friend and confidante in the early London scenes.
"Desert Flower" shows that though the world of high-fashion modeling is seemingly shallow and faux-glamorous, there is something much deeper beneath that surface that in this particular case is well worth the investment of time to discover.
Genre: Drama
Written and directed by: Sherry Hormann
Starring: Liya Kebede, Sally Hawkins, Timothy Spall, Juliet Stevenson, Anthony Mackie.