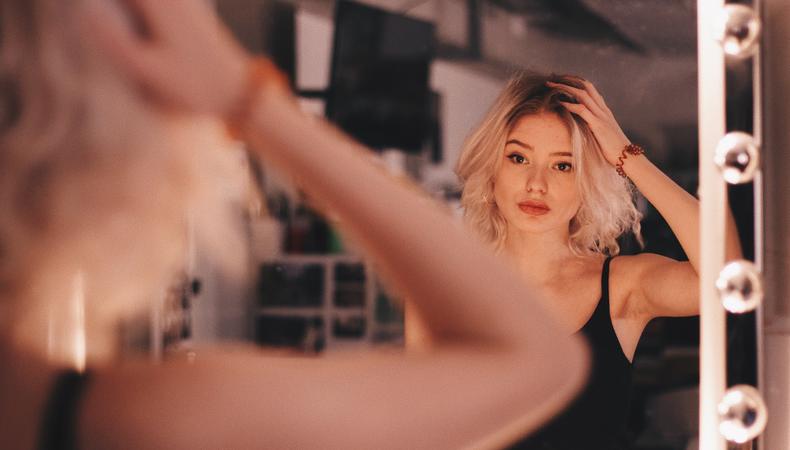 So many artists and actors make the mistake of thinking their worth has to do with the number of credits on their résumé, the number of classes they have taken, or the compliments, positive reviews, and outer validation they can collect.
So many artists and actors only believe in their own gifts once an agent, a casting director or a producer has declared and affirmed their merit.
And as a result, too many are giving their worth and power away without knowing just how valuable it is.
When I was younger, I remember overhearing my dad say that my grandfather had money hidden all over his house. I thought the whole notion was entirely thrilling, like something exotic and cool out of an old movie. I had this utterly romantic vision of hundreds of ancient, perfectly preserved bills in every nook and cranny just waiting for the perfect moment to be dusted off and used for something special and amazing. I also loved the idea that every night sleeping in that house, he must have felt such delight surrounded by riches like royalty.
But what my younger mind didn't quite grasp was that keeping his money close to him was not an act of sentimentality or romanticism; it was one of distrust. He was old-school and like many of his generation, lacked trust in banks and government establishments. Hoarding his wealth was about protecting what he had, not celebrating or reveling in it.
This way of thinking was entirely new to me. How could you have something useful and not feel over the moon about it? As I got older and took a closer look, I began to see I was much like him, living with all my valuables locked away from the world outside. Though my valuables were not material, I had an equal lack of trust—in myself.
The word "value" has many meanings. Something can have monetary value or be held in high esteem. When talking about yourself, the definition that rings true for me is "the regard that something is held to deserve." Do you regard yourself as something deserving?
READ: Why You Should Take the Goldilocks Approach to Auditioning
We mostly accept that aspects of ourselves and our artistry are of some value yet we have also adopted the habit of doubting ourselves, comparing ourselves, and wanting to be stronger/more/better. We want to believe we have value and deserve things: a good life, a good job, a good role, a good rep. Our lives may or may not reflect that but we at least want to keep believing it and fighting the good fight against that conditioning of "not enough."
Why, then, are we so quick to hoard our valuables? To keep our gifts hidden away from the world? Sure, we can want to be a better actor, artist, client, or friend but why refuse to acknowledge and share the fact that we already are wonderful at those things, at least some of the time? Why do we get so caught in our feelings of "not good enough" that we completely devalue all the ways are already good? Why do we think we don't deserve more?
When we refuse to acknowledge our own value, not only are we keeping it locked away from the rest of the world, but we neglect to give ourselves the very validation that could allow us to bravely show and share our gifts. Out of sight, out of mind. Our stock goes down. Our self-worth becomes bankrupt.
We alone have the power to say there is another way. We are not victims. We are not helpless. We don't need anyone else to help us or bail us out. We can stand up for our own worth and unlock those doors. Shout it from the rooftops: "I am a human being. I am a work in progress. I am an artist, a creator, an actor! I am worthy. I am enough. The space I take up in this world is important and valuable and I will not hide it anymore. I am a gloriously messy work in progress. I vow to love myself wherever I am in my process. I am worth that."
And just like that, you are immeasurable. You are your own most valuable asset. Casting will see it. Agents will see it. The industry will see what you believe. Trust that if you value yourself and your offerings, you will be safe in the great bank of life.
The more valuable something is, the more interest it incurs. It's time to go all in—you can't afford not to. You are worth it.
Natalie Roy is an actress, author, and spiritual teacher. She's also a 500-hour certified yoga and meditation teacher specializing in visualization technique, positive psychology for actors, the yoga sutras and taking ancient Eastern philosophy and practices and playing them into the audition room and onto set. Natalie brings together the practices and techniques of meditation, mindfulness and "learned optimism" with the artistic process. She Co-Founded C.R.E.A.T.E and created the trademarked acting technique The Activated Actor, which she offers as an ongoing acting class at the Actors Green Room in New York City. For more information on coaching with Natalie or to interact, visit her at natalieroy.com. To listen to Natalie's free weekly podcast with Tony-Nominated Director Kristin Hanggi visit thecreateseries.com.
Check out Backstage's commercial audition listings!
The views expressed in this article are solely that of the individual(s) providing them,
and do not necessarily reflect the opinions of Backstage or its staff.