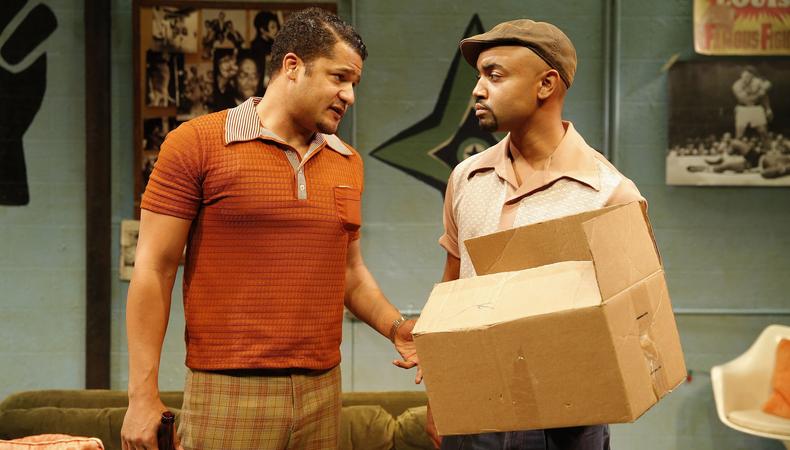 The Detroit race riots seem like fertile territory for heated conflict, but Dominique Morisseau's witty "Detroit '67" stays on simmer. The riots take a back seat, entering the action only through spoken exchanges and offstage sound effects, even though race relations are supposed to fuel the drama.
In racially charged 1960s Michigan, Chelle and her brother, Lank, live on the "other side of the tracks," where they make money hosting parties in their basement. The house has sentimental value that goes back to when the two were kids, complete with pictures and art in Esosa's attractive, period-appropriate set. Friends Bunny and Sly visit often to help with the parties, and Lank has been talking with Sly about starting a bar together instead of relying solely on house parties for income. Chelle is not pleased with this idea or the fact that Lank and Sly have brought home a new eight-track tape player. She doesn't like change.
Then the men arrive one day with a white woman named Caroline—with whom Chelle is even less pleased than the tape player—claiming to have found her in trouble after a night out. Lank wants to help Caroline, but Chelle is worried about how the situation will be perceived, even though Lank and Sly assure Chelle that they had nothing to do with hurting her. When Caroline wakes up in the morning she asks to stay for a week, and though Chelle is skeptical, she agrees—almost too quickly—and the quartet now has a white woman helping to host its gatherings. This sounds like a formula for conflict, but nothing really happens. Caroline does have a secret, but the reveal is buried, and its relevance to the plot is underused. While interracial romance is suggested, it never escalates to an interesting or even romantic point.
The five-person cast enjoys a nice chemistry. Brandon J. Dirden possesses a magnetic charisma as the allegedly shifty Sly, and Francois Battiste's loyal, adventure-hungry Lank is the perfect foil to him. The female characters are fairly flat, but the actors do what they can to flesh them out. Michelle Wilson plays perturbed well as Chelle, and Samantha Soule maintains Caroline's mystery throughout. De'Adre Aziza gives an enchanting performance as Bunny, but her character exists solely for amusing sass and comic relief.
Director Kwame Kwei-Armah leaves too much of the tension offstage, relying on Shane Rettig's sounds of ambulances and riots for intrigue. Morisseau has an interesting concept with "Detroit '67," but she has yet to fully realize it.
Presented by the Public Theater, in association with the Classical Theatre of Harlem and the National Black Theatre, as part of Public Lab at the Public Theater, 425 Lafayette St., NYC. March 12–17. (212) 967-7555 or www.publictheater.org. Casting by Jordan Thaler and Heidi Griffiths.
Critic's Score: B-