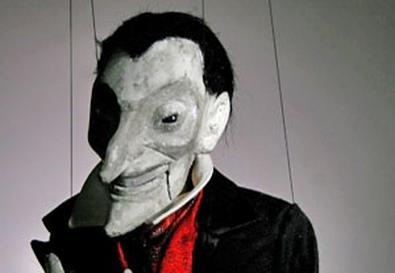 Based on Stephen Vincent Benét's short story "The Devil and Daniel Webster," Ping Chong's involved and immensely charming "The Devil You Know" uses accomplished puppetry to tell a classic tale of American greed and redemption.
It seems that a poor farmer named Jabez Stone (voiced by Mark Jaynes) has sold his soul to the devil, here called Scratch, in exchange for seven years of financial prosperity. It falls upon the unflappable politician Daniel Webster to argue his case. (Another government bailout! Someone call Glenn Beck!) Aside from a few inventive exceptions, most of the puppets are operated in a traditional marionette style, with prerecorded voiceover running concurrently.
The attention to detail in the production design alone makes the show fully immersive: sound designer Benjamin Furiga's crackling fireplace and creaky tavern signs, Jessica Grindstaff and Gia Wolff's rustic scenery and architecture, and Erik Sanko's skillful but restrained marionette design. His somewhat simplified faces make the puppets blank canvasses on which the voiceover artists and our imaginations can fill in the rest. Maya Ciarrocchi's animations, which evoke the recent film "Persepolis," and Andrew Hill's precise lighting also add much to the detailed presentation.
There is a surprising sophistication to the puppet's movements, as illustrated when one character wipes his feet on a doormat after entering a room or in the way a vacationing businesswoman in a modern-day epilogue cups her hand over a cell phone receiver. As if Michael Pemberton's voiceover of Webster's climatic appeal wasn't rousing enough, the puppeteers' deft manipulation of the Webster puppet communicates a staggering amount of passion through gesticulations and body language. Steve Rattazzi's dandy voicing of Scratch is likewise matched well by the puppet's refined, otherworldly movements.
Though Chong's inclusion of contemporary characters seems unnecessary, this is still an elegant take on familiar material.
Presented by La MaMa E.T.C. and Ping Chong & Company in association with Phantom Limb as part of Under the Radar at La MaMa E.T.C., 66 E. Fourth St., NYC. Jan. 6–24. Wed.–Sat., 7:30 p.m.; Sun., 2:30 p.m.
(212) 352-3101, (866) 811-4111, www.theatermania.com, or www.lamama.org.