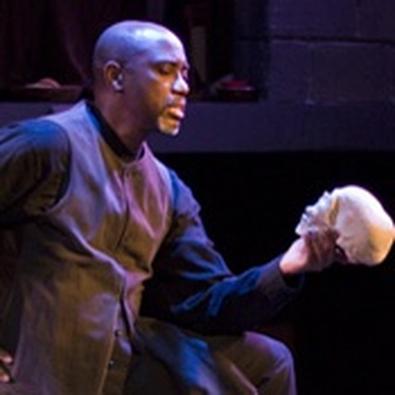 This engaging new play with music from Metropolitan Playhouse might just initiate a first-time category: the morality musical. Based on an 1824 Washington Irving story from his Tales of a Traveller, it warns against the sin of avarice as well as indicating along the way that Irving was a true American prophet. The tale includes several cornerstones of American history: Puritanism and the persecution of other religions, witches, the slave trade, exploitation of Native Americans, "violent churchgoers" and the Rapture, usury, and -- problems with a contemporary spin -- bad debts and property foreclosures. By the end of this story, Tom Walker is hailed by the Devil as a true pioneer with Wall Street as his legacy. Washington Irving was there long before Oliver Stone gave out his warning about greed.
The show, conceived by director Yvonne Opffer Conybeare, has been adapted by Anthony P. Pennino and features music and lyrics by Rob Kendt. In this morality musical, Kendt emerges as a talented triple threat -- he's also the musical director and sings and plays two instruments. There's a lot of music and song, some based on traditional airs but mostly original tunes in the fashion of faux folk. The hard-working cast of six not only sings lustily but also plays several musical instruments. (John Doyle, eat your heart out.)
The setting is Massachusetts in 1732 where Tom Walker (Erik Gratton), whose aversion is work, is battling with his shrewish wife, Abigail (Rebecca Hart). Enter the Devil (Michael Jerome Johnson), whom everyone calls Old Scratch, with a bargain for Tom. Initially Tom is reluctant, as the offer seems to involve work, but when it includes the possibility of his wife's elimination, Tom signs on to gain Captain Kidd's buried treasure. Soon Tom is a thriving money lender in that city of sin, Boston. But reckoning day awaits.
Pennino's book is a little too leisurely in the early stages and could benefit from some telescoping. Also, the intermission should be placed later in the story, and the lack of a musical number at the end of Act 1 is a problem. In Act 2, though, Irving's really interesting observations on American life begin to unfold.
The casting of the show is particularly strong, with wonderful multitasking support given by Hart, Michael Durkin, Sarah Hund, and, especially, Justin Flagg. Gratton's Tom is a lively and convincing dolt, while Johnson's Devil is charmingly modern -- a pity, then, that he's the least able singer on stage; it diminishes his authority.
This is a show ripe for the college circuit, with Washington Irving in this format ready to instruct and entertain. The Devil even has the last word on education: "In the American colonies, knowledge is not one of your greater temptations."
Presented by and at Metropolitan Playhouse,
220 E. Fourth St., NYC.
April 25-May18. Thu.-Sat., 8 p.m.; Sun., 2 p.m.
(212) 995-5302 or www.metropolitanplayhouse.org.