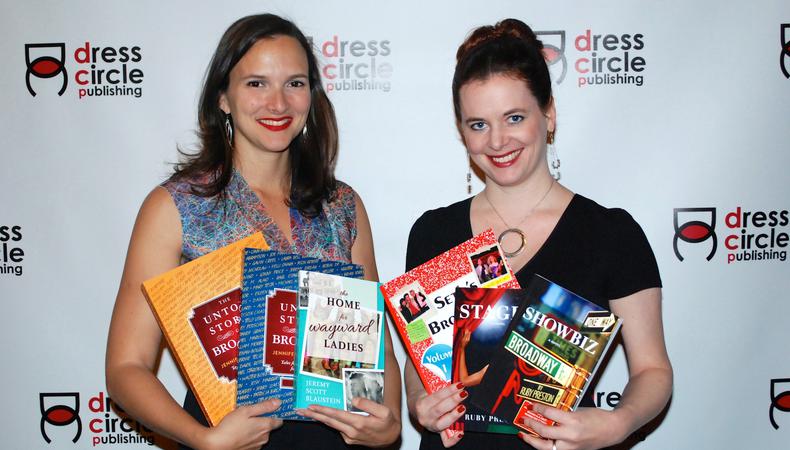 Two of the top female producers in New York, Roberta Pereira ("Mothers and Sons") and Brisa Trinchero ("Beautiful: The Carole King Musical," "Pippin") formed Dress Circle Publishing, the only book publishing company dedicated specifically to Broadway. Along with such behind-the-scenes nonfiction hits as Seth Rudetsky's "Broadway Diary" and Jennifer Ashley Tepper's "The Untold Stories of Broadway" Vol. 1 and 2, Dress Circle released "Starstruck" July 14, the third installment in its Broadway Trilogy series from author Ruby Preston.
How did Dress Circle Publishing come about?
Roberta Pereira: We're both theater lovers but also book lovers, and we were wondering if there are other people like us out there who would love to have books about theater. We commissioned [from Ruby Preston] a book, "Showbiz," which was essentially "The Devil Wears Prada" in the world of Broadway. It did so well that when we launched the second book in the series, "Staged," we formed the company. Our mission is to publish Broadway books by members of the Broadway community. And what we really want to do is give people a peek behind the curtain. Broadway can be a very closed environment, and there are so many fans out there who want to know how things are made.
How much of the Broadway Trilogy is based on reality?
Brisa Trinchero: We did layer in versions of things that did really happen to us on Broadway. Of course they're overdramatized, but it's funny that some of the bigger things that happen in the books—like how hard it is to get a theater—are very real. Those are the kinds of things that theater fans have no idea about. "Starstruck" completes the series...it's about the pros and cons of working with big-name stars on Broadway.
How do the theater and publishing worlds intersect?
BT: We run the publishing company structurally very much like a theater company: Roberta does most of the editing with the authors, so she'd be the artistic director, and I run the business side of it, so I'd be the managing director. We think of it as a season of shows because that's the world we know.
What has the response been like?
BT: People really don't know what producers do on Broadway! They're reading these books and saying, "Oh, I might want to do that." Or they're reading it and saying, "Oh my gosh, that's a lot harder than I thought."
So what does it take to become a Broadway producer?
BT: A lot of people think because one of their major roles is to bring funding to the project, that we have a ton of money and are writing checks out of our massive bank accounts to fund these shows. It may have been that way in the past, but the producers of our generation are not coming from big bank accounts; they're creative and scrappy and in the trenches with the artists, working to get these shows off the ground. We wanted to represent that in the series.
RP: But they still have to find the money somewhere. It's expensive to put together any show, especially a Broadway show. Fundraising is important in all areas of the arts, so it's important to keep those contacts, keep yourself active, and network. [No matter] what you end up doing, you're going to have to raise some money for it some way or another.
BT: One of the things that was important to us in the Broadway Trilogy was the main character is a young female producer, which is a tough position to be in in this industry. We wanted to show that despite the fact she had so many huge hurdles, she didn't quit. She found a project she was passionate about and put everything she had into it. We wanted to show that…if you do stick with it and are passionate and don't let anyone get in your way, you can make your dreams come true.
RP: The other good advice for this industry is that you also have to create your own opportunities—especially if you're an actor, but honestly this is true for anybody. If you sit back and wait for this casting director to come knocking, it's probably not going to happen.

Inspired by this post? Check out our Broadway audition listings!