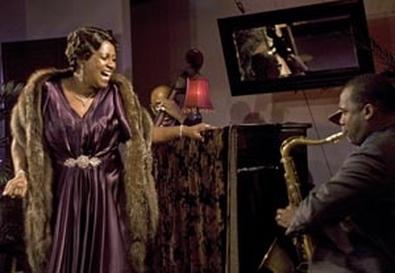 I can't help it. When I think of Bessie Smith, it's Linda Hopkins in "Me and Bessie" (which Hopkins wrote with Will Holt) that comes to mind. It's been 36 years since I saw her in it at the Mark Taper Forum in Los Angeles, but she's stayed with me as the definitive Bessie Smith, and of course the cast album plays even more powerfully than Smith's original, primitively recorded sides from the 1920s and '30s. My feeling may be unfair to Miche Braden, who certainly proves that she has the voice, attitude, and persistence to play and sing Bessie in the 80-minute "The Devil's Music: The Life and Blues of Bessie Smith." And the Smith songs we most want to hear are all here: "'Tain't Nobody's Business If I Do," "St. Louis Blues," "Nobody Knows You When You're Down and Out," "I Need a Little Sugar in My Bowl," and "A Hot Time in the Old Town Tonight." A superb trio of musicians provides the accompaniment throughout: Aaron Graves on piano, Keith Loftis on saxophone, and Jim Hankins on bass. Hankins also plays the only other character in the show, the sour-faced Pickle, Bessie's foil.
As befits the bossy Smith, Braden is also the show's musical director and arranger, and she is great at both jobs, laying out for all to see why Smith was dubbed "The Empress of the Blues." My real quibble is with Joe Brancato, who is credited with the show's concept and direction, and Angelo Parra, the author, who provide far less heft to the woman behind the blues. They have created an imposed effort rather than an organic one. Too often Bessie delivers snippets of her autobiography between songs, rather than having her songs arise from her autobiography. Smith's life as a hard-drinking, bisexual barrier-breaker was an open book, and popular-music fans will already know most of the details of her troubled 43 years. Parra (who credits no sources) gives dismissively short shrift to Smith's predecessor and first employer, Ma Rainey, and to her heir apparent, Billie Holiday, and otherwise offers too little context. Brancato is overly reliant on Bessie's constant swigging from her flask to prove that she was a victim of too much bathtub gin and on her frequent fanning of the front of her dress between her legs to indicate sexual heat. (Costume designer Patricia E. Doherty's burgundy number is stunning.)
It always puzzles me when theatrical creators attempt to redo something that's already been done so well. It's not as if Bessie Smith's diaries and papers have suddenly become available. Nothing much has changed about her biography since her death in 1937, although her musical reputation has certainly and deservedly swelled. Smith's lasting legacy of music gets its due here; her life does not.
Presented by Penguin Rep Theatre and Edmund Gaynes, in association with Lizanne and Don Mitchell, at St. Luke's Theatre, 308 W. 46th St., NYC. Opened June 22 for an open run. Mon. and Tue., 7 p.m.; Wed., 8 p.m. (No performance Mon., July 4.) (212) 239-6200, (800) 432-7250, or www.telecharge.com.