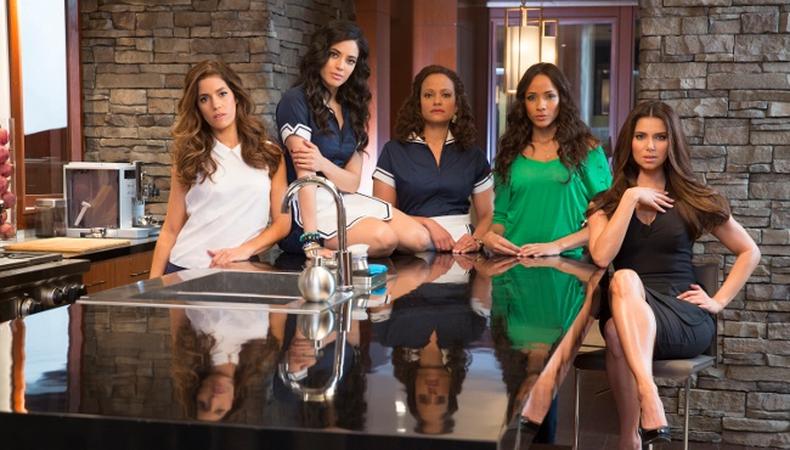 In Beverly Hills, the houses are extravagant, the residents are secretive, and the maids are, well…devious. At least that's true on Lifetime's hit drama "Devious Maids," written and produced by Marc Cherry ("Desperate Housewives") and returning for its second season April 20.
Starring Ana Ortiz, Dania Ramírez, Roselyn Sánchez, and Judy Reyes as four Latina maids with dreams—and agendas—of their own, the show is set in California but films in Atlanta, which has perks "besides the tax credit," according to executive producer Sabrina Wind.
"It's really a wonderful environment, and there are incredible people there," she says.
Rebecca Wisocky, who plays cunning socialite Evelyn Powell, agrees, saying, "It's just a wonderful town—lots of artists, lots of craftspeople, lots of intermingling of disciplines and cultures and art forms."
In many ways, Atlanta saved "Devious Maids" from the trash heap. Originally ordered to pilot by ABC, the net passed on picking up the show to series—and that's when Lifetime swooped in.
"ABC didn't feel like they had the right home for it, which was better for us because Lifetime came in literally the second that ABC said they were passing and just begged for the show. They knew it was absolutely right for their audience," Wind says.
That switch to Lifetime also led to moving production down South, where the financial strictures of a cable show would be lessened thanks to Georgia's healthy tax credits. But though the cast and crew have grown to love Atlanta, the geographical move created some filming complications—among them, the large number of "deciduous trees" (a favorite phrase of the crew) in the area.
"We've learned a lot about the greenery on the East Coast and how much of it changes with the seasons," Wind says with a laugh. "We spend a lot of time worrying about which way to shoot so we don't hit those deciduous trees."
For Edy Ganem, who considers her role as college-age Valentina Diaz to be "a dream come true," shooting in Georgia has provided an added bonus. "For me, being here meant focusing only on this. There's no way for me to be attending a bunch of events, or going out with my friends all the time because I'm here. I can't be distracted."
Ganem and the rest of the cast live in the area while the show is shooting—at least five months out of the year—which prompts them to spend more time together than they might have working from their home base.
"We spend way too much time at certain restaurants," Wisocky jokes, noting that they love local gems like Cakes & Ale, Ecco, and Kimball House.
"We had reservations at a particular restaurant one Friday night and we couldn't get in and couldn't understand why," says Wind, "and it's because Will Ferrell and Paul Rudd were walking out.
"It is Hollywood East at this point," she adds. "The funny thing is that we were led to believe it's the South, so it'll be a lot like Los Angeles—but it's a lot colder in Atlanta!"