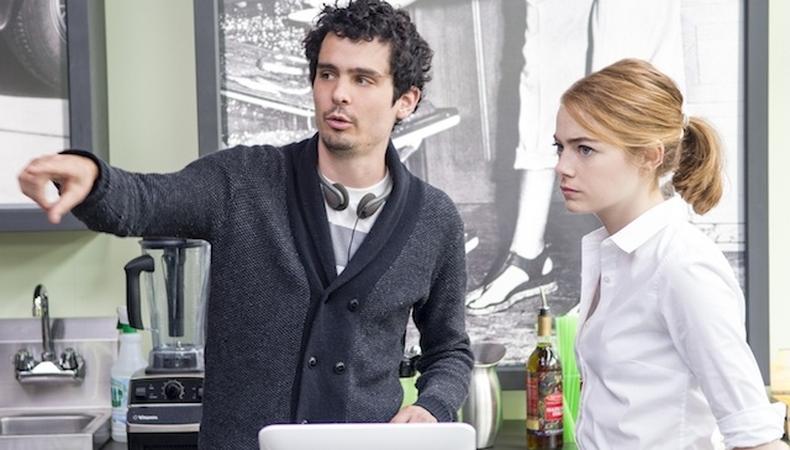 The Directors Guild of America handed out their 2017 awards to some of Hollywood's most accomplished and promising visionaries Feb. 4. There may be only five slots for directors at the Academy Awards, but the 69th annual DGA Awards spread the love across multiple categories, including among its winners Damien Chazelle, Garth Davis, Becky Martin, and Miguel Sapochnik.
As voted upon by guild members, the top award—outstanding directorial achievement in a feature—went to Chazelle for "La La Land" (a Lionsgate-distributed film). The writer-director and Golden Globe winner bested Garth Davis for "Lion" (The Weinstein Co.), Barry Jenkins for "Moonlight" (A24), Kenneth Lonergan for "Manchester by the Sea" (Amazon Studios and Roadside Attractions), and Denis Villeneuve for "Arrival" (Paramount Pictures). Chazelle's assistant directors and production managers are included in the honor: Michael Beugg, Peter Kohn, Paula Case, Bart Lipton, Brett Robinson, and Dodi Rubenstein.
READ: Your Definitive 2016 Awards Calendar
Despite his inclusion in the guild's highest honor, Davis failed to secure an Academy Award nomination for best director; the "Lion" helmer and his team were nevertheless rewarded with the award for outstanding directorial achievement of a first-time feature. Several HBO projects fared well in the guild's television categories, including Sapochnik for his work on "Game of Thrones," Martin for "Veep," and Steven Zaillian for "The Night Of."
The ceremony, held at the Beverly Hilton Hotel in Los Angeles, also honored veteran directors with special awards. Ridley Scott accepted the DGA's Lifetime Achievement Award in Feature Film from collaborators Christopher Nolan, Billy Crudup, and Michael Fassbender. Jay D. Roth, the guild's longtime national executive director, was given the Presidents Award, while unit production manager Marie Cantin became the 31st recipient of the Frank Capra Achievement Award.
Will Chazelle and the record-tying 14 Oscar nominations for his "La La Land" prevail at the Academy Awards Feb. 26? Only time will tell. For a partial list of this year's DGA Award winners, see below. Visit the DGA's official website for more.
Outstanding Directorial Achievement in Feature Film
***Damien Chazelle, "La La Land" (Lionsgate)
Unit Production Manager: Michael Beugg
First Assistant Director: Peter Kohn
Second Assistant Director: Paula Case
Assistant Unit Production Manager: Bart Lipton
Second Second Assistant Director: Brett Robinson
Additional Second Assistant Director: Dodi Rubenstein
Garth Davis, "Lion" (The Weinstein Company)
First Assistant Director: Chris Webb
First Assistant Director: Ananya Rane (India Unit)
Second Assistant Directors: Mark Ingram (Australia Unit), Sunny Tiku (India Unit), KP Singh (India Unit), Shaunak Kapur (India Unit)
Barry Jenkins, "Moonlight" (A24)
Unit Production Manager: Jennifer Radzikowski
Kenneth Lonergan, "Manchester by the Sea" (Amazon Studios and Roadside Attractions)
Unit Production Manager: Declan Baldwin
First Assistant Director: Michael J. Moore
Second Assistant Director: David Blazina
Second Second Assistant Directors: Tim LaDue, Scooter Perrotta
Denis Villeneuve, "Arrival" (Paramount Pictures)
Unit Production Manager: Stan Wlodkowski
First Assistant Director: Donald L. Sparks
Second Assistant Director: Brigitte Goulet
Second Second Assistant Director: Karine P. Labelle
Outstanding Directorial Achievement in First-Time Feature Film
***Garth Davis, "Lion" (The Weinstein Company)
First Assistant Director: Chris Webb
First Assistant Director: Ananya Rane (India Unit)
Second Assistant Directors: Mark Ingram (Australia Unit), Sunny Tiku (India Unit), KP Singh (India Unit), Shaunak Kapur (India Unit)
Kelly Fremon Craig, "The Edge of Seventeen" (STX Entertainment)
Unit Production Manager: Brendan Ferguson
Production Manager: Dan Clarke
First Assistant Director: James Bitonti
Second Assistant Director: Daniel Mansfield
Tim Miller, "Deadpool" (20th Century Fox)
Unit Production Manager: John J. Kelly
First Assistant Director: James Bitonti
Second Assistant Director: Daniel Mansfield
Nate Parker, "The Birth of a Nation" (Fox Searchlight Pictures)
Unit Production Manager: Mark Moran
First Assistant Director: Tomas Deckaj
Second Assistant Director: Mark C. Stevens
Second Second Assistant Director: Scott Bowers
Dan Trachtenberg, "10 Cloverfield Lane" (Paramount Pictures)
Unit Production Manager: Robert J. Dohrmann
First Assistant Director: Jason Blumenfeld
Second Assistant Director: Paul B. Uddo
Second Second Assistant Director: Jonathan M. Warren
Location Manager: Batou A. Chandler
Outstanding Directorial Achievement in Dramatic Series
***Miguel Sapochnik, "Game of Thrones," "The Battle of the Bastards" (HBO)
The Duffer Brothers, "Stranger Things," "Chapter One: The Vanishing of Will Byers" (Netflix)
Unit Production Manager: Timothy Lonsdale
First Assistant Director: Richard Denault
Second Assistant Directors: Maria Battle Campbell, Kristina M. Peterson
Second Second Assistant Director: Simeon Jones
Additional Second Assistant Director: Franchesca Winters
Ryan Murphy, "The People v. O.J. Simpson: American Crime Story," "From the Ashes of Tragedy" (FX)
Unit Production Manager: Chip Vucelich
First Assistant Director: Leo Bauer
Second Assistant Director: Janell Sammelman
Second Second Assistant Director: Matt Pexa
Additional Second Assistant Director: Alicia Lewis
Jonathan Nolan, "Westworld," "The Original" (HBO)
Unit Production Manager: Robert Del Valle
First Assistant Director: Kim H. Winther
Second Assistant Director: Jeff Okabayashi
Second Second Assistant Directors: Michelene Mundo, Katie Pruitt
John Singleton, "The People v. O.J. Simpson: American Crime Story," "The Race Card" (FX)
Unit Production Manager: Chip Vucelich
First Assistant Director: Dan Shaw
Second Assistant Director: Matt Pexa
Second Second Assistant Directors: Kim Richards, Kyle Hollingsworth
Outstanding Directorial Achievement in Comedy Series
***Becky Martin, "Veep," "Inauguration" (HBO)
Unit Production Manager: David Hyman
First Assistant Director: Dale Stern
Second Assistant Director: Michelle Gritzer
Second Second Assistant Director: Chris Riddle
Additional Second Assistant Director: Gary Cotti
Alec Berg, "Silicon Valley," "Daily Active Users" (HBO)
Unit Production Manager: Tyler Romary First Assistant Director: Nick Mastandrea
Second Assistant Director: Sally Brunski
Second Second Assistant Director: Kim Richards
Additional Second Assistant Director: Kathleen D. Brennan
Donald Glover, "Atlanta," "B.A.N." (FX)
Unit Production Manager: Alex Orr
First Assistant Director: Veronica A. Hodge‑Hampton
Second Assistant Director: Jason Graham
Second Second Assistant Director: Danielle King
Additional Second Assistant Director: Mike Brune
Mike Judge, "Silicon Valley," "Founder Friendly" (HBO)
Unit Production Manager: Tyler Romary
First Assistant Director: James "Billy" Burton
Second Assistant Director: Thomas Boucher
Second Second Assistant Director: Kim Richards
Dale Stern, "Veep," "Mother" (HBO)
Unit Production Manager: David Hyman
First Assistant Director: Michelle Gritzer
Second Assistant Director: Jeff Rosenberg
Second Second Assistant Director: Chris Riddle
Additional Second Assistant Director: Cecilia Sweatman
Outstanding Directorial Achievement in Movies for Television and Miniseries
***Steven Zaillian, "The Night Of," "The Beach" (HBO)
Unit Production Manager: Greer Yeaton
First Assistant Director: Michael Steele
Second Assistant Director: Ginger Gonzalez
Second Second Assistant Director: Rachel Iovine
Location Manager: Shane Haden
Raymond De Felitta, "Madoff" (ABC)
Unit Production Manager: Moshe Bardach
First Assistant Director: Scott Lazar
Second Assistant Director: David Fischer
Second Second Assistant Director: Ramona Murphy-Adair
Location Manager: Eddy Collyns
Thomas Kail (Directed By) and Alex Rudzinski (Live Television Direction By), "Grease Live!" (Fox)
Associate Directors: Carrie Havel, Adam Mishler, Brad Duns
Head Stage Manager: Garry Hood
Stage Managers: Jennifer Marquet, John Esposito, Jonathan Marks, Rob Sellers Jr., Dani Farrelly, Paul Forrest, Roy Friedland, Chris Hines, Roxanne Lozano, Drina Mohacsi, Tshaka Stewart, Mike Strauss, Cheryl Teetzel-Moore, Ari Woog
Kenny Leon (Directed By) and Alex Rudzinski (Live Television Direction By), "Hairspray Live!" (NBC)
Associate Directors: Carrie Havel, Brad Duns, Amy Wilcox‑Barker
Stage Managers: Garry Hood, John Esposito, Dani Farrelly, Roy Friedland, Paul Forrest, John Hill, Chris Hines, Roxanne Lozano, Jonathan Marks, Jennifer Marquet, Donna Parker, Cody Renard Richard, Rob Sellers Jr., Murray Siegel, Jackie Stathis, Mike Strauss

Jay Roach, "All the Way" (HBO)
Unit Production Manager: Scott Ferguson
First Assistant Director: Josh King
Second Assistant Director: Aaron Fitzgerald
Second Second Assistant Directors: Jason C. Brown, Matthew Milan
Want to work with award-winning directors? Check out our film audition listings! For acting advice, visit Backstage's YouTube channel: