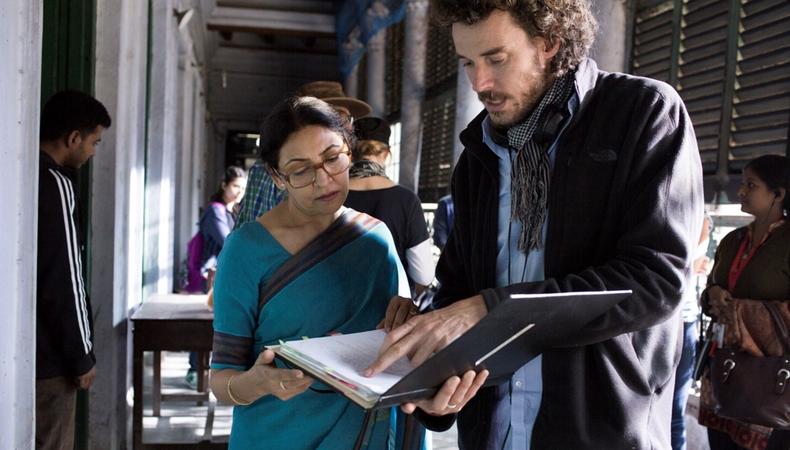 The awards race for this year's top filmmakers came into sharper focus with today's announcement from the Directors Guild of America. Five nominees for the group's prestigious prize, the DGA Award for Outstanding Directorial Achievement in Feature Film, now stand a significantly better chance of scoring the industry's highest honor, the Academy Award for Best Director; 12 of the last 13 DGA winners have gone on to win the Oscar.
As voted upon by guild members, the nominees for best director of a 2016 film are Damien Chazelle for "La La Land" (Lionsgate), Garth Davis for "Lion" (The Weinstein Co.), Barry Jenkins for "Moonlight" (A24), Kenneth Lonergan for "Manchester by the Sea" (Amazon Studios and Roadside Attractions), and Denis Villeneuve for "Arrival" (Paramount Pictures), none of whom have been recognized in this category by the DGA before. Their assistant directors and production managers are included in the honor.
"These phenomenal filmmakers have captured our hearts and minds, breathing life into stories rarely told and revealing worlds rarely seen," said DGA President Paris Barclay. "What makes this recognition truly special is the knowledge that these five directors have made a lasting impression on their peers—directors and members of the director's team who intimately understand the blood, sweat and tears necessary to create a feature film."
As of last year the DGA has also featured an award for Outstanding Directorial Achievement of a First-Time Feature Film Director. Recognizing up-and-coming talent, the nominees include Davis again for "Lion," as well as Kelly Fremon Craig for "The Edge of Seventeen" (STX Entertainment), Tim Miller for "Deadpool" (20th Century Fox), Nate Parker for "The Birth of a Nation" (Fox Searchlight Pictures), and Dan Trachtenberg for "10 Cloverfield Lane" (Paramount Pictures).
This year's winners, including those in the already announced television, commercial, and documentary categories, will be celebrated at the 69th annual DGA Awards Feb. 4 at the Beverly Hilton Hotel in Los Angeles. For more information, visit the guild's website.
Outstanding Directorial Achievement in Feature Film
Damien Chazelle, "La La Land" (Lionsgate)
Unit Production Manager: Michael Beugg
First Assistant Director: Peter Kohn
Second Assistant Director: Paula Case
Assistant Unit Production Manager: Bart Lipton
Second Second Assistant Director: Brett Robinson
Additional Second Assistant Director: Dodi Rubenstein
Garth Davis, "Lion" (The Weinstein Company)
First Assistant Director: Chris Webb
First Assistant Director: Ananya Rane (India Unit)
Second Assistant Directors: Mark Ingram (Australia Unit), Sunny Tiku (India Unit), KP Singh (India Unit), Shaunak Kapur (India Unit)
Barry Jenkins, "Moonlight" (A24)
Unit Production Manager: Jennifer Radzikowski
Kenneth Lonergan, "Manchester by the Sea" (Amazon Studios and Roadside Attractions)
Unit Production Manager: Declan Baldwin
First Assistant Director: Michael J. Moore
Second Assistant Director: David Blazina
Second Second Assistant Directors: Tim LaDue, Scooter Perrotta
Denis Villeneuve, "Arrival" (Paramount Pictures)
Unit Production Manager: Stan Wlodkowski
First Assistant Director: Donald L. Sparks
Second Assistant Director: Brigitte Goulet
Second Second Assistant Director: Karine P. Labelle
Outstanding Directorial Achievement in First-Time Feature Film
Garth Davis, "Lion" (The Weinstein Company)
First Assistant Director: Chris Webb
First Assistant Director: Ananya Rane (India Unit)
Second Assistant Directors: Mark Ingram (Australia Unit), Sunny Tiku (India Unit), KP Singh (India Unit), Shaunak Kapur (India Unit)
Kelly Fremon Craig, "The Edge of Seventeen" (STX Entertainment)
Unit Production Manager: Brendan Ferguson
Production Manager: Dan Clarke
First Assistant Director: James Bitonti
Second Assistant Director: Daniel Mansfield
Tim Miller, "Deadpool" (20th Century Fox)
Unit Production Manager: John J. Kelly
First Assistant Director: James Bitonti
Second Assistant Director: Daniel Mansfield
Nate Parker, "The Birth of a Nation" (Fox Searchlight Pictures)
Unit Production Manager: Mark Moran
First Assistant Director: Tomas Deckaj
Second Assistant Director: Mark C. Stevens
Second Second Assistant Director: Scott Bowers
Dan Trachtenberg, "10 Cloverfield Lane" (Paramount Pictures)
Unit Production Manager: Robert J. Dohrmann
First Assistant Director: Jason Blumenfeld
Second Assistant Director: Paul B. Uddo
Second Second Assistant Director: Jonathan M. Warren
Location Manager: Batou A. Chandler
Want to work with an award-winning director? Check out our film audition listings! And for acting advice, visit Backstage's YouTube channel: