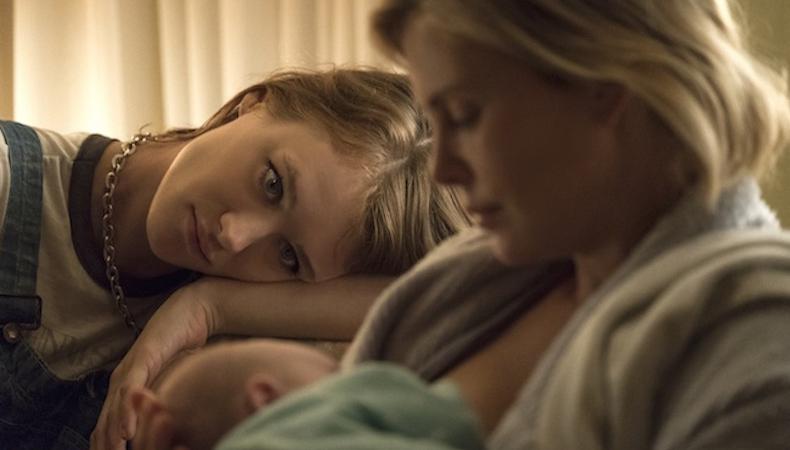 By her own admission, Diablo Cody is fascinated with the process of transformation. The central question that's motivated her screenplays, from the Oscar-winning "Juno" to her most recent reteaming with director Jason Reitman, "Tully," is a simple one: "How do we hang on to who we've always been when we're going through life changes or dealing with difficult milestones?"
In "Tully," Cody has set her eyes on motherhood and the ways taking care of others can at times feel like letting go of yourself. Marlo (Charlize Theron, returning to the Cody-Reitman club after "Young Adult") is pregnant with her third child when the film begins, and it's clear she's struggling. Her young boy requires careful attention (we see her brushing his skin, the kind of ritual she's read will calm his anxiety), while her husband is all too happy to return from work to harp on Marlo for serving frozen pizza for dinner before plugging into his video games. Soon after she gives birth, a young woman named Tully (Mackenzie Davis) shows up as the nighttime nanny Marlo's brother insisted he'd get for her. Full of energy and eager to help, Tully becomes a lifesaver.
READ: Mackenzie Davis on Being an Actor in Her 'Own Personal Way'
As Cody tells Backstage, that central premise began as a kind of personal wish fulfillment. Having just had her third child, Cody felt herself navigating that "strange, underwater territory that new mothers exist in. And all I really wanted at that time was for someone to swoop in, take care of me, and make me feel normal again. I just thought: What if a real person showed up to help me?
"It really was a form of therapy for me," Cody concedes. The screenwriter says that part of that therapy came from drawing on bits of her life for the screen, but is quick to clarify that details like Marlo's broken marriage are nothing like her own.
"The specificity of dropping your phone on a baby, though, or making frozen pizza because you're too tired to cook anything else for your kids—that's my life. And also the feelings of inadequacy that Marlo has around the other parents, that's huge for me. I marvel on a daily basis at how competent other parents are compared to me. I'm really, like, mediocre at best, so that stuff is totally personal and real."
As she started writing her way into Marlo's story, Cody hoped it could be a project that would reunite her with Theron. Despite being a pessimist and knowing it might not pan out, she wrote Marlo with Theron in mind. "I was just so eager to work with her again," she says. "I don't think there's anybody else who does what she does. She doesn't ingratiate herself to an audience; she's not trying to be America's Sweetheart. She never has. And yet she somehow manages to be real and relatable."
With Theron's voice in her mind, "Tully" began taking shape. But even on the page, Cody wasn't quite sure what the dynamic between Marlo and Tully was going to be. It wasn't until Theron and Davis got together that the film's central duet came alive. "When Mackenzie and Charlize actually came in and began playing those roles, they had this chemistry between them that I wasn't expecting—they were funny in a way that I didn't expect," Cody recalls. "The energy between them was electric, and that was a cool surprise. I had no idea how that was going to play out. Like, we could've gone a lot of ways with that. At times, it almost plays like a romance."
Where the Marlo-Tully dynamic does eventually end up is best left unspoiled. There are many unexpected turns in their late-night exploits together, but they're all designed to get the mother of three to re-evaluate her life and find herself anew.
"It is a weird movie," Cody assures, "and I'm proud of that."
Ready to get to work? Check out Backstage's film audition listings!