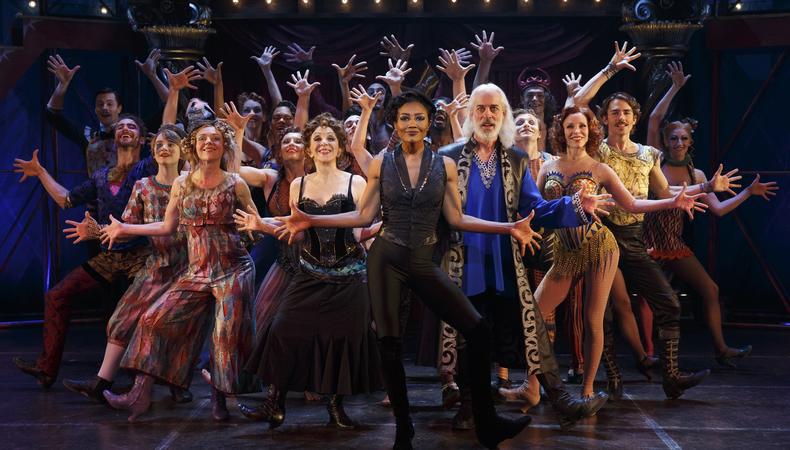 I have never been partial to "Pippin." Originally, I found director-choreographer Bob Fosse's dark, angry cynicism to be at odds with Stephen Schwartz's Joni Mitchell–flavored score and Roger O. Hirson's sketchy, jokey book for this awfully slight tale about a young man's search for meaning in his life. Fosse's work, impressive as it was, felt imposed and seemed to me to signal contempt for the material. Of course, that made me a minority of just about one, and I felt very lonely. So today my gratitude to director Diane Paulus is boundless. Thanks to her beautifully buoyant, intoxicatingly sensual revival, I am a convert. I finally love "Pippin" too.
In Schwartz's iconic opening number, "Magic to Do," a troupe of traveling players announces that it has "miracle plays to play" for us. The chosen tale is that of Pippin, the first-born son of the Roman emperor Charlemagne (800–814), and we begin with Pippin's return home from university. Educated and anxious to begin his adult life, the young prince embarks on a quest to discover what to do with it, something, he says, that must be "completely fulfilling." After all, he's no ordinary guy. Guided by the troupe's leading player, Pippin tries war, sex, political revolution, and everyday domesticity but nothing feels right. Finally, the leading player offers Pippin the chance to perform "the great trick," a suicidal leap into fire that will let him "for one moment shine with unequalled brilliance." What's an ambitious lad to do?
Paulus has had the inspired idea of making the company a troupe of circus performers, who execute a profusion of wondrous acrobatics, many of which Paulus smartly integrates into the story. The eye-popping action thus propels the show forward. Gypsy Snider, of the French-Canadian company Les 7 Doigts de la Main, is credited with "circus creation" and has done a splendid job, as do the circus-trained performers in the cast. Scott Pask's charming big-top unit set accommodates the staging nicely under Kenneth Posner's striking lighting. Dominique Lemieux's seriously sexy costumes are a source of constant enticement, especially during Chet Walker's insinuating and jazzy choreography "in the style of Fosse."
"Pippin" cannot succeed without a magnetic leading player, and it has one here in the person of Patina Miller, who is as accomplished a dancer as she is a singer, riding confident herd over the swirling proceedings. Paulus has unlocked a joyful innocence in "Pippin"—after all, it began life as a college musical—and Miller is key to that, hiding the menace of the leading player's agenda, which Ben Vereen played from the start. Miller is more like a spunky older sister as she encourages Pippin on his search, then turns menacing only when she fears she is losing control of him.
Handsome Matthew James Thomas delivers a sweetly earnest Pippin with just a touch of nerd. His "Corner of the Sky" is first-rate, and it's delightful when he suddenly snaps to as a dancer in "On the Right Track" after previously exhibiting something of a rhythm deficit. Terrence Mann does big, bold, and sly work as Charlemagne, funny in his inborn macho bluster and oddly touching in his relationship with his son. Mann's wife, Charlotte D'Amboise, plays Charlemagne's scheming wife, Fastrada, as a Betty Boop operator while looking stunning and dancing like a dream. Rachel Bay Jones shines as Catherine, the widow whose farm Pippin agrees to help operate for a while. With a slight rasp in her voice and an endearingly spacy personality, Jones' Catherine is reticent but determined, and the actor's wonderful rendition of "I Guess I'll Miss the Man" rings with rue.
Standing out above all, however, and for only a few minutes of stage time, is Andrea Martin, in a sensational turn as Berthe, Pippin's grandmother. I won't spoil it for you by saying why. She is the soul of the show, and I think it highly likely that Martin and this heaven-sent production will each snare a certain award on the evening of June 9.
Presented by Barry and Fran Weissler, Howard and Janet Kagan, Lisa Matlin, Kyodo Tokyo, A&A Gordon/Brunish Trinchero, Tom Smedes/Peter Stern, Broadway Across America, Independent Presenters Network, Norton Herrick, Allen Spivak, Rebecca Gold, Joshua Goodman, Stephen E. McManus, David Robbins/Bryan S. Weingarten, Philip Hagemann/Murray Rosenthal, Jim Kierstead/Carlos Arana/Myla Lerner, Hugh Hayes/Jamie Cesa/Jonathan Reinis, Sharon A. Carr/Patricia R. Klausner, Ben Feldman, Square 1 Theatrics, Wendy Federman/Carl Moellenberg, Bruce Robert Harris/Jack W. Batman, Infinity Theatre Company/Michael Rubenstein, and Michael A. Alden/Dale Badway/Ken Mahoney
Critic's Score: A