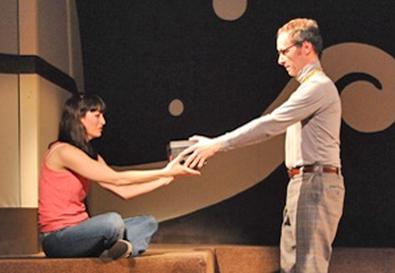 The descent of a 15-year-old girl into drugs and reckless sex is a familiar trajectory, thanks to decades of moralistic films, afterschool specials, and didactic exposés. The great achievement of "The Diary of a Teenage Girl," adapted from Phoebe Gloeckner's graphic novel, is to take the girl's point of view seriously. Neither sentimental nor judgmental, "Diary" presents Minnie Goetz as a smart, creative, passionate young woman, and the production's only agenda is to be true to her experience.
Speaking into a tape recorder, Minnie documents her 15th year, which begins when she loses her virginity to her mother's boyfriend and concludes when she lets go of her emotional dependency on an unstable support circle, including her alcoholic mother (Mariann Mayberry, in a simple but cutting performance), self-serving stepfather (Jon Krupp), immature lover (Michael Laurence), and reckless best friend (Neil Mooney).
The setting for Minnie's bildungsroman, as designed by Lauren Helpern (set), C. Andrew Bauer (video), and Laura Mroczkowski (lights), is a 360-degree sensorium. Audiences encircle Minnie's bed, which serves alternately as her refuge and her prison. The theater is brightly lit, light brown with bright stars on the walls and neon-green pillows on the chairs. The overall effect is of the strong, blunt colors of a manga cartoon, the paradigmatic aesthetic of teenage girls learning to discern shades of gray.
As played by Marielle Heller (who also wrote the adaptation), Minnie is an overactive mind and a raw nerve. With bulging eyes and a wide smile, she has a budding artist's yearning to experience as much as her unconventional adolescence will allow. Heller's buoyancy as an actor and her and Gloeckner's emotional honesty as writers protect the plot from moroseness and cliché. Rachel Eckerling and Sarah Cameron Sunde's fluid direction makes the most out of the play's solipsism. We enter Minnie's most private spaces not to learn from her mistakes but to find poetry in the journey.

Presented by Aaron Louis in association with New Georges and the Essentials at 3LD Art & Technology Center, 80 Greenwich St., NYC. March 28–May 1. Mon., Thu.–Sun., 8 p.m. (212) 352-3101, (866) 811-4111, www.theatermania.com, or www.thediaryofateenagegirl.com. Casting by Paul Davis/Calleri Casting.