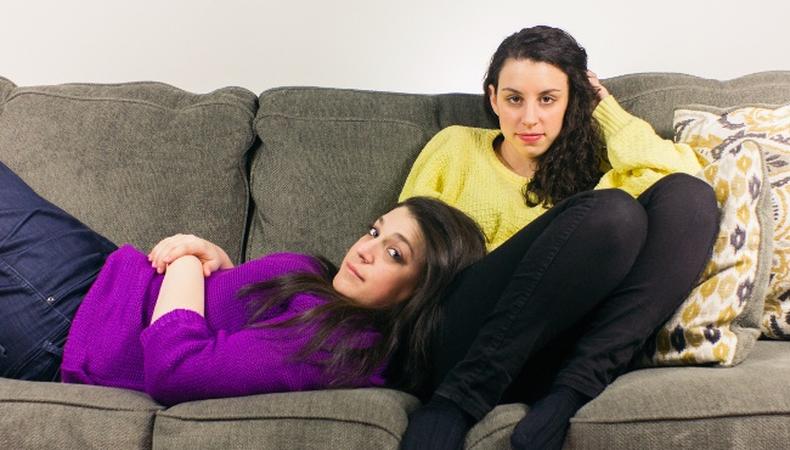 Creators-writers Jessie Jolles and Tracy Soren might be the physical stars of their Web series "Dibs," but they wanted something else to take center stage.
"We really wanted the friendship to be the main star," says Soren, who plays Emily in the series about two girls and the "very simple, normal, basic things that happen in life. Nothing crazy—nothing like we're falling down stairs and all this crazy stuff that could be very funny, but these simple, basic things."
What the two ended up with is a poignantly funny commentary on female friendships. In the pilot we see Emily postbreakup, pining over what she left at her ex-boyfriend's house. While they aren't irreplaceable, they're things she definitely didn't want to give up: a brand-new pack of Venus razors and a Costco-size tub of granola (worth $16.96).
"We wanted to write a series for the everygirl," Jolles, who plays Joey, says of the show meant to encapsulate the female friendship.
But finding a title to capture that proved difficult, taking "hours and hours of misery," according to Soren. They scrapped "Jemily" (derived from the characters' names, Joey and Emily) and "Ghost Town" among others along the way. "When you call 'dibs' on something there's, like, a claim. And though we don't condone ownership of anyone," Soren says, laughing, "we wanted it to be, like, the friends have dibs on each other."
Although "Dibs" is scripted, the relationship between Emily and Joey is as real onscreen as it is between Soren and Jolles offscreen. After they met in an improv class at UCB in March 2012, the two clicked instantly, Jolles noting that they have similar senses of humor.
As a testament to the supportive companionship that makes "Dibs" such a success, when Soren asks Jolles if she's answered a question correctly, Jolles responds, "Oh my gosh, you nailed it."
It didn't take long after the September 2013 launch of "Dibs"—the first season of which was written in a Panera Bread in Midtown Manhattan—for comparisons to be drawn to Abbi Jacobson and Ilana Glazer on Comedy Central's "Broad City," and USA's "Playing House," starring Lennon Parham and Jessica St. Clair.
However, as far as similarities go, the fact that all of the shows follow some sort of female friendship is pretty much the extent. "I definitely don't think the characters of Ilana and Abbi and Joey and Emily would hang out if they were together," says Jolles, "because Abbi and Ilana are kind of having ragers and doing these crazy things that Joey and Emily would have heart attacks even talking about."
Though the shows might not be too similar, Soren says the girls take being compared to "Broad City" as "a massive compliment."
After writing two seasons in two years, Soren says the "comedy duo team" is taking some time to enjoy what they've created before further flexing their creative muscles and calling "Dibs" on the Web again.
Like this story? See more of our Now Streaming articles here!