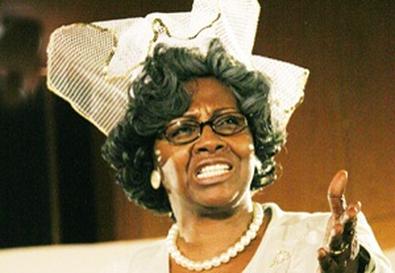 Despite the title, nobody gets to eat much of anything in Evern Gillard-Randolph's full-length play with music. Oh, a few string beans are snapped in preparation for the anticipated repast, and some cookies are promised to grandchildren for chores completed (then withheld when they are not). The family pariah drinks a lot and waves around his bag of smelly sardines without downing them. But even when the extended family of 15 finally sits down to dinner—an impossible communal feast at a crowded kitchen table—they are halted at practically their first forkful by yet another heartwarming plot point. This meal-free setup neatly serves as a metaphor for the entire play: lots of promising little pieces that don't quite satiate one's appetite.
Gillard-Randolph has been affectionately autobiographical in tribute to her grandmother and her life in Cross, S.C., in the 1960s. While the playwright surrounds her charmingly remembered family-life microcosm with appropriate mentions, even enactings, of the big events of the day—the rise of Martin Luther King, black power, and the Vietnam War—she hasn't really succeeded in weaving the big picture and the smaller one together. She's painting on a narrower canvas, which would be all right with fewer and more deeply etched characters. Fittingly, Grandma herself stands out from the clan, with an indelible performance by Debbi Blackwell-Cook as the matriarch.
Every time the action or dialogue threatens to flag, somebody says, "Why don't you sing us a song?" And usually it's Grandma who obliges, most often with a gospel song. But even these and many other musical add-ons are truncated versions and not the full numbers. All 15 actors are earnest, committed, and well-shepherded by director Patricia R. Floyd and musical director and choreographer Juson Williams on a wingless church stage. Other standouts include Kimdeon as Grandma's perennially disapproving daughter, who doesn't even allow blues songs to be sung in her house, and Dorcas Yusuf, Shacara McLaurin, and Nkosi Nkululeko as her three teenage children, who of course love to sing them. Nkululeko physically recalls Michael Jackson and wears a huge afro circa 1975, which works well as a lead-in to the trio's rendering of the Jackson Five's "I'll Take You Back." Pianist Charles Lovell deserves special mention for his deft accompaniment of the various styles of song. Costume designer Bill Witherspoon gets recognition for the flamboyant ladies' outfits in church on Mother's Day.
Many of this show's elements are enjoyable and frequently touching, but the play offers more narrative than dramatic tension. For example, Grandma's transition from nonvoting housewife and mother to civil-rights activist is more talked about than earned by any dramaturgy. This grandma may be indelible, but the dinner she offers is ultimately a sketchy meal.
Presented by Grandparents Around the World Productions at the Salvation Army, 540 Lenox Ave., NYC.April 29–May 9. Thu. and Fri., 7:30 p.m.; Sat., 2 and 6:30 p.m.; Sun., 4 p.m. (212) 352-3101, (866) 811-4111, or www.theatermania.com.