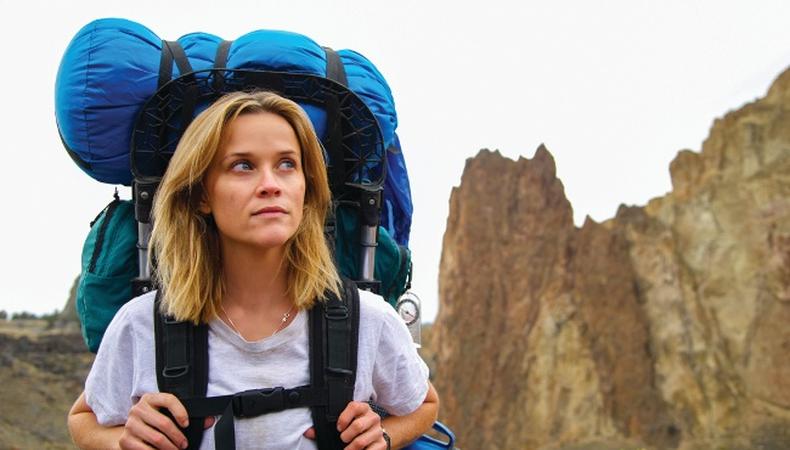 As a film, "Wild" moves the way memories do: a constant stream of fragmented images, recollections, sounds, and people that build into a way of looking at the world. That makes sense, given the movie is an adaptation of Cheryl Strayed's memoir. Over the course of director Jean-Marc Vallée's latest effort, we watch Cheryl (Reese Witherspoon) come to terms with the death of her mother (Laura Dern), her failed relationships, and her addiction as she hikes the Pacific Crest Trail's nearly 3,000 miles.
"I pushed a little bit further [than Nick Hornby's screenplay] in the cutting room with all these quick flashes in the beginning. Sporadically, like the brain works sometimes when you think of something and it's a quick thing—a sound or a line or a face or a moment," Vallée explains. "The idea was to give this impression to the audience that we're with this girl and everything's coming from her mind, so we hear her internal voice and when she thinks of a flashback, we cut to it. And sometimes she's humming or singing and we'll do a scene where the music comes from a source, like an audio device. Usually I know I have amazing, powerful, emotional material but ['Wild'] was the kind of material that allowed the director to have fun with the editing—the voiceover, the flashbacks, the music, the silence, the sound design, the crickets."
Shooting almost entirely outdoors, Vallée had to consider ways to capture Witherspoon on the Pacific Crest Trail without feeling repetitive. He says filming—done using all natural light and a hand-held camera dolly for the hiking scenes—was a mixture of patience from his actors, experimentation with distance and lenses, and a deep understanding of the material. There was purposefully very little rehearsal with Witherspoon because he wanted to capture the same learning curve Strayed traveled when learning to pitch a tent or pack her gear or choose proper footwear, and Witherspoon's frustration is palpable in these scenes.
"But the ultimate challenge was to try and be as emotional as the book," he says of the project that Witherspoon, as a producer on the film, brought to him. "I was concerned about that; I was scared of it. When I came on board I thought, Oh my God, I hope I can make a film that's as emotional. And then I realized that it's not up to me; it's trusting the material and the acting and trying not to interfere and just let it be…. But I thought, Jesus, how do I film it? For the first two weeks I didn't know."
Vallée says it was much more the "doing" and the instinctual feelings of making the film than taking a cerebral approach, a technique that stemmed in part from the director's personal feelings about the story. Like Strayed, he also lost his mother. "I was wondering why I was crying like a baby when I read the script and the book. Of course I knew, but I don't think I had totally gone through the mourning of my loss with my mom," he says. "She was that type of woman, like Cheryl's mother—so positive, so alive, so giving.... It was powerful, emotional material and as a director, it was about instinct. Like the actors—they know it and they feel it when a take is the right one. I say 'Cut' and they look at me and they smile and they know it felt good and I feel the same."
Inspired by this post? Check out our film audition listings!