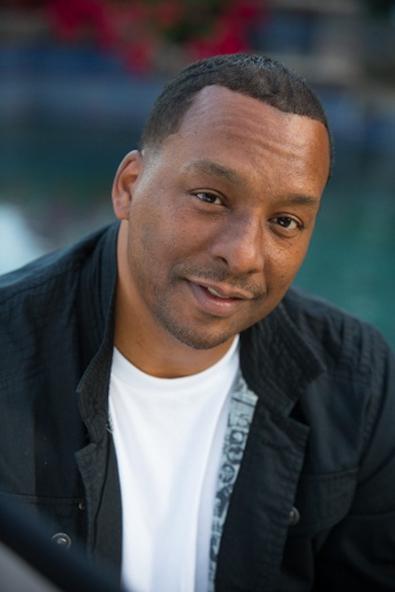 On the set of his latest film, "Motivated Seller," writer, producer, and director Deon Taylor had a conversation with one of the movie's stars, Dennis Quaid. "He [said], 'I can't believe how good of a filmmaker you are,' " Taylor recalled. "I told him, 'You know how many years it took me to get to this point to have someone like you tell me that?' " With a number of directorial credits to his name, Taylor talks about building his film career from the ground up, how an athletic background influences his directing style, and how he injects humanity into his work.
Tell me about your transition from basketball to filmmaking.
I got a full-ride scholarship to play at San Diego State. From [there], I ended up being good enough to get a contract and play overseas. But in junior high through college I was the guy who was drawn to movies. My first year playing overseas was the hardest, because it was the first time I'd left the country and was isolated where I didn't speak the language. I just went to basketball practice, went to games on the road, and the rest [of my time] would be watching movies. After about two years, I grabbed a piece of paper and started writing the idea for a script. I eventually left basketball, flew to L.A., drove around, and knocked on every studio door in the city for three or four years. I was told no probably 500 times, if not more. Then I realized the only way I could get a movie made was if I independently figured it out myself.
What were some of the challenges that you experienced with making a film independently?
I had a buddy who was making movies—this was when urban, straight-to-DVD movies were making a lot of money. I tapped him and asked, "How do you do this?" I saw the scaled-down version of movie making. There's no food, the director's handling the camera and doing the lights. Then, once you've got a movie, what happens now? Especially as an African-American man, one of the biggest things for me was the business of Hollywood. Here I was, very passionate about making movies, and then you go to Hollywood and you don't realize that's a completely different animal. I came from a sports background, I got a degree in science. Trying to run a business or learn distribution on the fly, I met the craziest people you could imagine. If there was a poster for all the people you're not supposed to meet, that's who I met.
What energy do you bring to your films?
I always thought that my movies should be a reflection of what I see in the real world. It's not going to be all white, it's not going to be all black; it's a reflection of the story I wanted to tell. What matters to me as a filmmaker is what's at the center of every story.... I learned that early, and every now and again I'll try to push in a little message of encouragement and the ability to withstand or fight through adversity.
What are you looking for in actors?
I'm an actor's director. I'm a story guy. I like working directly with actors on set, from Jamie Foxx to Dennis Quaid to Mahershala Ali. I sit with you and I get into your head in terms of what you think, how you think, and what you think the character is. I am a very team-oriented filmmaker. If I have entrusted you to play a role, I want you to bring me what you think. Who is that character to you? What has he been through? It's the sports background: everybody coming together to win. Directing to me is a lot like coaching. I have to see what the endgame is.
How do you keep your spirits up and stay productive?
When you start intertwining yourself with the writers, the directors, the producers, the people that make [Hollywood] go, they're the most passionate people in the world; you have to find that group of people. What I've found that's kept me afloat, because there were a lot of dark days for me, was my sports background and the environment that I was raised in. Being from Gary, Indiana, and having moments in life where the lights are off, having the discipline through all of that to be on sports teams...I was able to apply that to Hollywood.
How did you deal with naysayers?
I go from playing basketball, something I've been doing my whole life, and then I say, "I'm going to direct a movie." I remember people laughing, I remember people telling me the statistics [showing] why I can't do it. Whatever it is, I heard it. I remember the first movie I ever completed, three of my buddies came to the editing room to see some of the movie. I turn around and one of my buddies goes, "Damn, man. That's a real movie." What's funny is I got that from everybody for three years. He wasn't saying, "You shot a movie and here it is." That's a real movie in terms of it not looking like a straight-to-DVD movie. Surprisingly, my first film was shot in 35 millimeter. I had a very good cinematographer, it was a very good movie. I don't care if people say, "You're the worst filmmaker on planet Earth"; once I saw what I could do, I knew who I was.
Ready to hit the pavement with as much tenacity? Check out Backstage's Los Angeles audition listings!