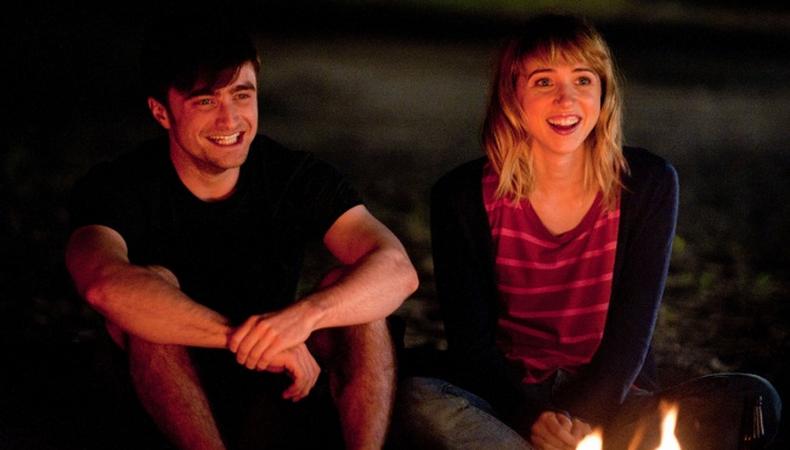 After finishing "Goon," the hockey comedy starring Jay Baruchel and Seann William Scott, director Michael Dowse was looking for something different. And in "What If," he found the polar opposite.
Starring Daniel Radcliffe and Zoe Kazan ("Ruby Sparks") and set in Canada, "What If" is the quintessential romantic comedy, reminiscent, for Dowse, of classic films such as "The Apartment" and "It Happened One Night."
Wallace (Radcliffe) and Chantry (Kazan) have chemistry when they first meet at a party, but with Chantry already taken, the two agree to be friends. And that's the film—no major plot twist or crazy deus ex machina, which is exactly what drew Dowse to the project. "The gears are very simple, but they're all quite powerful," says Dowse.
When Chantry's boyfriend takes a job in Ireland, when her sister decides she likes Wallace—these moments were more than enough for Dowse to work with. "Many times rom-coms rely on such happenstances or just crazy situations, or put their characters in situations they would never put themselves in," the director says. But when he read the script, Dowse remembers thinking, "This I could sink my teeth into and flex different muscles as a director and also try to sort of reinvent and reinvigorate the genre of rom-coms."
For a character-driven film the casting needs to be precise, and Radcliffe was the first choice for both Dowse and screenwriter Elan Mastai. Though Dowse knew there was some concern about whether Radcliffe had the comedic sensibilities for the part, he says, "Within 10 minutes of meeting him you get the sense that he's very funny and has a sense of humor and is self-deprecating and also a very grounded person."
After seeing an early screening of "Ruby Sparks" (which Kazan wrote and starred in), it was a no-brainer to bring on Kazan, the director noting that not only is she "obviously smart and beautiful," but was a nice match for Radcliffe.
With just the right amount of sexual tension and supporting actors Adam Driver ("Girls") and Mackenzie Davis ("Halt and Catch Fire") to move the story along, "What If" gives new life to the rom-com through the most relatable of situations: being stuck in the friend zone.
"It's a horrible situation to be in," says Dowse. "You kind of have to hump your way out or just sort of resign yourself to being a friend."
Inspired by this post? Check out our film audition listings!