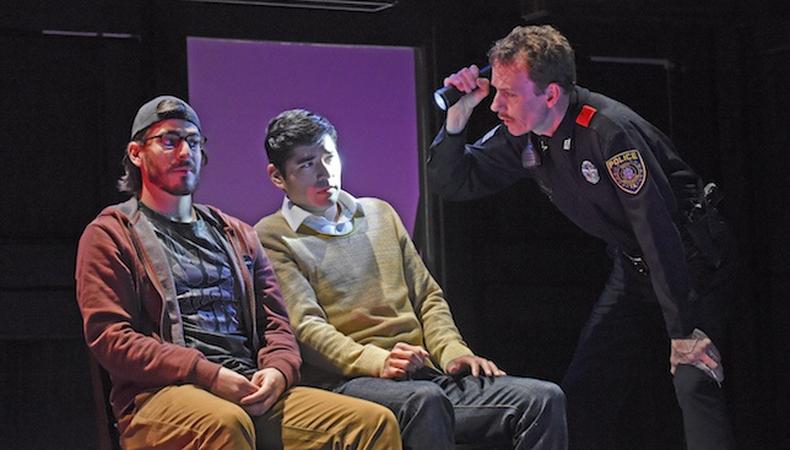 When David Lozano returned to Cara Mía Theatre Co. in 2008, the then-12-year-old company was on the brink of folding. Lozano worked to reinvigorate its vision to prevent that from happening. When Kevin Moriarty, the artistic director of regional powerhouse the Dallas Theater Center, saw one of Cara Mía's productions, he approached Lozano about a collaboration between the companies.
The fruits of that union—called "Deferred Action," about Latinos affected by passage of the federal immigration reform called the DREAM Act—opens this week as a co-production of DTC and Cara Mía.
We sat down with Lozano, the show's co-creator and director, to discuss the process of making theater by, about, for, and with Latinos, and why his mission is to reflect the experience of people of color in all aspects of theater.
What are the challenges of making the kind of theater that is your passion with Hispanic issues at the forefront?
The pipeline for artists of color is very small. There are not a lot of trained Latino theater artists working right now. You get some who study until community college or so, then they get to the marketplace and there aren't a lot of opportunities. There are people who are prepared to direct, but not curate seasons, fundraise, and do all the things required to run [a company]. That's why you have so few independent theaters of color.
What do you see as the mission for yourself and your company?
When I wake up in the morning, my mission is to make theater for the Latino community, to create plays for them, because they need to see their experiences onstage. But in the process of doing that—and the diverse company we have and the artists we work with—our curiosity expands beyond just that. Our aesthetics are not confined to what people may consider "Latino theater." We draw from international as well as American [influences].
Do you have difficulty recruiting the talent, especially actors, who can aid you in that mission?
I think Latino actors [in North Texas] maybe struggle with Cara Mía's work, because I am fiercely political...and I aim to be. Our work deals with the [social and cultural aspects of people of color] and the complications that arise from that. That begins to become identity politics, and for a Latino actor that can suck. They get pigeonholed [by casting directors] as, "This guy is good for Latino plays or political plays," and nothing else. Latino actors [here] are building a career and they want versatility.
Right—and you don't want there to be a whitewashing of their cultural identity.
That's exactly it. That's what I am interested in: How do we cultivate our voices as artists and socially-conscious human beings by understanding our contemporary situation, and tell [our stories] from a smart viewpoint? When we walk into a room, we [need to] carry with us a body of work and insight that is conscious of identity politics.
What has the landscape been like for Latino actors in North Texas?
I started acting [in Dallas] in the 1990s, and there were almost no roles for people with brown skin, except for clichéd maids and helpers and the like. But also around that time, a new generation of theatermakers were not really distinguishing between people of color. A company I was with [Our Endeavors Theatre Collection] was very diverse, and we were just making great theater. I am not of that generation who said, "I am forming a company because I want roles for my people." It's more about taking ownership of our stories and not conforming that to what we think of as our North American aesthetics.
Do you think Latino actors are pigeonholed now by their ethnicity?
You're seeing a lot of smaller new companies and theater artists including people of color. There's not the same kind of prejudice. My objective, though, is that there's another part of me that I must address for myself and others. There's a reason people of color are oppressed in this country, and if I'm not addressing that in my work, then I'm just going to the theater oblivious to what my community is living through. I'm seeing people of color all over—great things are happening. But Cara Mía is here to make sure we are constantly feeding ourselves with who are.
"Deferred Action" runs through May 14.
Inspired by this post? Check out our Texas audition listings!