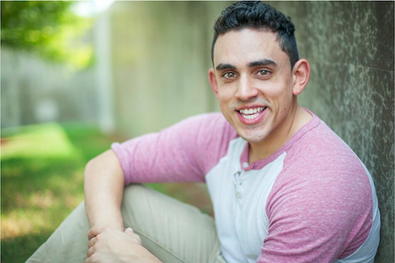 When Addison's WaterTower Theatre announced its production of a stage adaption of "Lord of the Flies"—William Golding's classic allegory about teenaged boys who resort to savage social constructs when left to their own devices—the company decided to mount two side-by-side versions: The main one, with a cast of young adults playing the schoolboys, and a children's version, with age-appropriate actors (ages 14–17). Matt Ransdell was tapped to direct the children's version, which gets two performances (Feb. 2 and 9) using the same set, props, and space as the adult show, which runs through Feb. 14.
Ransdell isn't a newcomer to working with children, although this is his highest-profile gig as a director to date. His day job is working with the nonprofit Kids Who Care, a kind of year-round after-school theater camp dedicated to educating and training young theater professionals.
We sat down with Ransdell to ask him about working with kids, the difference between the two versions of the show, casting young people, and the educational component of directing younger actors.
Describe your organization Kids Who Care. It's a musical theater company, but also a life-changing organization. Students join us, and if they are in the resident company made up of about 60 kids, it's like joining a select sports team. We've opened for the mayor, paired with a symphony orchestra, and done tree-lightings and such.
You're the assistant director of the "Lord of the Flies" professional company and solo directing the "Lord of the Flies Project," which is the kid version. How do they differ? You'll essentially see the same show as the professional [version], but with different actors and maybe a little different direction. The writing is intended for youth but it's hard to find a cast of this many 15-year-olds to hold a professional schedule while juggling school. My kids get the experience of having the same Equity set as the [adult] company, the lighting design, same sound design, and the full script—in no way is this a "junior" version—and get to perform at the same level of intensity and professional caliber. It's the experience of a lifetime [for young people].
Where did you find your student actors? You had to be a highschool student—no college kids! We did auditions in-school [at several local high schools] and open-call auditions and call-backs at WaterTower Theatre, and even have some from home-schooling [backgrounds].
How do you go about directing kids versus adults? I work with young people on a day-to-day basis, and one of the things I have learned is to forget that they are young. They want the same responsibilities as an adult—to be trusted, to be respected. So as a director, I don't pull any punches. They are expected to hold their blocking, to come in off book, and to take notes and be dedicated. In no way is it a childlike version. They are definitely getting the full scope of what it's like to be a professional actor.
But you have to layer every bit of directing with a level of education. It maybe takes them longer to understand the process—this might be the first time he's learned he has to come off book so early, or that a fight call is important because you have to have safety measures [in place]. And you have to keep your own energy level up. You can't bore them.
"Lord of the Flies" is famously about white, middle-class British boys. But you allowed more diversity than even the adult cast. They are close in age, but different in type. I made it a gender-blind and color-blind cast, which you might not have expected to find [in this show]. For example, I do not have a fat Piggy—I didn't have a chunky kid to audition who fit the role, so I had to look for personality, [so I cast] the only [Latino] member of the cast, which works interestingly racially. I cast a lot of girls who were bringing this raw energy and talent and delivery. We did a little bit of a rewrite: our Maurice is Maureen; our Sam and Eric are Sam and Erica; and our Simon is Sara. It's 2016, so if George Washington can be a black man on Broadway, why can't a girl be Simon in "Lord of the Flies" at WaterTower?
Inspired by this post? Check out our Texas audition listings!