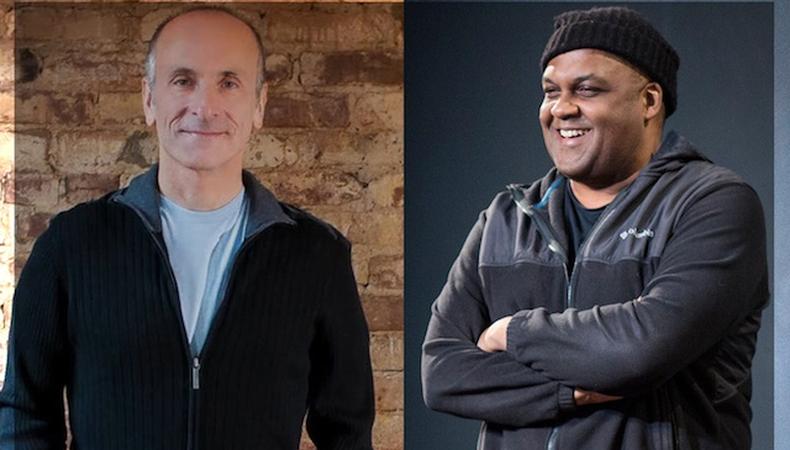 Are you an actor looking for the right acting class for you? The Barrow Group co-founder and co-artistic director Seth Barrish and writer-director (and Barrow Group alum-turned-teacher) K. Lorrel Manning came by the Backstage offices March 23 to discuss their play "Enemy of the People," which wraps its acclaimed run April 1, and to offer advice as to how to find an acting class to fit your needs and how to make an impression with them in the audition room. Catch their takes below.
First, Barrish gave a rundown of what the Barrow Group is all about.
"If you're looking for what we do, we're the place to do that," he said. "It's a very specific focus. In terms of [our] training, there's not a particular methodology, precisely. But there is a common thread with all of the various tools that we're sharing with folks because they're all designed to be used on the job. They're not [theoretical]. They're all designed to help people basically let go of a lot of the things they thought they needed to do when they act. Some of the things that we learn along the way may not be so productive, and so the idea is to let go of the structure that's screwing you up and then turn your attention on the things that are helpful."
Before committing to Barrow Group though, visit other schools!
"I think you should shop around," Barrish said. "I don't think you should just jump into an environment because [you] heard that's good. Go to those places and audit and get a vibe of it and watch teachers do what they do and get more information so you can see if it lines up well with what it is that you're trying to accomplish."
READ: 4 Qualities Acting Coach Seth Barrish Instills in Students
Flex your acting muscles outside of the classroom, too.
"I really believe in creating your own material because we're in the time that you should do that," advised Manning. "There's so many people I know who have web series and they're taking screenwriting classes, they're taking filmmaking classes because [you] don't wait for your opportunity or for someone to give you your opportunity. I mean, always go out and search for it, but start creating your own content as well. I'm always pushing people to do that."
And if you lead with your heart and are acting for the right reasons, Manning may just cast you.
"I like authenticity and heart," Manning said of what he looks for in the audition room. "Along with talent, I have to get an instinct from the person; it's almost spiritual in the sense that this is someone that I really, really want to work [with and] that I want to root for as a director. I see a great deal of talent, but then there's an extra shining light there. And I don't know how one acquires that, I just know it when I see it. And part of me wants to help develop that talent a bit and expose it to the world. It's such a thrill for me to give a young actor a shot."
In the end, it's all about authenticity.
"It's safe to say in general [that] I'm drawn to a kind of acting style where I cannot tell that people are acting, where it just feels like whatever is happening in front of me feels real," Barrish says of what he looks for. "It even transcends it feeling naturalistic; it feels as if this is happening and being made up on the spot, I'm not watching a performance, I'm not seeing any visible choices or any of that stuff. And I've sort of oriented my entire artistic life around that concept."
Ready to act in an Off-Broadway show? Check out our New York City audition listings!