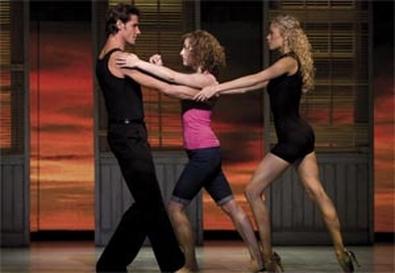 The time of your life? Not quite. Though ad slogans promise that possibility, this bizarre screen-to-stage transplant offers only intermittent flashes of down-and-dirty fun. Writer Eleanor Bergstein (adapting her screenplay) and director James Powell make an ill-advised attempt to fastidiously emulate the experience of viewing the original 1987 film. An overwrought multimedia design—aiming for a cinematic feel—comes across as a cheesy distraction rather than an enhancement. Add to that a by-the-numbers rehash of the film's soapy story, and the victory of crass commercialism over creativity is complete.
Thankfully, one element of this touring Broadway-bound production provides exhilarating moments. Choreographer Kate Champion and the skilled ensemble pull off several electrifying production numbers, culminating in a thrilling finale. Those expecting a book musical should be forewarned: The principal characters never sing, except for a few bars, and most of the music is a mix of prerecorded dance accompaniment and live orchestrations. This show gives new meaning to the term jukebox musical, because its score consists entirely of dance music from the film and popular songs of the 1960s. The effect is like an MTV marathon, interrupted here and there by a negligible narrative.
During a family's summer vacation at a Catskills retreat in 1963, geeky teenager Baby (Amanda Leigh Cobb) falls for bad-boy dance instructor Johnny Castle (Josef Brown), which strains her relationship with her parents (John Bolger and Kaitlin Hopkins) but ultimately leads to a predictably upbeat ending. Cobb and Brown are dazzling in their elaborate dance segments, and both are capable actors—though they seem a bit old for their characters, and Brown's Australian accent doesn't fit here. Katlyn Carlson brings welcome comic relief as Baby's spunky sister, and Britta Lazenga offers fine support as Johnny's knocked-up dance partner.
During the opening performance, fans of the film howled gleefully at each familiar moment—meaning almost constantly. If there are enough DD groupies out there, this might become a Broadway blockbuster. Those who haven't seen the film—or who were less than enchanted by it—might find themselves wishing this three hours could be restored to their lives.
Presented by Broadway L.A. at the Pantages Theatre, 6233 Hollywood Blvd., L.A.
May 10–June 28. Tue.–Fri., 8 p.m.; Sat., 2 and 8 p.m.; Sun., 1 and 6:30 p,m.
(213) 365-3500 or
Broadway L.A.
.