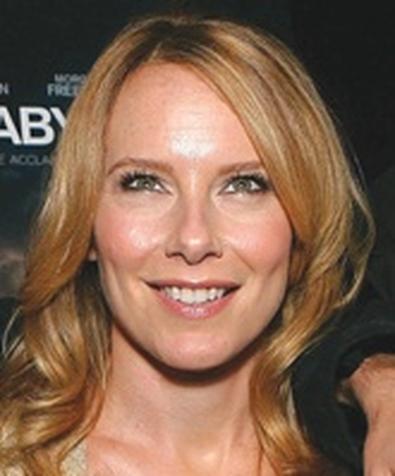 Not long ago, Amy Ryan earned a nickname from her friends, thanks to all the gut-wrenching dramatic roles she was taking on. "They started calling me 'Crying Ryan,' because every time they saw me on screen, I was breaking down all the time. I made a professional goal that for one year I wouldn't cry in a role," says the actor, exposing a wide grin audiences rarely get to see. And how long did that promise last? "About two months," she admits, laughing.
There's something about Ryan's exquisite, pale face that just looks good anguished. It has served her well on the HBO series The Wire, on which she plays a good cop in way over her head. On stage she earned a Tony nomination in 2000 for her role in Uncle Vanya and in 2005 for A Streetcar Named Desire (playing Stella to John C. Reilly's Stanley Kowalski). In 2006 she took on the role of a mother grieving over the death of her young son in the West Coast premiere of Rabbit Hole. And now there's Gone Baby Gone, co-written and directed by Ben Affleck, based on the novel by Dennis Lehane. In the film, Ryan plays Helene McCready, the mother of a young girl who disappears mysteriously. Though the tight-knit Boston community binds together to help her, Helene is hardly the film's heroine: She's a drug addict who grossly neglects her daughter and might even be in on the kidnapping.
It's intended as a compliment when I tell Ryan that, familiarity with her work notwithstanding, she is literally unrecognizable as Helene. "That's what I wanted," she enthuses. "Ben said, 'I would love at the end of the day for people to ask me, 'Where did you find that local Boston actor?' I do prefer hiding away into characters rather than having the characters come to me. Most characters I play have better hair than my own, anyway." This isn't the first time she's virtually disappeared on screen; take her role as the wife to Chris Cooper's lawman Alvin Dewey in 2005's Capote. "One of my best friends from sixth grade called me, really mad, and said, 'I watched this movie twice; where are you?'" Ryan says, adding that there are no hard feelings. "For me, as an actor, that's the biggest thrill. I'd prefer that over people recognizing me left and right."
'One Nasty Actress'
Affleck knew he needed the right actor for Helene and says it was the most difficult role to cast. His good friend Matt Damon talked him out of using a local nonprofessional. "Matt said, 'I don't know, man; that part is really important, and you don't want to have acting class on set,'" Affleck recalls. "Then Amy came in, and it was such a relief, because this is the performance the movie hinged on."
Affleck admits he was surprised an actor of Ryan's caliber would audition. Says Ryan of the process, "If the writing is good and the project is great, I don't mind auditioning. I can't wait to get to it. It's the one your heart's not in but you need to go because you need a job or to pay your health insurance — those are hard." Her first meeting with Affleck went well. "I read about four scenes, and Ben looked at me and said, 'My God, you are one nasty actress,'" Ryan recalls, laughing. "I said, 'I think that's the nicest thing anyone's ever said to me. " A couple of weeks later, he called her back in. "He said, 'I knew I wanted to hire you then, but some people get nervous that nobody knows who you are. So let's just do this as a formality.' That was the process — the nicest audition I've ever been through." But Ryan wasn't 100 percent sure she had the job: "He said, 'So, you want to come to Boston?' The language was so casual. I wasn't completely sure until my agent got the official offer with papers and everything."
Also impressing Affleck: Ryan's dead-on accent. "I'm really, really finicky with Boston accents," says the director, who was raised in Massachusetts. "And she nailed it." Ryan also knew how important it was to get the sound right. "That was the scariest element of doing this — not working with Ben and actors like Ed Harris — the accent," she says. "I knew from seeing other movies, when that's wrong, it's really wrong." Asked if she had a dialect coach, Ryan laughs: "Yeah — Ben Affleck!" Ryan also recorded Jill Quigg, a Boston native who plays Helene's best friend, and spent a lot of time with the locals on set. "She really endeared herself to the crew," Affleck says, "to the point where they were all hitting on her nonstop."
Picking and Choosing
Ryan grew up in New York, and her family took her to theatre when she was young. "When I was 7 or 8 years old, I saw A Chorus Line; it's so corny, but it's true. There was something about it; I knew I wanted to do this," she recalls. She attended the High School of the Performing Arts and landed an agent before graduating. Though she was accepted at New York University, she instead took the role of Daisy in a national tour of Neil Simon's Biloxi Blues.
From that point on, Ryan has supported herself as an actor. "After my first job, my mother told me, 'All right, you're going to open up an IRA,' " she says. "I thank my parents for going, 'Look, you're in a business that's really unpredictable. You save your money.'" The nest egg came in handy when Ryan decided to start choosing her roles more carefully. "When I was 18 years old and I got my first job, I just wanted to work. That was my goal: to keep working," she says. "It wasn't until I played Sonya in Uncle Vanya that I realized, 'Oh, no, you have to do good roles.' An actor is only as good as the writing and the role that they're given. So I didn't work for a little while because I was turning down regular jobs; I was holding out for what I really wanted to do." She views Streetcar and Capote as turning points. "I think it was the first time people saw me go away and play something they didn't know was a part of me," she says. "I don't even think I knew."
Ryan is earning terrific notices for Gone Baby Gone but says she tries not to hear the buzz. "I've been in this long enough to take everything with a grain of salt," she notes. "But it struck me three weeks ago, riding the subway, that I would be bummed if I couldn't do that anymore — because a lot of my continued education as an actor is people-watching, and if I couldn't do that anymore, I would be screwed. The flip of that is that you would have access to better scripts, stories, and writing. And that would be a thrill." She can count her director among her fans. Says Affleck, "One of my little private goals when it comes to this movie, where I'll feel I've accomplished something I can be proud of, is if a few more people say, 'Amy Ryan is someone we should really be trying to hire.'"
Quick Facts
When Ryan saw the sheet saying Ben Affleck was the director of Gone Baby Gone, she assumed it was a typo: "I figured he was playing the lead." She found Affleck an intelligent and generous helmer. "The beauty of Ben as a director is he comes up with the most incredible ideas and has the graciousness to somehow let you believe they were your own."
Ryan is extremely grateful for her theatre background. "I'm glad film came along later, when I felt a bit more confident and knew a thing about how to be an actor. With theatre, you can have revisionist history: 'You didn't see that play? I was fantastic in it!' On film, the evidence is there."
The best advice Ryan received was from her Wire co-star Chris Bauer: "One day he said, 'Amy Ryan, get out of your own way.' I loved that so much, I went home and wrote it on my wall."
Has a role in the upcoming Steve Carell comedy Dan in Real Life: "I got to laugh for eight weeks. It was a glorious paid vacation."