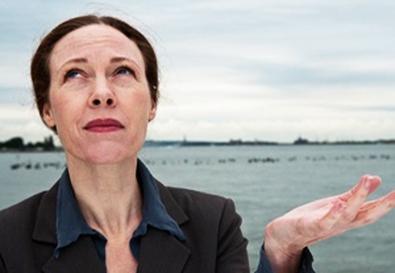 In a fame-worshipping culture, it's fantastically counterintuitive for writer-director Ain Gordon to be inspired by "The Galveston Flood," a mostly forgotten book by a mostly forgotten 19th-century journalist, Murat Halstead. What's more, Gordon has changed Halstead's sex—now he's Muriel—and devised a solo play examining who Muriel might have been. Then he cast the matchless Veanne Cox in the role.
Entering briskly (the play runs just an hour), Cox is a rotogravure of singular imagination: Hair coiled in a tight bun, virtually shackled into a prim, gray, conservative suit, Muriel Halstead is every bit the early-20th-century woman. Little more than a podium, a blackboard, and a table with a water pitcher and glass are on stage with her as she begins to tell the tale of the Galveston hurricane of 1900 and especially its grisly aftermath.
Yet, in one further twist on this direct-address exercise, Gordon's Muriel regularly takes leave of her tale, digressing from the wreckage of historical fact to explore the carnage of her own existence. She's unmarried, frightened by men, and rendered inarticulate, stuttering even when receiving their attention. She's almost raw with childhood memories, encapsulated repeatedly by Gordon's irony-rich, mixed-metaphor lines full of aching, searching bitterness.
Like a schoolmarm for whom academics represent an escape from unrealized dreams, Muriel uses the blackboard not just to instruct the audience but at one point to construct an acrostic conveying the fury and failure she feels inside. In other words, "A Disaster Begins" is only partly about Galveston. It's also about the disaster inside this doleful tragedienne.
Still, all this might be precious without Cox, especially as Gordon's text, as in many of his pieces, tends toward the elusive and ambiguous, leaving unclear where the narrative is going. But Cox can be positively mesmerizing. Her gift lies in her specificity: flicking a lit match into the glass, rendering it useless to drink from; drinking right out of the pitcher in a fit of pique; pouring the half-full pitcher over the head to illustrate the Galveston flood and, equally, the tsunami of unforgettable emotion Muriel has just unleashed upon us. For both disasters, the clean up will be monumental.
Presented by Pick Up Performance Co(S.) at Here Arts Center, 145 Sixth Ave., NYC. Oct. 11–17. Wed.–Sat., 8:30 p.m. (212) 352-3101, (866) 811-4111, or www.here.org.