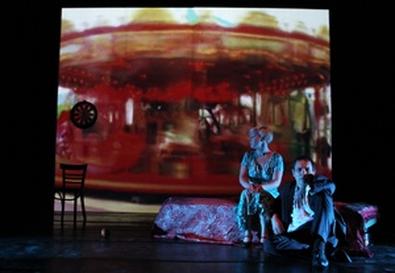 As a child, Ira wanted to be an ice-cream saleslady. Then she switched to singer, then actor, and finally doctor. Instead, she became a witness. She witnessed atrocities in her country of Belarus. That is not all she became. She also became a woman in love, which is why the play that has been created about her life is called "Discover Love." Nikolai Khalezin and Natalia Koliada's script is the most conventional, focused, and accessible of the three shows being offered in repertory by Belarus Free Theater on its return engagement in New York City. It tells a mostly linear story about one woman's life, though with some of the company's signature inventive theatricality and no less of its startling power.
Marina Yurevich plays Ira, whose full (and real) name is Irina Krasovskaya. She narrates her life (in Russian and Belarusian, with English titles) and also acts it out with the help of two other members of the company (Oleg Sidorchik and Pavel Gorodnitski). They play all the characters she encounters, starting with her grandmother, who recalls what Belarus was like before the Bolsheviks. The three in effect visualize the stories: For the circus, one plays a clown with a fake nose and a whip; the other two are trotting horses. Through Ira's stories we glimpse daily existence in a Soviet republic (turned dictatorship.) Ira tells us, for example, that she grew to hate the Soviet anthem, because it blasted out on the radio every morning at 6 a.m., her daily wakeup call. As a teenager she falls in love with her former physics teacher. We see them dance a tango, get married, have children, and build a successful business together.
It is not until some two-thirds of the way through the 70-minute play—with a suddenness that is itself brutal—that we learn why "Discover Love" was selected to launch a particular United Nations human rights campaign. I've already told you too much; although, even if they were not a surprise, the last 20 minutes would still be shocking.
Presented by La MaMa ETC and the Public Theater at La MaMa ETC, 66 E. Fourth St., NYC. April 18–May 15. Tue., 7:30 p.m., Sun., 2:30 p.m. (212) 352-3101, (866) 811-4111, (212) 475-7710, www.theatermania.com, or www.lamama.org.