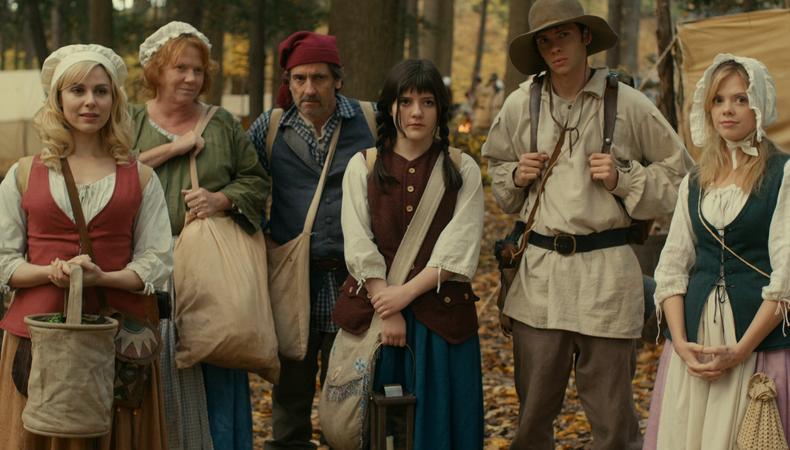 "What was your budget?" is the first question I get at every Q&A.
"The Discoverers" looks like a big-budget film. We shot in three states; had a cast of Oscar and Emmy nominees and winners; a creative crew comprised of people who have all been to Sundance, Toronto, and Cannes; and more than 200 creative collaborators. The film is a bittersweet comedy about a dysfunctional family forced on a Lewis and Clark historical reenactment trek who discover themselves and each other as they journey across America. We shot black powder rifles, had bonfire hoe-downs, built re-enactor camps, and brought a film crew and eight lead actors in period costumes into the woods nearly every day before first light.
I always give the same answer at Q&A's: "Under $5 million." That is technically true, but the truth is that "The Discoverers" was a handmade, DIY film, only made possible by the hard work and dedication of our amazing cast and crew. What we lacked in resources we made up for in talent and ambition.
I learned early on while making my first feature that my collaborators wanted me to be ambitious, because people aren't working for the money on a low budget indie; they are working to make something extraordinary. Your actors and creative crew want their director to be bold and uncompromising, to create an environment where people can push themselves and make great work. So that meant going on yet another location scout to find the right valley for our emotional climax, having our gaffer hold a dozen candles off screen to get an organic eye-light, or painting that car the burnt orange that Mercedes used in the 1980s, to match my William Christenberry reference photograph so it would pop against the green-blue of the Pacific Northwest when our family arrives at their final destination. It's the details, textures, and subtle aesthetic cues that collectively add up to make "The Discoverers" richer than the budget should afford.
Every film starts with a script; that's what sets imaginations aflame and attracts creative energies and ideas to the project. Next come the actors who bring the characters to life. I was fortunate to work with Patricia Kerrigan-Dicerto, who was Woody Allen's casting associate when she cast my graduate school thesis film and has since graduated to his casting director. Patricia and indie casting stalwart Lois Drabkin guided me in the casting process. We were bold in our casting choices and rewarded with an amazing ensemble.
We knew we needed a sympathetic everyman who embodies the comedy and pathos of our lead, and we were all excited when Griffin Dunne came on board. Madeleine Martin, Stuart Margolin, Devon Graye, Dreama Walker, Stuart Margolin, Ann Dowd, and Becky Ann Baker all delighted us at their readings, and we were thrilled to round out the cast with leading lady Cara Buono and comedy wizards John C. McGinley, David Rasche, and Scott Adsit.
I gave the actors homework assignments and reading lists tailored to their parts, and we debated motivations and character to help them find their interpretations of the roles. On set we didn't have a lot of time, so my job was to know exactly what I wanted, to give clear notes, and to quickly learn who was a "first take" actor and who needed time to warm up, who used Meisner and who was Method, who could improvise and who liked to stick to the book. Ultimately, as a director you're an emotional truth barometer making sure the performances are honest, the arc of their relationships have room to build, and that your actors have the freedom to experiment and take risks.
Filmmaking is a collaborative medium and we all pushed each other to make something collectively greater than one person's vision. During production, I'd walk the line every night after wrapping to thank each and every member of the team, from actors to interns, for helping us make something special that day. Cinematographer Chris Blauvelt made custom bounce boards for eye lights and homemade firebars buried under set to light our campfire scenes. Production designer Kelly McGehee built full-scale re-enactor camps, with tents aged in tea that reflected the unique traits of each character. Costume designer Kim Wilcox crafted hand-sewn period costumes and outfitted scores of re-enactors on a pre-dawn call. Editor Geraud Brisson shaped the tone and lyricism and continued to advise long after his contract expired. Composer Aaron Mirman created a handmade score using period-specific instruments and played nearly every single note himself. Sound mixer Ron Bochar layered in Terrence Malick's field recording outtakes and calls from birds discovered by Lewis and Clark to help make nature a character in the film. Producer Louise Lovegrove brought her extensive production experience to maximize our limited budget. And the one person who probably pushed me the most was my wife and producer Laura Kleger, who developed the script, helped cobble together financing and build our team, gave creative input at every stage, and was with me every step of the journey.
When I was in film school a professor told me the rule was to make the budget your aesthetic, but we broke the mold on "The Discoverers." We set out to be bold and ambitious, to make a funny, entertaining, visually striking story that moves people, and I hope our work resonates onscreen.
"The Discoverers" opens at New York's Village East Cinemas on May 16, Los Angeles' ArcLight Hollywood on May 30, and additional theaters thereafter. Visit www.discoverersmovie.com for more information.
Want to know more about the indie film scene? Check out this interview.