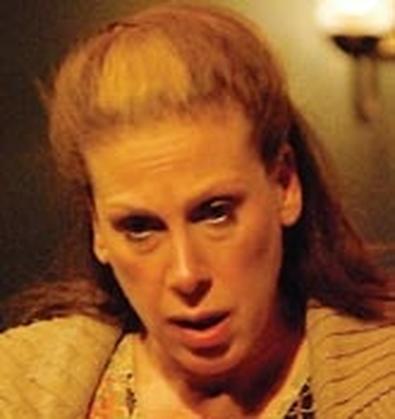 Are you one of those actors who's all smiles at curtain call even after playing a deeply emotional role? Or do you struggle to disengage? "Your body takes a psychological journey," says Deborah Hazlett, who played Becca, a mother whose young son has died, in David Lindsay-Abaire's Rabbit Hole at the Olney Theatre Center, near Washington, D.C. She says her body would metaphorically tap her on the shoulder during the curtain call, asking, "Were we grieving?" Hazlett told it, "No, no, we were just acting." But, she explains, "the body tends to say, 'Okay, but I thought we were doing something else.' " That something else is manifested as a physical heaviness, a sadness and tension in her chest, an upset stomach from trying not to cry.
To find out how others experience the transition from character to self when acting in intense dramas, I contacted a bunch of Beccas. Hazlett was at one end of the scale: Letting go of Becca was very hard for her, more difficult than letting go of Hedda Gabler, or Frankie in Terrence McNally's Frankie and Johnny in the Clair de Lune. She guesses it was due to Becca's level of tension and lack of release. Lindsay-Abaire allows the character only one emotional breakdown in the course of the play. Hazlett would sometimes find herself crying during the curtain call to release that pent-up emotion. "The grief is not resolved," she says, "as it shouldn't be: This is an awful loss for this family."
But for Robin Goodrin Nordli, Oregon Shakespeare Festival's Becca, separating from Hedda was much harder than separating from Becca: "What's nice about Rabbit Hole is you bottle it all up and then let it go in that nice little scene. Afterwards, it's not saying life's changed or I've come to grips with anything, but it's the first opening for the future. It's cathartic in a weird way. You walk away a little more peaceful because there's hope."
When playing Hedda, by contrast, she begged her director to dispense with her curtain call, to no avail. "There's no release," Nordli says. "Hedda spends three hours painting herself into a corner, then you're facing people clapping at you and nothing's resolved. It doesn't make sense. I couldn't make peace with it." She understands that audiences need that closure — to acknowledge the cast with applause — so she managed it by just being neutral. Then she would make a beeline for the dressing room and sob, "and I'm not a big crier," she says. It was much harder to disengage from the 80-performance run than she expected.
Like Nordli, Antonia Fairchild, who appeared in Rabbit Hole at Theatre in the Square in Marietta, Ga., found that Becca's moment of catharsis enabled her to take her bow fairly comfortably. "I'm a pretty intense person, so in some ways it's a relief to play out that intensity in the role," she says. "I was able to modulate all those feelings and not go home with them." Playing Clytemnestra in Euripides' Iphigenia at Aulis was much harder for her. In the Greek tragedy, Clytemnestra is just beginning her rage against Agamemnon, which carries over into another play, so there is no relief at the end. For Becca, Fairchild tried to view each night's performance as a journey through hell in the character's shoes — Becca refers to Orpheus' journey to the underworld — after which she is burned clean.
Stacy Ross, Becca in Northern California's San Jose Repertory Theatre production, agrees that separating from Greek tragedies can be hard. Playing the title role in Iphigenia at Aulis, she says, was devastating physically and emotionally: "I couldn't smile at the curtain call. Even if I'd had the energy, it would have felt inappropriate. I had nothing to give but a nod and a half smile." Similarly, as the trailer-trash wife in Tracy Letts' Killer Joe, Ross didn't anticipate how being abused every night would take its toll. "I probably drank more beer than usual," she cracks. In Tennessee Williams' Spring Storm, she played a girl similar to her own unhappy high school self. It made her so sad she dreaded rehearsals. It was a relief when the play finally opened, she says: "I have clear memories of sitting in my husband's lap and crying."
Ross adds, "We're not machines." It's hard to turn feelings off abruptly. In real life, your body and mind usually experience an emotion to completion. On stage, it's not always so. Still, she says, you somehow have to go on. When playing Becca, it wasn't so hard; the fact that the character breaks down only once was a blessing for Ross. "Three years in a row I was sobbing and rending my clothing and rolling around on the ground for different directors," she says, "and it was nice to play somebody who handles grief in a different way."
Rehearsing vs. Performing
As Ross notes, there's a palpable difference between playing a deeply emotional role in rehearsal and in performance. Amelia Barrett describes rehearsals for Rabbit Hole at Buffalo Theatre Ensemble, in the Chicago suburb of Glen Ellyn, as a matter of endlessly picking at scabs to find the actions that Becca is going through — "how you're listening, how you're taking in the world," she says. But she found the play's ending hopeful, so going through the entire journey in performance was much more freeing than focusing on individual scenes in rehearsal.
It was harder for Barrett to divest herself from Blanche in Williams' A Streetcar Named Desire. Coming out for that show's curtain call was tough; by play's end, you feel like the others are enemies, she explains, so it's hard to go back on stage and hold hands with them: "I'd drive home and think, 'Wow, now I'm just leading my life.' You feel like you've lived a lifetime in those few hours, so stepping back into your own life makes you feel funny."
At Chicago's Goodman Theatre, Lia Mortensen also felt that rehearsals for Rabbit Hole were much harder, emotionally speaking, than performances. "In rehearsal is when you delve into that scary muck of it," she says, but "those are also some of the most exciting periods of the whole process." Once the show was running, she knew how to mine the emotional valleys and mountains and put all those feelings in a safe place: "Then it was over, no leftover, no remainder." On the other hand, as we're talking Mortensen suddenly realizes that like the grieving Becca, she lost her appetite during the show's run. The same was true for Barrett.
More difficult for Mortensen was disengaging from the suicidal Grace in Brian Friel's Faith Healer, a character she played for almost eight months, including at Chicago's Steppenwolf Theatre. "I couldn't get away from her," the actor says. "I can get weepy just thinking about it." Of the curtain call, she adds, "You go through such a harrowing thing, it's difficult to come out and say, 'It's all fake,' because it isn't when you're telling the story."
Finally, I talked to Shannon Warrick the morning after she'd opened as Becca at Western Stage in California's Central Valley and to Kristina Kreyling the day after she'd closed in the role at Skylight Theatre in Los Angeles. Neither experienced trouble coming down from the part. Warrick says she always lives entirely within the words and confines of the play. She feels an unspoken contract with the audience to let them know that after the play's over, she's not suffering anymore: "I always make the effort at curtain call to not still be into something hugely tragic."
Kreyling was part of an ensemble that laughed a lot backstage, and she feels that her sense of humor helped her break away from Becca's emotions when the play was over. "I can't say it doesn't upset me," she says of what she experiences onstage. But she knows that accessing those powerful feelings is her job, and when it's over, it's over. As Hazlett notes, if you can't make that emotional recovery in a timely manner after the curtain descends, maybe you're in the wrong business.
Almost all the women I talked to said they've personally experienced a loss or death that gave them special access to Becca. All were deeply touched by Lindsay-Abaire's moving drama. Several also mentioned an overwhelming audience response: grateful emails, emotional confessions during talkbacks. One audience member told Fairchild that she might now finally be able to start forgiving the man who accidentally killed her child 15 years ago. The actor may be speaking for some of the other Beccas when she says, "This was the first show where I felt like I was of service — doing good works in the Jesuit sense, serving a higher mission — [by] authorizing people to feel those feelings. Theatre in the sense of community-building. It was a great experience."
Write the author at [email protected].