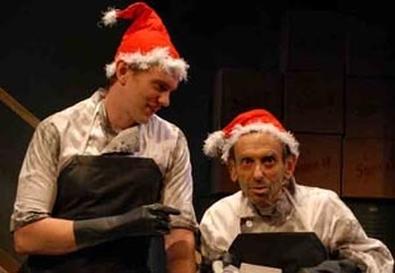 To kick off the Americas Off Broadway festival at 59E59 Theaters comes Canadian playwright Morris Panych's
The Dishwashers
, in a production from Massachusetts' Chester Theatre Company. This is the first of five shows intended to demonstrate to New York audiences the variety of theater available regionally. The intention is commendable, but this initial production can hardly be characterized as putting your best foot forward.
The Dishwashers
is a flimsy comedy that has trouble making up its mind what kind of a play it wants to be. Set in the basement scullery of an upscale restaurant, it suggests a human drama à la Arnold Wesker showing the plight of the working man. But on that score the play lacks the necessary naturalism and its working-class characters are not convincingly detailed. Nor does it succeed as an absurdist comic fable, awash in philosophic observations, of losers in a cruel world of winners.
Panych's three dishwashers seem more like constructs than characters, placed for the sake of novelty in a lower-depths situation. At the play's center is Dressler (Tim Donoghue), a mix of working-class pride and ever-ready rhetoric. His assistant is the aged, eccentric Moss (John Shuman), who is in the process of dying. Enter young Emmett (Jay Stratton), who once dined in the restaurant above but has lost all his money and been reduced to taking any job, even this one. It seems Moss has been dismissed and Emmett is his replacement, but kindly Dressler hasn't told Moss and is slipping bits of money into his pockets. We witness the struggle of the established, Dressler, against the new, Emmett. Along the way, Dressler dispenses bons mots of worldly wisdom such as "Ambition is holding you back." Fortunately, some of his observations sparkle: "Wednesday has it all over Sunday for pointlessness." These one-liners, while unlikely from these mouths, add some welcome leavening to the soggy proceedings.
Under Byam Stevens' direction, the three principal performers have to work hard to bring life to these unconvincing characters. Donoghue, when given a good line, can knock it out of the park. Shuman is able to add some pathos to the kitchen-sink scenario, and Stratton exudes youthful energy in Emmett's struggle to survive.
In the final scene Dressler observes: "There's certain magic that we do that's spoiled…by seeing the mechanics of the thing." Enough said.
Presented by Shiloh Productions as part of Americas Off Broadwayat 59E59 Theaters, 59 E. 59th St
.,
NYC
.
May 13
–
June 7. Tue
.,
7:15 p.m
.;
Wed
.–
Fri
.,
8:15 p.m
.;
Sat
.,
2:15 and 8:15 p.m
.;
Sun
.,
3:15 p.m
.
(
212
)
279-4200 or www.ticketcentral.com
.