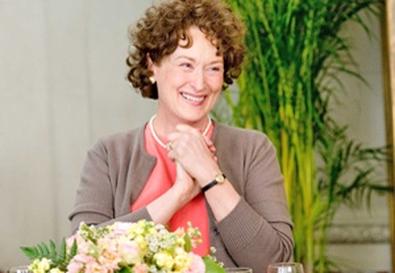 Critics love Meryl Streep in the Nora Ephron flick "Julie & Julia." It's not simply that she physically and vocally evokes the iconic TV cook, but she gives "one of the most delightful, vivacious, alive performances I've seen in years," says Sean Smith, Los Angeles bureau chief of Entertainment Weekly. "The performance is not a caricature. She makes Julia sexy, funny, relatable, and an underdog. It's as close to a perfect performance as you can get."
Adds Kristopher Tapley, owner and editor-in-chief, InContention.com, "When you can make Julia have sex appeal, you're doing something right. The passion of the character just flows out of her." Anne Thompson of IndieWire's Thompson on Hollywood blog uses the words "joy" and "fun" to describe the performance. Streep's acting chops aside, she hasn't won an Oscar in 27 years, and that may help her score a win, say Kevin Lally, executive editor of Film Journal International, and Pete Hammond, contributing film critic for Back Stage and Box Office Magazine and columnist for The Envelope, the Awards Insider for the Los Angeles Times. "Though she gets nominated year after year—is the most nominated actor in the history of the Oscars—she has not been recognized with a win despite the solid work she has done in recent years in such movies as 'Doubt' and 'The Devil Wears Prada,' " says Lally.
Still, Streep is up against heavy competition, most notably Gabourey "Gabby" Sidibe in "Precious: Based on the Novel Push by Sapphire." By all accounts, Sidibe gives a wrenching performance as an abused, obese, illiterate Harlem teenager. "She's the emotional core of the film, and she's completely natural," says Tapley. "It's miraculous that she has so much emotion behind the character's tough façade. She reconciles both aspects of the character. It's not confused. It's streamlined, gritty, real, and raw."
Making Tracks
Sidibe has no acting track, and it's all too easy to assume "that she was picked up in McDonald's and that she herself is some kind of downtrodden character," says Smith. "But if you ever listen to her speak on a talk show, you realize that she's a bright, warm, alive, vivacious, and highly articulate young woman. And then you realize what she has done onscreen is a performance." Thompson says she hopes viewers recognize and appreciate Sidibe's onscreen artfulness. The actor landed the role at an open call, and the industry has affection for her. Not unlike Jennifer Hudson a few years ago, Sidibe is the Cinderella story of the year. "It's a great human-interest story," says Lally.
Another front-runner is Carey Mulligan in "An Education," a coming-of-age tale centering on a bright young girl who has an affair with a much older man in 1960s London. The five reviewers say Mulligan's portrayal of a high-IQ innocent marks a stunning leading-role screen debut. Lally calls it a "refreshing breakthrough" and compares her to a young Audrey Hepburn. Smith says he is not sure Mulligan can beat Sidibe or Streep, but he expresses certainty that she will be a major player. Tapley concurs: "A star is born."
Also earning high marks are Helen Mirren in "The Last Station" and Emily Blunt in "The Young Victoria." Lally says, "Blunt is carrying a big period epic, and she's fabulous as the young Victoria." Further, he feels she was overlooked for her "great comic performance" in "The Devil Wears Prada," and that might work in her favor this time around. And it's her first leading role, adds Hammond.
Most of the reviewers interviewed had not yet seen "The Last Station," a historical drama about Leo Tolstoy and his philosophies, demons, and complex relationship with his wife. The film stars Christopher Plummer as Tolstoy and Mirren as Countess Tolstoy. Thompson, who saw the film, describes Mirren's performance as volcanic, noting, "She's fighting for her survival, her children's survival, and her husband's attention and love." Tapley adds, "She drives the film. It's a movie of conflicting philosophies. Tolstoy wants to sign over his property to the public domain, and she doesn't. She believes the property is her children's birthright. You feel her anxiety. At the same time you feel her genuine love for her husband. It's a romance."
Other noteworthy performances include Abbie Cornish's in "Bright Star," Hilary Swank's in "Amelia," Penélope Cruz's in "Broken Embraces," and Saoirse Ronan's in "The Lovely Bones." Though none of the critics had yet seen "The Lovely Bones," they think she might be a contender as the murdered protagonist of a film based on a popular novel. They also pointed out that her Oscar nomination for "Atonement" doesn't hurt.
Hammond says Sandra Bullock's performance in "The Blind Side" could be this year's "Erin Brockovich." It's the true story of an upper-crust white Southern woman who adopts an underachieving homeless African-American teen and helps turn his life around, while he in turn changes the family in unexpected ways. The inspirational element is part of the appeal, says Hammond, but it always helps when an actor plays a real person effectively and the individual on whom the role is based can say how accurate the performance is.
Mo'Nique Is the One to Beat
There is agreement among the critics that Mo'Nique is the front-runner in the supporting category. Playing the mother from hell in "Precious," she gives "the most jaw-dropping, shocking, horrifying, and heartbreaking performance," says Smith. Tapley says her performance has "a raw kind of abstract reality with an authentic tinge. No one thought she had it in her." Adds Thompson, "Obviously, she's channeling a great deal of pain." Lally says, "She has a monologue at the end of the film that's just devastating. It's a searing, dramatic performance."
Smith says there may be some backlash against Mo'Nique, however, because she is not doing as much press as other contenders. "There's some buzz that she's behaving like a diva," he notes. "And if it sticks, it may keep her from winning. You don't want to give a gift to someone who doesn't appreciate it. The nomination is about the value of the performance. To win, people have to want her to win." On the flip side, he acknowledges her behavior may indicate restraint and her fear of overkill.
Another favorite is Julianne Moore's performance in "A Single Man." She plays the pal of a gay man (Colin Firth) with whom she is hopelessly in love. Smith says she demonstrates "class in working off a scene partner." Hammond calls her a wonderful character actor, someone who is "morphing into a Shelley Winters." Despite the smallness of the role, she is able to evoke a sad and lonely character, says Thompson.
The star-studded musical "Nine"—with such actors such as Judi Dench, Nicole Kidman, Marion Cotillard, Sophia Loren, and Cruz—is generating a lot of buzz in the supporting category, and there is speculation several in this cast will be tapped for awards, the critics note, adding that Cruz and Cotillard (who is being pushed in the lead category) may be front-runners but Dench has a showstopping musical number. Another film that will have actors vying against each other is "Up in the Air." It stars George Clooney as a corporate representative who makes his living flying around the country, firing people. The two women in his life, played by veteran actor Vera Farmiga and newcomer Anna Kendrick, are considered terrific, though Kendrick has the showier role, the critics assert.
Other possible contenders the critics mention include Cotillard in "Public Enemies," Diane Kruger and Mélanie Laurent in "Inglourious Basterds," Samantha Morton in "The Messenger," Mariah Carey in "Precious," Susan Sarandon in "The Lovely Bones," Maggie Gyllenhaal in "Crazy Heart," Patricia Clarkson in "Whatever Works," and perhaps even Betty White in "The Proposal." Notes Lally, "She stole every scene she was in. She's very well liked, she's a veteran, and there may be some nostalgia."