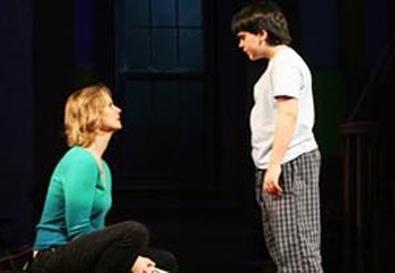 Much like 9-year-old Jesse (Matthew Gumley), a boy who's heard but not seen for most of Lisa Loomer's new play at Roundabout Theatre Company,
Distracted
suffers from ADHD—attention deficit hyperactivity disorder—flitting from moment to moment and from style to style at an almost dizzying rate. Loomer is telling a potentially deeply moving tale, but in director Mark Brokaw's well-observed yet somewhat frenetic staging, audiences may find themselves as overwhelmed as Jesse's mom.
When the play opens, Mama (played with radiant intensity by Cynthia Nixon) has already begun to realize something's wrong with her son. Because his overworked teacher (Aleta Mitchell) has expressed concerns, Mama and Dad (an overwrought Josh Stamberg) have had Jesse observed by a psychologist (Natalie Gold), who believes he's suffering from an anxiety disorder. Still, she recommends that he be tested by a neuropsychologist, who diagnoses ADHD and suggests medical treatment. Dad, who has his own concentration issues, balks at putting his son on Ritalin, yet Mama persists. When Jesse turns into a zombie on the drug, Dad threatens divorce, which leads the family to New Mexico in search of alternative treatments. Eventually they reach a solution of their own, and Loomer ends the play on an ambiguous but hopeful note.
Much of
Distracted
is beautifully and intelligently conceived. Jesse's rants and demands shouted from offstage powerfully convey the strain his disease puts on the family. Mama's and Dad's behavior—she juggles a cell phone and Blackberry while driving—underscores that while ADHD has genetic roots, some of Jesse's behavior may be learned. This impression is cleverly reinforced by the problems that eating disorder–prone neighbor Sherry (Mimi Lieber) has with her children, particularly teen daughter Natalie (played with graceful sensitivity by Shana Dowdeswell), who's found a different way of exercising control over her body.
Yet there are also excesses in
Distracted
, primarily an all-too-cute pattern of breaking the fourth wall. Early on, one performer switches characters. In the second act, Peter Benson, who ably and amusingly plays a variety of specialists, breaks character to "reveal" his own problems with ADHD. Intriguingly, asides expressing unspoken thoughts represent a sort of self-control in a world that often seems to be skidding toward chaos.
Brokaw's staging unfolds with a whiz-bang efficiency, aided by the furniture units that roll on and off Mark Wendland's unit set, an abstraction of the family home, and by Tal Yarden's often hilarious video and projection design. And the careful direction almost never allows the performances to balloon into cartoons (Lisa Emery's portrayal of an uptight neighbor is a prime example).
Still, despite the emotionally charged subject matter and well-crafted performances,
Distracted
never fully engages the heart. Laughter abounds, and there is food for thought, but the overall experience is a bit like quickly scrolling through thousands of blog posts, tweets, and Facebook status updates: diverting, entertaining, but insubstantial.
Presented by Roundabout Theatre Companyat the Laura Pels Theatre, 111 W. 46th St
.,
NYC
.
March 4
–
May 17. Tue
.–
Sat
.,
7:30 p.m
.;
Wed
.,
Sat
.,
and Sun
.,
2 p.m
.
(
212
)
719-1300 or www.roundabouttheatre.org
.
Casting by Carrie Gardner
.